Saturday, February 19, 2005
The Formula
One of my mates in Cape Town is a devoted subscriber to a dating/scoring phenomenon affectionately known as "The Formula". "The Formula" is a method of female selection that took...um, let's just call him le Riche...years of painstaking research, experimentation, rejection, heartbreak, failure (enough already) to develop, and for as long as I've known him, it has consistently rewarded him with...well, "Formula Girls". Kudos.
Once you get past all the maths, chemistry and psychology, "The Formula" is relatively easy to explain, and can be summed up in one short equation:

X = short chicks + big tits
(an artist's rendition of "The Formula")

If we are all to follow the wisdom of le Riche, as he would no doubt advocate, then everyone should develop a formula of their own. Mine is quite simple:

X = Paris + Hilton

or even

X = Gisele + Britney (before she got busted) + Jessica Alba

Take some time to work out your own formula. Mine is still very much in its conceptual stage, but I'm hoping to start with some practical experimentation next month. Probably in my bathroom.
Paris Hilton - full frontal!
YEAH!!! Now
that's
what I'm twalking about! Check out this beautiful
photo
of
la Hilton
, in her full glory.
(...my apologies in advance)
Friday, February 18, 2005
conan's celebrity secrets
As i was closing off the week by listnening to my favourite mariachi selection, i came across this post over at chumpstyle. always been a huge fan of Conan, splattermail management is actually taking delivery of a Triumph the Comic Insult Dog, who just happens to be the funniest thing on four legs, DVD next week.


Snoop Dog secrets: "Before I was called 'Snoop Dog' I was called 'Snoop Doggy Dog.' Before that I was called 'Snoop Diggity Doggity Dogg.' Before that, I was just called, 'The Phantom.'"
good fight, good night.
Playboy | 50 years 50 images
"In honor of Playboy's 50th anniversary, Playboy.com presents the 50 most memorable images from the magazine's glorious photographic history. Selected from Playboy, 50 Years, The Photographs, this countdown features commentary by Playboy Photography Director Gary Cole."
Amongst the list of must-sees:
Bo Derek
Madonna
Arnold (shown)
Ursula Andress
blah
blah
dribble
link
Can it really work?
If it does, I'm definately gonna start wearing clean underwear out. Because no-one likes chocolate-chip boxer shorts.
...and now he's the Devil
Saw this years ago, but stumbled across it again (thanks to Harps).
Some weirdo has dedicated a
site
to educating people around the world on the terrifying true nature of everyone's favourite e-mail villain. The site starts off begging the question: "
He has even less musical talent than John Tesh... His television shows are unwatchable... and yet He's one of the world's most popular stars... how has He done it?
"

Which is all very valid, when you think about it for a few minutes.

What follows is an empassioned, well-researched and entirely convincing attempt to answer what is arguably one of the most burning questions in modern times. And once you've finished reading, you too will punch yourself in the balls (or titties, if you prefer), because its just so obvious and you should have realised it years ago...that David Hasselhoff is the AntiChrist!
Thursday, February 17, 2005
Happy Birthday, Paris!!
Indeed! For today, a mere 24 years ago, the most beautiful creature ever to walk the Earth was born to the meek and humble Hilton family. Perennially tanned, eternally captivating, and blessed with a pair of sticks that not even God himself would beat upon His heavenly drums, Paris has become a bastion for all things good and pure in the world today.

The Salami and Splattermail wish you all of the best, Paris. We hope your 25th year brings you all the fruits you so deserve, and showers good fortune upon you and your kin. You will forever be in our prayers and dreams.

Jeez, I really, really want to fuck her little brains out now. Um, sorry.
Cape Town's
2oceansvibe
have compiled a beautiful gallery of everyone's favourite girl, but you'd better catch it before midnight (or so we believe).
Splattermail looking for a new home
Rooi'ters At the annual general barbeque last night, the salami and smg decided to look at the possibility of moving splattermail away from blogspot and on to a separate hosting solution. With a fatty peice of lamb flank in his fingers, smg hinted at the greater opportunities for more media rich web posts including links to video and pictures.
"but we don't have any moola" the salami replied with a meat frown.
The hunt has begun for a hosting sponsor. please send brief (1 to 5 words including thong shot) proposals to splattermail @ gmail.com.
We are prepared to say absolutely marvelous things about your company and even put a logo / optimised text link alongside selected thong shots.
Otherwise, we're just going to keep posting pictures of The Hof.
Don't panic
Jeez, I can almost
hear
Toadie creaming his pants. Again. This movie has a
helluva
lot of expectations to live up to, and some of the freakiest fans to please - kinda like the Lord of the Rings. So they'd
better
not fuck it up.
Visit the
official movie site
to find out more, and to see a *gasp* different preview.
Problems...
Hi there.
So sorry, but our fucking stupid imagehoster is fucked and it refuses to give me any love. I'll keep trying, but in the meantime, visit
Coolio's Babes
. Should keep you perverts happy for a while.
Wednesday, February 16, 2005
Because we just can't get enough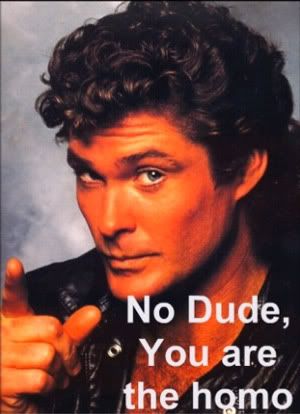 But honestly - who can?
permalink posted by the Salami from Killarney : 1:03 PM |


Rocky's back!!
This is just great. kind of reminds me of someone i'll never be...
Rockys Back // He's a lean mean supermarket machine - GOLD !!!
ps. (It's quite long so be prepared. Also may take really long to load on a slow connection.)
pps.(I saw it on some blog last night but forgot who it was. i think it was
boing boing
, so thanks to them (i think))
[
the salami has chastised me via email for my
poor for m

att

inG of my posts,

so from

now on, i will
try harder.


oh yes, by the way, The Salami has vaginal warts
]
Sports Illustrated Swimsuit Edition 2005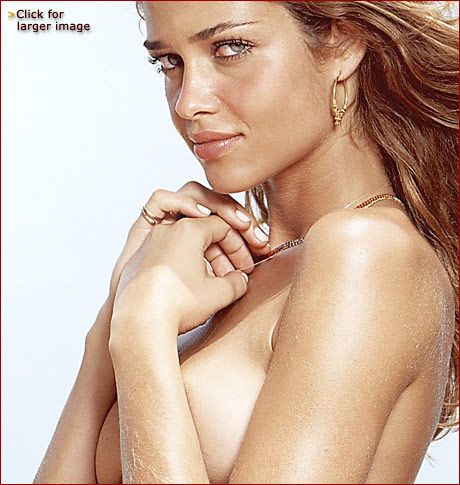 Aaah. Its that time of year when the American Sports Illustrated magazine releases its annual
Swimsuit Issue
. And they have rounded up a veritable bevy of belters for 2005, including supermodel Ana Beatriz Barros (above), and Olympic swimmer Amanda Beard.

I'm gonna keep my eyes peeled for a copy of the rag for myself...because a laptop just doesn't belong in the bathroom. If you know what I mean...
"Hide and Seek"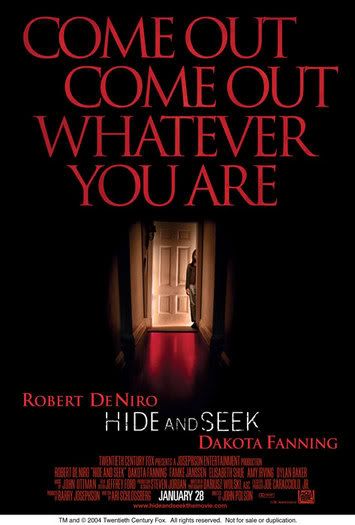 Last night I took myself off to The Zone to watch the new
Robert De Niro
/
Dakota Fanning
psychological thriller,
Hide and Seek
. I have to admit that I was sceptical of the movie after seeing the trailer a few times, and went in under the apprehension that this would at best be standard psych-thriller/slasher-horror fare. De Niro's last foray into the genre with 2004's abysmal
Godsend
was, well, abysmal. This too was in the back of my mind.
Indeed,
Hide and Seek
disappointed in this respect. It slavishly follows the well-established and over-exploited thriller formula, making extensive use of uncomfortable camera angles, eery lighting, long corridor shots, bumps and creaks and haunting music.
Following the success of
The Sixth Sense
, it seems that every vaguely scary movie
must
have some kind of fantastic twist towards its end, supported by little clues throughout the rest of the flick, in the naive hope that the audience will be blown away by the brilliance of the writer's Sherlock Holmesian mind. Yes,
Hide and Seek
gives this a crack too, but fails rather dismally in pulling it off. Well, I think so anyway, having picked the ending like a broken nose (to quote some moron I know).
Having so bitched, Dakota Fanning, the little kleptomaniac that she is, once again steals the show. Her performance is captivating and terrifying - and goes further to prove that this little girl has a dramatic range and talent that makes
Haley Joel Osment
look not unlike The Salami as Drunk No.1 in his high school's production of Oliver!. I was quite good, actually...or so my mother told me.
Robert De Niro puts in a solid, "denero-ish" effort, and competent supporting efforts by
Famke Jansen
and
Elisabeth Shue
(I
loved
her
deeply
after
Cocktail
and the
Back to the Future
trilogy) add substance to an otherwise bland and uninspired story.
Importantly, despite the expected reliance on cheap scares and spooky cinematography, there were still moments during this film that made me curl my legs up and cover my ears.
So I guess its 7/10 Salami Slices for
Hide and Seek
. Worth a watch, but wait for DVD.
Tuesday, February 15, 2005
Have a crappy Valentine's Day, love Osama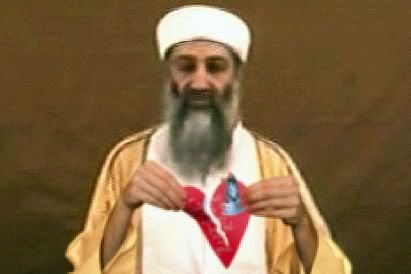 "
WASHINGTON, DC—A new videotape of Osama bin Laden broadcast on the Arab satellite news channel Al-Jazeera Monday beseeched Allah to grant all Americans a "crappy Valentine's Day."

Above: Bin Laden tears up a "putrid Western Valentine's Day trifle" during his videotaped message.

"This Feb. 14th on the Western infidels' calendar, may all Americans receive no valentines from their beloved ones," bin Laden said. "May the homemade construction-paper mailboxes taped to the desks of the American schoolchildren remain empty, as well. May whomever you ask to 'bee yours' tell you to 'buzz off.'"

Bin Laden called for "romantic humiliation for all Americans of courting and betrothal age."

...

"[Bin Laden's] sinister call for romantic disappointment on Valentine's Day is yet another demonstration of the ruthless hatred this evil individual harbors for the American way of life," Bush said. "He directs rage at even our youngest and most innocent citizens, asking God to quash children's joy by making them receive, and I quote, 'only unwanted valentines bearing the laughable likenesses of out-of-favor pop-culture icons from the recent past, such as the Backstreet Boys and the creatures from Monsters, Inc.
'"
Aaah, good 'ol Osama. And good on
The Onion
for a smashing article. The full opus
definately
constitutes Splattermail's list of recommended reading for Tuesday.

"Come Monday, as you pry open your fancy, red Russell Stover box, take heed," bin Laden said. "For in the place of tasty caramels and buttercreams, you will find the flaming sword of righteous jihad!"
Good stuff. And at least no American can say that he/she didn't receive a thought this Valentine's Day.
Dogfight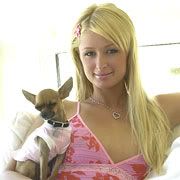 "The unkind would call it the battle of the bitches - referring to the dogs, of course.

Britney Spears and Paris Hilton are now exchanging claw marks not over their fame, beauty or money - but about their pet chihuahuas.

Singer Britney says the hotel heiress's pet Tinkerbell looks like a dog's breakfast. Her own three pooches - Bit Bit, Lacy Loo and Lucky - are far better turned out, she claims.

Other stories:

'My dogs are stylin' and profilin',' the Toxic singer wrote on her website.

'Von Dutch just sent them the coolest little clothes. My dogs are so much cuter than Tinkerbell (ruff! ruff!).' The celebrities, both 23, are rarely seen without their pedigree chums.

And the dogs have been snapped in a variety of designer gear. Bit Bit wore a lavish diamond-studded collar to the Billboard Music Awards in December.
Tinkerbell and Ms Hilton, meanwhile, sported matching outfits on reality TV show, The Simple Life. The dog even inspired this month's Paris Hilton jewellery collection. 'A lot of people admire Tinkerbell's look,' she said. 'So I included a glamorous pet collar.'
"
This is London

Yawn. I feel almost bad for posting this because its such a pathetic excuse for gossip. The rags really piss me off sometimes. There's worthless news, and then there's crap like this. But because it puts my two favourite targets (and ingredients for a Salami sandwich) at loggerheads, I feel it must have some relevance.

And yet I'm over it already.
Another one bites the dust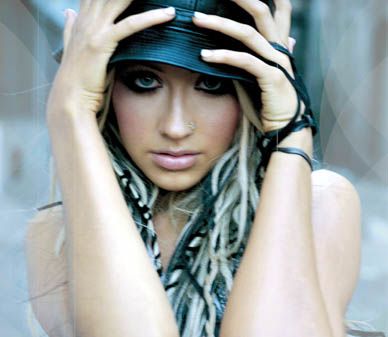 "Pop star Christina Aguilera is to marry music executive Jordan Bratman, the singer's agent has confirmed.
Bratman, 26, proposed to Grammy-winning singer Aguilera, 23, on holiday at an undisclosed location. The pair have been together for more than two years.

"No wedding plans have been set yet," said Aguilera's agent Meghan Prophet.

Aguilera burst onto the pop scene in 1999, winning a best new artist Grammy in 2000. Her hits include What a Girl Wants, Dirrty and Beautiful.

Bratman presented his fiancee with a diamond ring designed by jeweller Stephen Webster on Friday, said Ms Prophet
."
BBC

Oh, well. Another one bites the dust, I guess. Why is everyone so fucking set on getting married these days? I quite like Christina. I really hope she doesn't go the Britney route now that she's a taken gal.
Monday, February 14, 2005
Happy Valentines Day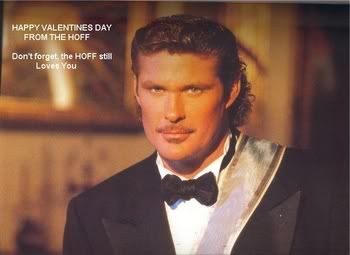 Love that about the Hoff. Again. I'd like to promise that this is the last picture of the miserable bastard that we'll post, but I really can't do that. Sorry.
Roses are red,
Violets are blue,
today The Salami remembers,
the days when his mother sent him valentines roses at school because no-one else did.
permalink posted by smg : 9:49 AM |


Splatter-mile
Sweet! On Friday, Paolo, Fink, Tiger and I set off on somewhat of a voyage of uncertainty as we made our way down to the Midmar Dam, located outside Howick in the Natal Midlands, so that Paolo and I could participate in the annual
Midmar Mile
swim, from one side of the dam to the other. Due to a late start, we decided to find accomodation in Harrismith on Friday night, and settled for a rather strange, but suitably inexpensive, "
backpackers
" in the centre of town.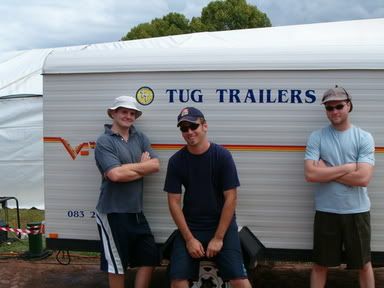 We set off again early on Saturday morning, arriving at Midmar shortly after 9, where we quickly hooked up with another gang of degenerates who had organised a camp site at the Yacht Club. Thanks guys. I guess you, and the rest of the Yacht Club, probably regret that in hindsight.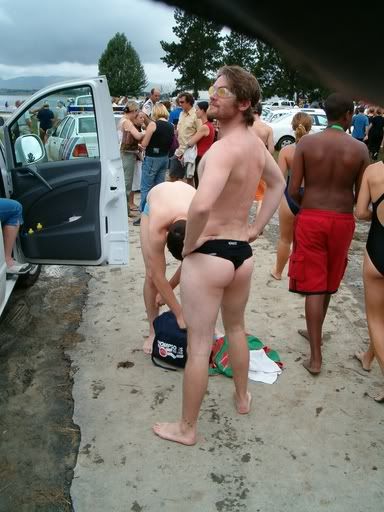 (before pic)
The swim at 11 went well. No serious fitness hassles, although minor cramps and achy joints did plague me throughout. Paolo beat me. Some fat fucker with stretch marks all over his flabby stomach beat both of us. But we did it, and it was great.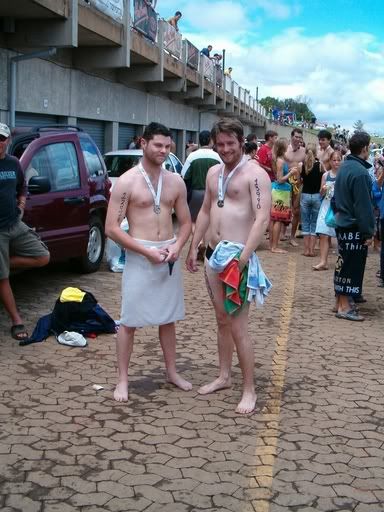 (after pic)
The rest of Saturday was spent getting pretty fucked up. In a surpising twist of responsibility, we procured the services of a taxi driver to take us through to Maritzburgh, where we quickly climbed into Phat Planet and Crowded House, the two flagship clubs in town. Notwithstanding free entry, free drinks and VIP treatment (and the fact the Maritzburgh is dirt cheap at the best of times), we still managed to lose God-knows how much money, and no-one came right...again. We were also ripped off by Bimbo's. That sucked.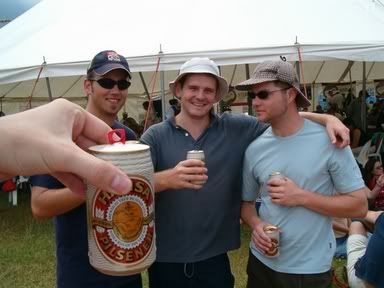 We woke up earlyish on Sunday morning (mostly due to the sun and the wind battering our tents), and spent some time doing damage control pursuant to the "disturbance" in the Yacht Club that we had created upon our return a few hours before.

The drive back was slow, and constituted yet another stage in our Trans-Africa Tour d'Wimpy.

And so concluded another fabulous weekend in the Midlands. What a spectacular place. I'm feeling pretty broken this morning, but - heck! Weekends like our Midmar one are worth a few shitty days at the start of the week.