Its got something for everyone. Just read a few of the bio's:

Warner, 58, was said to have an alcohol problem and received the wine enema because a throat ailment left him unable to drink the sherry, Turner told the newspaper.

"I heard of this kind of thing in mortuary school in 1970, but this is the first time I've ever heard of someone actually doing it," said Turner, who led the lengthy investigation in the case.

Along with negligent homicide, Mrs. Warner was indicted for burning her husband's will a month before his death. Both charges carry maximum penalties of two years in prison.

Mrs. Warner surrendered to police on Monday and was released on $30,000 bail, the newspaper said. "

Shit. What else can I add? Bottoms up, I guess.
State of the Union Address Drinking Game 2005

I
really
like it when Americans come up with cool ideas
and
take the piss out of Bush and the Republicans at the same time.
The
State of the Union Address Drinking Game 2005
is fantastic. Its pretty funny, well scripted, and definately worth a look. Judging by Senor Bush's history of daft speeches, it would be my guess that anyone playing this game in real time would probably not be conscious by the end of the address - but then neither would George Dubbya be
during
it.
The State of the Union Address was scheduled for Wednesday, 2 February at 9PM, which means its probably taking place now. Here's a link to the
live coverage
. Anyone know when Thambo Rambecki is supposed to bore us with his State of the Nation chat?
Britney Spears topless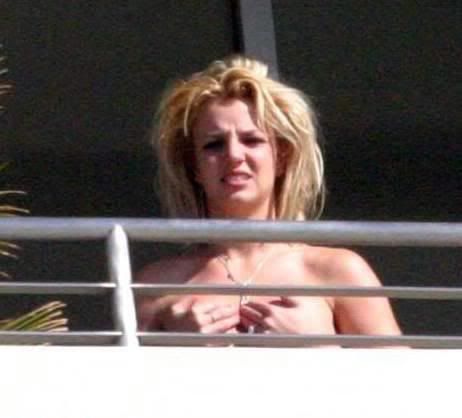 Sort of. We've waited God-knows how many years for just one fucking authentic topless picture of Britney Spears, and this is what the trash whore
finally
gives us. Thanks for nothing, bitch.
Am I just a shameless pervert (of course I am, but bear with me), or would it not have been infinitely better for Britney to have just released some arty, sexy, super airbrushed photographs of her tits
just
to satisfy the world's curiosity, rather than to let this be the first public glimpse of her noombies? It doesn't make sense.
She looks like crap these days, and these shots are no exception - how the
hell
does she expect anyone to get off over them? Its becoming increasingly apparent that she is also a fucking selfish cow. Britney needs an army of make-up artists and computer-wizards to recreate her glory days (remember
"Hit me baby one more time"
? I lost my virginity to that video), and she should
not
be allowed out in this state.

...and yet, I'd still pay good money to bang her.
Thursday, February 03, 2005
We'll have none of that...


..."none" of that. Ha ha ha.

permalink posted by the Salami from Killarney : 11:41 AM |


Love those Iraqis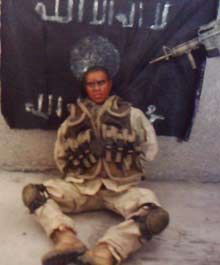 "Baghdad — The U.S. military said Tuesday that no American soldiers have been reported missing in Iraq after a web statement claimed that an American soldier had been taken hostage.

The authenticity of the statement and photo could not be verified, and Staff Sgt. Nick Minecci of the U.S. military's press office in Baghdad said "no units have reported anyone missing."

But questions were raised about the authenticity of a photo purporting to show a hostage with a gun to his head. The figure in the photo appeared stiff and expressionless.


Liam Cusack, of the toy manufacturer Dragon Models USA, inc., said the image of the soldier portrayed in the photo bore a striking resemblance to a military action figure made by the company
."
The Globe and Mail

This is no laughing matter...for either side. If the Iraqis have indeed taken GI Joe hostage, then not only will the US have lost their smartest solider, but the "enemy" will have no doubt invoked the wrath of Desert Storm Barbie (TM), who was last seen just south of Baghdad, shooting up a rampaging horde of be-towelled, RPG-toting My Little Ponies with Dune Assault Action Man from her pink humvee.

But seriously. If this is actually some poor real dude....shame. The glaring reality is that everyone thinks he's an 8-inch piece of moulded rubber (with accessories), and no-one really cares if the arabs rip his arms off, drop him from a flat roof with only a plastic parachute tied to his waist with a piece of string to ease his fall, or twist him together with He Man into an assortment of painful and utterly offensive positions. Sorry - just a little childhood flashback...but we all know that you did it too!

Shit. Even The Salami beheaded a number of Joe's comrades during the now infamous Operation Temper Tantrum in July, 1986. I did squish their head backs on later, though - and they were mostly fine. I promise.

Love those Iraqis. Morons.
Tuesday, February 01, 2005
Orlando and Kate split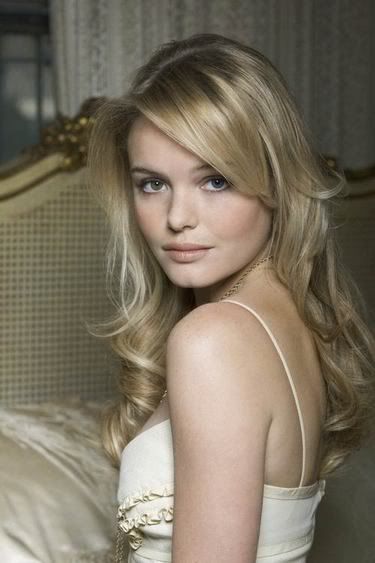 Not nearly as profound as Brad and Jen's recent parting of ways, but still enough to get me a little excited -
Orlando Bloom
and
Kate Bosworth
have
reportedly
decided to call it quits after a 3-year relationship.
Reasons for the break-up have been cited as work-related (i.e., they both work too much), but Orlando's philandering reputation should not be discounted. Apparently. I don't give much of a fuck.

A source told the Mail on Sunday: "Orlando has said that it's all over between him and Kate and that he's back in the dating game. It seems they were never together for longer than a week before one of them had to jet off to the other side of the world for film commitments. Kate's devastated by the split but the truth is Orlando has always been a bit of a ladies' man and thinks he's too young to settle down."
I should have such fucking problems.
The fantastic thing about this is that Kate Bosworth is back on the open-market. Coincidentally enough, so am I. Ever since the movie
Blue Crush
, I've had a little "crush" of my own on Kate, and its made me a little "blue" at times that she was coupled up. Hahaha. Sorry.

...anyways.
Team America....fuck, yeah!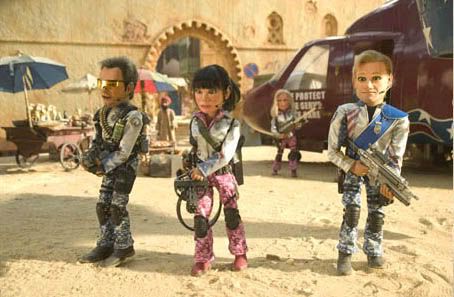 HO-LEE crappers! Went to watch
Team America: World Police
last night, and JEEZ - we laughed until we were farting and crying uncontrollably, and
then
some. This is a
funny
movie.
Trey Parker and Matt Stone of
South Park
fame have outdone themselves with this
Thunderbirds
-inspired effort, featuring a cast of marionettes.
Team America
ties together practically every single action movie stereotype employed in Hollywood since...well, since Hollywood first started making action movies. Think Bruckheimer-meets-Lucas-meets-Woo, and then throw in a fucking cheese board, wrapped up in not-so-subtle references to such genre-busting flicks as
Star Wars
,
The Matrix
and pretty much every Stephen Segal or Van Damme movie ever vomited onto celluloid. And oh yes, there's
even
a little vomit sequence that almost made me toss my dinner over the seat in front of me.
The movie, suprisingly enough, manages to reflect a degree of conscience, and (fairly enough) pokes fun at both the American Republican extreme right (or, "the dicks") and the Democratic liberal left ("the pussies"), the latter of whom are represented by the Film Actors Guild, or F.A.G, under the leadership of the "greatest actor in the world", Alec Baldwin. Sheesh, I'm still laughing.

Even more wonderful, and this isn't a spoiler, is the fact that South Africa gets to see the uncut version of the movie. The US, being the prudes that they are, demanded that a scene, featuring the male and female "leads" engaging in all kinds of overly-explicit conduct (including doggie, 69er, and a blozzer - to name a few), be removed shortly prior to the film's US release. We get to see it. And HEYZUS MARIMBA it is funny.
If you see one movie this month, make sure its Team America: World Police.
Monday, January 31, 2005
Splattermail goes to the races
Aaaah.
The J&B Met
. One of the greatest events on the South African social calender went off beautifully (as it never fails to do) on Saturday, 29 January 2005, and I was fortunate enough to be there, thanks to a fantastic last-minute budget flight from
1Time
and to the enthusiasm of my friends in Cape Town.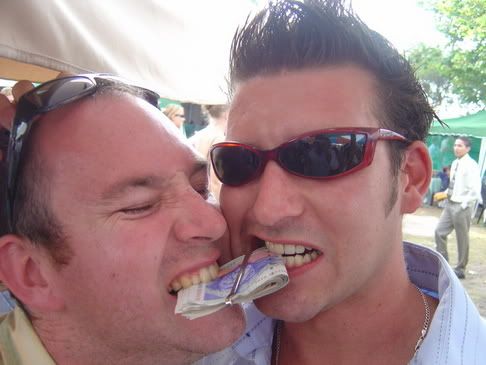 Following an eventful but rough Friday night, during which I was deserted at
Opium
by Harps and the boys (who had pissed off to
The Fez
) after I managed to pass out (again), we got off to an early start Saturday morning in anticipation of a long, action-packed day at Kenilworth Racecourse.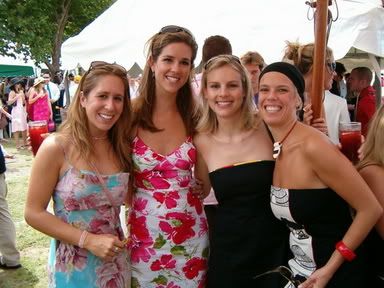 The Met was brilliant. The boys in Cape Town outdid themselves in organising and running a very professional picnic site, which attracted a large amount of traffic, inevitably studded with an assortment of freeloaders looking for other peoples' booze. Thankfully, a good number of the freeloaders were fuck-off hot dollies, dressed for the occasion in the sexiest outfits I've seen in years. I didn't come right.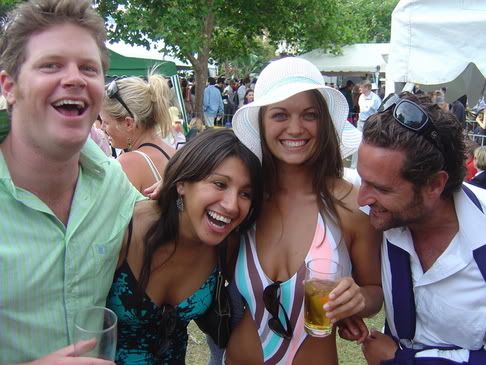 Coincidentally, the organisers of the Met always seem to schedule the event for the same day as some horse races. Very smart of them! This year was no exception. Those who bet money on Alastor, the unexpected winner of the
main race
, enjoyed a lucrative 50:1 payout - as always, I was not one of them.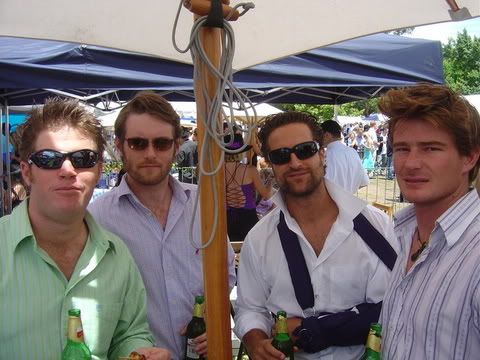 The Met never really winds down, despite the fact that everyone who is not a drunken asshole come 17h00 has probably already left, or is a horse. The festivities continued well into the evening on both sides of the track, despite the official after-party selling out of tickets before 22h30, leaving the rabble (myself included) to seek out alternative venues and sources of entertainment. This is never a problem after the Met. And we managed admirably.
Ahem
.

The Met rocked. The people rocked. The chicks...rocked. I had a fucking blast, spent too much money, and went home alone. Again. Love the Met.

It was choice.
More Ron Jeremy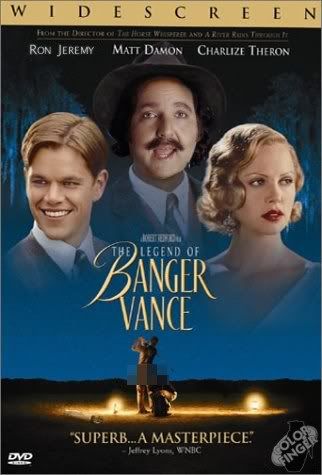 Thanks, Harps. Love that Ron Jeremy.

permalink posted by the Salami from Killarney : 9:30 AM |


Fukitol
Wish I had a few of these this morning. Just had the craziest weekend in Cape Town (down for the J & B Met - keep watching for the highlights package), and I'm feeling borderline suicidal right now. Sucks to be at work. I'm sure I'll feel better as the day progresses.
Also, my left ball is swollen after some serious abuse by a Russian lapdancer at Mavericks. Sigh, passion always comes at a price - so do I, it seems.
Brad and Jen - the song
Here are Brad and Jen singing "My Boo" - just click on the pic.

I had my reservations about posting this, 'cos its pretty shite and rather puerile at times...but then I remembered that Splattermail is too. Besides, I know that most of you have seriously underdeveloped senses of humour, and that its quite possible that this clip could be the funniest thing you've ever seen. One of my 2005 resolutions is not to be a comedy snob.

If you hate it, fuck it. At least we distracted you for a minute or two from what you were doing, and for that I reckon we deserve some thanks.