Saturday, January 29, 2005
Walking stick self defence.....
got this from BoingBoing.

It offers really helpful advice for example: "An effective way to defend oneself with a Hooked stick when attacked by a man armed with an ordinary straight stick."

Self-defence with a Walking-stick: The Different Methods of Defending Oneself with a Walking-Stick or Umbrella when Attacked under Unequal Conditions (Part2) is a priceless peice of history that deserves to be preserved for all to read and learn in the years to come.

test


permalink posted by smg : 3:32 PM |


the worst words:
my list:

1. Discharge
2. Lick
3. Panty
4. Panties
5. Dank
6. Vagina
7. Anus
8. Rim
9. Crust
10. Vulva
11. Ejaculate
12. Soggy

Enough already!!!
[Update: 13. Moist] thanks to the salami for reminding me.


permalink posted by smg : 1:46 PM |


Friday, January 28, 2005
Kiddie crimes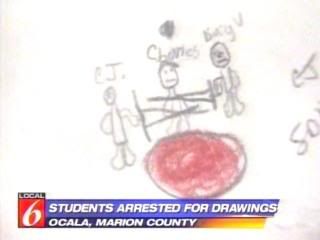 "OCALA, Fla. -- Two boys, ages 9 and 10, were charged with felonies and taken away from school in handcuffs, accused of making violent drawings of stick figures.


The boys were arrested Monday on charges of making a written threat to kill or harm another person, a second-degree felony.

The special education students used pencil and red crayon to draw primitive stick figure scenes on scrap paper that showed a 10-year-old classmate being stabbed and hung, police said.

"The officer found they were drawing these pictures for the sole purpose of intimidating and scaring the victim," said Ocala Police Sgt. Russ Kern.

The boy depicted in the drawings told his teacher, who took the sketches and contacted the school dean, Marty Clifford. Clifford called police, who arrested the boys after consulting with the State Attorney's Office.

They were also suspended from school.

One drawing showed the two boys standing on either side of the other boy and "holding knives pointed through" his body, according to a police report. The figures were identified by written names or initials.
Another drawing showed a stick figure hanging, tears falling from his eyes, with two other stick figures standing below him. Other pieces of scrap paper listed misspelled profanities and the initials of the boy who was allegedly threatened
."
Local6.com

You got to hand it to the Yanks for being fucking ass-hats. Who the fuck arrests and handcuffs 9 year-olds? Apart from Michael Jackson during playtime at Neverland, of course. Jeez Louise. I love the way they always blow everything way out of proportion. Americans are all fucking drama queens.

Maybe I'm being a little insensitive about this. Maybe drawing pictures for your classmates detailing exactly how you plan on killing them is not a good thing. But for fuck's sake, put the artists in detention, scream at them and make them stand in the corner. Corporal punishment would rock too, but the Americans led the worldwide move to do away with that too.

Poor kids. I guess it'll make a great story for when they grow up.
Paris wasn't there
How sad for us. Acting on a tip-off from a supposedly reliable source, Paolo Koala and I paid a little visit to the Melrose Arch Hotel last night in a (rather) desperate bid to find Paris and Nicky Hilton, who were apparently in Jo'burg to participate in a
Guess
launch that was held at the hotel (it all kinda makes sense, especially with the
magnificent
Guess billboards, featuring the love of my life, that have sprung up on the M1 and the wall of Menlyn Park - if there are more, please tell me where).

A big Guess banner in the lobby got us pretty excited, and we set about quizzing concierges, bellboys and barmen as to whether the party-goers from the afternoon were still there and, upon being told that the party was over and no-one had stayed behind, where they had all fucked off to. Paolo, who moonlights as an Australian private investigator, was exceptional, applying just the right amount of pressure, offset by a modicum of humour. We were getting results, but they were negative.

A concierge suggested we try Kilimanjaro next door. They weren't there. Finally, after racking our brains and asking ourselves the obvious question: "If I were Paris Hilton, where would I be?", we went back to my place. Not really.

In the end, the only Hilton we found was Sandton Hilton. And her bar. Where we klapped a few whiskeys, ate some beernuts, quizzed the barman (who was suprisingly helpful, and put in a few calls to his mates around the hotel to see if Paris was staying there), chewed the fat, and then went our separate ways.

So we didn't find the Hiltons. But we had fun trying anyways.
Thursday, January 27, 2005
Got Frisbee?
Just a quick invitation to all of you who live in JHB to our twice weekly game of ultimate frisbee. yes yes, i know what you're thinking, but its actually the fastest growing sport in Canada ('ey?) and contains more fun and excercise in one game than a night in Paris (if you know what i mean).

Imagine American football and basketball all rolled into one with a frisbee instead of a ball. lots of diving, grassburns, and sweaty men (and women). click here for more info and here, and here for the South African Flying disc association.

Games are played on Mondays and Thursdays (tonight) at the George Lea sports ground in Sandton. (turn into sandton drive off william nicol, first left at the Total, then first left again. go a few hundred metres, then left again into the sports ground.) You'll know you're there when a 175gram flat ball knocks on your windshield after a wayward throw.

If you can't throw a frisbee for shit, don't worry, you'll pick it up chop chop.



Oh, and you'll recognise me as the guy who's too tired to run or is sitting on the sideline as a substitute.

If you have hockey, soccer, rugby boots then bring them. Games from about 6~6:30 and play until we're tired or 8ish (whichever comes second).

You won't be dissapointed.


permalink posted by smg : 9:49 AM |


Paris Hilton's little love letters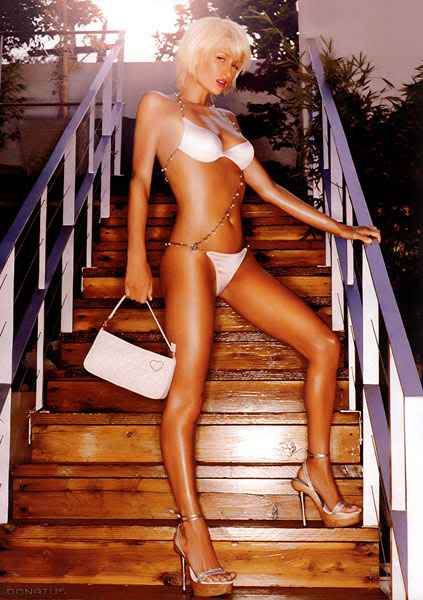 In a rather embarassing, yet cruel twist, a few of the little loving messages, notes and cards that Paris wrote to me during our whirlwind week-long romance in Fiji (summer 2003) have found their way into the public eye. I've already received numerous calls from The Sun, People Magazine and Huis Genoot, all trying to verify the authenticity of the correspondence. Well, they're real - and you heard it here first.
After our final big fight in which I called her an "effin' bitch" because she didn't put the cap back on the toothpaste, Paris wrote this letter to me from the plane back to LA.
"
I just wanted to let you know how sorry I am for lying to you before and I want to let you know that it will never happen again. I can't explain the pain I felt when I thought I lost you. It was like half of me had been ripped from my soul. I never felt so alone and I never want to feel that way again. I never want to lose you. I never want to hurt you again . . . I'm so sorry for the pain that I have caused you. From now on things will be different, I promise
."
Paris then promised to get a tattoo to mark a "
new beginning
" and, "
to erase all the past bullshit we have done to each other
." The note is signed, "
Paris (your bunny forever
.)"
Another letter was accompanied by photos Paris had cut out of a magazine showing herself looking glum with the headline: "Paris feels real pain." "
Dear Salami, This is how I look and feel when I'm away from you
", she wrote.
Poor girl. But you can check it all out for yourself, courtesy of the
New York Post
.
Wednesday, January 26, 2005
When you're feeling down...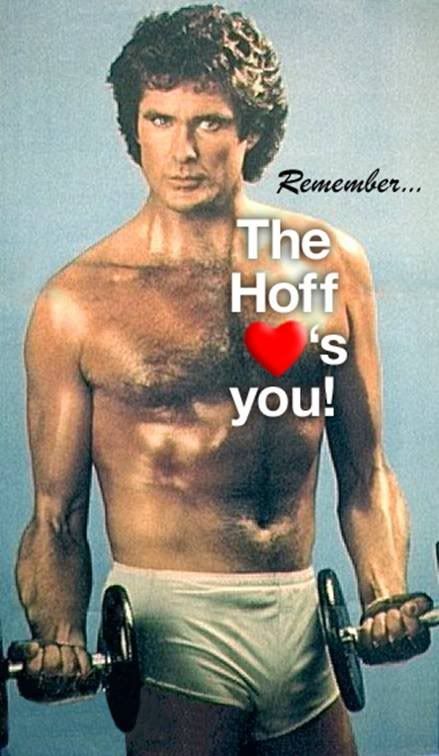 They say that, in his heyday, the Hoff could bench 140 with his 'fro. Actually, I just made that up.
Have you noticed that we seem to be posting a helluvalotta Hasselhoff these days? I think Splattermail may need serious psychoanalysis.
Thanks anyway, Fed.
The future looks good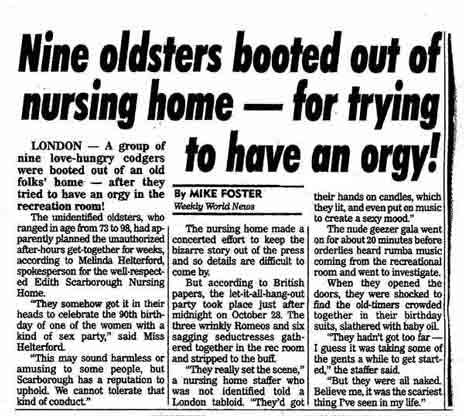 What was the name of the nursing home again? When I push 80, I'm going recruiting. Thanks Harps. Inspirational stuff.
Not quite as bad as a
lemon party
, but still pretty funny.
PS. Do NOT visit the above site if you hate buxom, naked lesbians.
Goggle dog


Goggle Dog.
I don't know.


permalink posted by smg : 9:40 AM |


You have the right to remain silent....say cheese!
Just stumbled across this website (after googling for a picture of WWE wrestler Brock Lesnar - which is another (boring) story in itself).



Here's a nice one of Axl Rose.

Mugshots.com is a directory of mugshots sorted into categories like Actors, Celebrities, Beat-Ups, etc etc.


permalink posted by smg : 9:24 AM |


"Catwoman" tops Razzie nomination list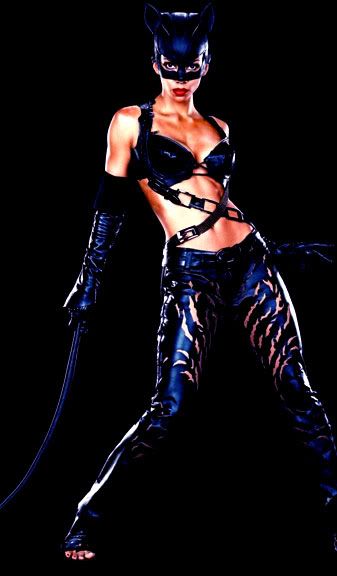 "
LOS ANGELES - This could be the year in which Alexander the Great conquers Catwoman and President Bush wins a prize as worst actor.

Nominations for the 25th annual Razzies, which honor the worst films of the year, were announced on Monday with "Catwoman," the Halle Berry box office bomb, besting "Alexander," Oliver Stone's much maligned tale of the bleached blond conqueror, by seven nominations to six.

In addition, the president made the list for worst actor for his film clip appearances in "Fahrenheit 9/11," a movie he might well consider the worst of the year. Also nominated for their appearances in the politically-charged film about the Iraq war were Secretary of State-designate Condoleezza Rice and Secretary of Defense Donald Rumsfeld.


The Razzies are a traditional spoof award made at Oscar time by the non-profit Golden Raspberry Award Foundation. The group's prizes are given out on Feb. 26, the day before the Oscars. Never has one of its films gone on to win an Oscar."
"
iWon News
Ja, ja - so the
nominations
for the 2005 Oscars came out yesterday. Big deal. I am a massive fan (not that I'm
actually
an obese person), but I just figured: lets give the shit the spotlight for a change.

Pop through to the article and check out the nominees. I'm not going to list them all here, but suffice to say they include Sharon Stone, Jennifer Lopez and Ben Affleck, Donald Rumsfeld, Angelina Jolie, George Bush's goat and Britney Spears, to name a few.
I honestly didn't think Catwoman was
that
bad.
"Old School" revisited
Duke University sucks.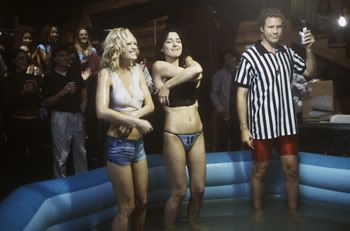 "
DURHAM, N.C. - In what police say was an homage to the movie "Old School", partying Duke University students were found in a fraternity house basement with an inflatable pool, a whole lot of baby oil and women in bikinis.

Police came upon the scene early Sunday after responding to a noise complaint.

"Inside were several of America's future, re-enacting a scene from the movie 'Old School,' where females wrestle in a pool of lubricants," police Sgt. D. Gunter said. In their version, the Duke students apparently opted for baby oil.

Officers said they cleared the house of the 200 revelers, sending some of the women home in the subfreezing temperatures in nothing more than the bikinis they wore.

Nicholas Hunter Roberts, who lives at the address, was charged with violating the city's noise ordinance, a misdemeanor that carries a $150 fine.
There has been ongoing tension between students and residents of the neighborhoods that adjoin Duke's East Campus. Other weekend parties in the area resulted in noise ordinance charges and a marijuana possession charge.
" (
Yahoo
)

Frankly (ha ha), I'm a little bit upset that we somehow never managed to kick this off at UCT. Cape Town girls are prudes (but, lets face it, they're the hottest prudes in the world).

I reckon, at the next Salami Games, we make sure that we have a KY wrestling competition - come to think of it, wasn't Harps supposed to organise one at his place, like, last year already? Come on Harps, don't let us down! You're my boy, Blue!
Tuesday, January 25, 2005
Link of the day
not entirely new, but i keep forgetting to post it:

click here


permalink posted by smg : 11:29 AM |


"And the award goes to..."

Following a rather rank Thursday evening (by his own admission), Splattermail reader Paolo Koala, with head hung low and morale smashed, came forward, entirely of his own volition, and admitted to nailing a beast of a most vile and putrid nature. This was on Friday.

Even more depressing was the fact that Mr Koala was then forced to contact the thirty-something teacher the next morning, on his own cellphone, due to the fact that he had "forgotten" said cellphone in the backseat of her car, to arrange to collect it from her. Oy.

In keeping with the spirit of the Orc Horse / Swamp Donkey floating trophy, Koala accepted his award from previous world-champion, all-time-record trophy holder, five time MVP and orc horse fanatic, Finkelstein, in a brief, but grotesquely amusing ceremony, amid a mass of drunk revellers at Friday night's final Pink Palace blow-out. A karaoke/PA system added to the pomp. He did not offer an acceptance speech.

To Koala: we've all been there before. Most of us, however, managed to keep our fingers clean. Long live the King!
The hottest woman in the world...2005
AskMen.com
have released their portfolio of the hottest 99 women for 2005...
TODAY!!
So get it while its still blistering! I was quite suprised, although not devastated, to find that supermodel
Adriana Lima
has been voted as the 2005's number 1. Let's face it - she's a smokin' vision of wonderment, and she gives me goosebumps in my special place.
I haven't had a chance to flick through the whole list yet - I actually do have
other
work to get to as well - but I
really
want to know where
Paris Hilton
fits into the whole thing. After all, I love her and want to marry her and have her babies, so it would be nice to know
exactly
how hot the rest of the world thinks she is. I'd be pretty bleak if she banged me up and then all my mates told me she was actually a troll and awarded me with some kind of stupid floating trophy (as they do).
I get to see my love every time I drive south from Sandton on the M1 - there's a lovely Guess billboard with her flashing some cut-my-eyes-out-with-lust leg. Note to self: get a photo for Splattermail.
Uma Thurman at the beach
Because I like you guys.
I gotta admit that I've never been much of an Uma junkie. She can look kinda hot sometimes (like in
Dangerous Liaisons
), but the rest of the time, I think, she's just pretty busted. I don't know exactly what's going on with her boobs in the photo on the right, but notwithstanding, she's really looking quite fit at the moment. Not so sure if I'm a fan of her granny bikini botties, but what the fuck. She has her tits out, and I think the photo of her lying down on the beach looks pretty sexy. If I was on that beach, I'd be very tempted to pop into the sea for a quick rub and tug. But honestly - who wouldn't?
Monday, January 24, 2005
Salami Army vs SuperSport Park
On Saturday, a group of mismatched miscreants descended on a muddy, boerewors-infested SuperSport Park in Centurion for what was effectively the first day of the now-doomed final test match against (spit) England.
We quickly set about establishing a local record at the bar at the Hennops End by ordering 14 draughts per round. Whilst we were very proud with ourselves, 14 draughts on a hot, muddy day, in what is arguably the largest congregation of boers and poms in a single place since the 1899 - 1902 series (the poms won that too - who knows what the end result would have been if we'd won the toss?), is not
really
that much. But we'll take the record.
It was a smashing day, and great fun was had by all, I reckon. We all got shitfaced, sunburnt and covered in mud - which really is the only way to get at the cricket. Heading into the final hour, a big, dark cloud sent us packing prematurely - but we all left with wonderful memories, most notably of this ugly bitch and her fantabulous mullet:
Our grand idea of raping and pillaging the car park as we left didn't pan out as expected. This was pretty much the closest we came. The shot was taken only seconds before they told us to "fuck off and die" and stole our place in the queue at the parking lot exit.
In hindsight....OOOOOH-ZUS! And the dental plan?
I settled with raping and pillaging myself when we got home. It was good.

Viva The Salami Army!


Drunk girls
Yes, yes. Its dirty. But we love it. Dirty, drunk girls discovering the joys of kissing each other on the lips and boobies. Clearly, I'm going to
all
the wrong parties.
I think lesbians are the best thing in the world, next to beer.
PS. click on the photo.
Sunday, January 23, 2005
Cheating Housewife Services
It's not often that someone forwards a spam email on, but this one is pretty great:


From: Matilda A. Short [mailto:matilda_shortqu@cs.com]
Sent: Sunday, January 23, 2005 1:48 PM
To: ----------
Subject: Your Match

4 Wives looking for fun have been matched for you in your area:

1) Lauren, 123 lbs, 5'7, 36c, 21 miles away, available Jan 24-26th
2) Amanda, 121 lbs, 5'9, 36d, 12 miles away, available most week nights (looking for side-fling)
3) Alexis, 125 lbs, 5'9, 34b, 19 miles away, available Jan 22-28th
4) Rachel, 123 lbs, 5'7, 36c, 12 miles away, available most week nights (looking for side-fling)

All 4 women are waiting to speak with you live & have photos. Webcam's are available for all 4.

http://www.123hammertime.biz/844267/chws/fullpage.php

If you have found a lady or not to be paired up then continue.
They must be hooked up to some sort of serious global positioning system through the CIA as somehow they know how far away you are from them. I think I'll have a go with Amanda as she's only 12 miles away which would make it somewhere near Brixton or Yeoville.
[thanks Rob for email]