Saturday, January 15, 2005
new comments
We've put in a new commenting system which looks quite spiffy. You don't need to register or do any of that other kak anymore. Unfortunately it means that all your previous comments have been lost. Let's just look at it as a new year, a new beginning.

ok? hmmm? good.


permalink posted by smg : 2:18 PM |


Friday, January 14, 2005
Tsunami Survivors
Splattermail has just received some photographs of 2 survivors of the recent tsunami. Apparently they have forgotten their names and where they live. If they belong to you please contact the relevant authorities.

pic 1 | pic 2 | pic 3 | pic 4 | pic 5


permalink posted by smg : 4:54 PM |


Vertical Pork Chops
Philip over at hot action is running a bit of a survey. the question: "What is your favourite word for vagina?" my favourite answer so far has to be "Vertical Pork Chops".


permalink posted by smg : 4:28 PM |


New XML feed
After much wailing and gnashing of teeth, we have tried to fix the splattermail RSS feed. the new RSS URL is: http://feeds.feedburner.com/splattermail if it still doesn't wek please let us know.

If you don't know what rss is, get a clue and go here or here.

In a simple nutshell it allows you to "subscribe" to sites like this and whenever a new post is made it arrives into your RSS reader. Mine is tied into my Outlook and kind of looks like an email. You can also try a web based aggregator like Bloglines if you aren't allowed to install anything on your work computer. RSS is the tsunami of the future, ride it or you'll be begging for aid - don't quote me on that.


permalink posted by smg : 10:30 AM |


Splattermail style
Jo'blog and their stupid, fancy stretch limo (its real...we saw it) can all go and get stuffed.




Presenting...The Splattermobile. Because there's always room for another cunt on the roads. Watch out!

permalink posted by the Salami from Killarney : 8:57 AM |


"Planes, Trains and Plantains: the story of Oedipus"
Holy smokes!!
This
is fucking hysterical!! According to the write-up, some dude stole his mate's
actual
college paper, which was submitted and graded, and posted it on the internet. I almost pissed myself a couple of times - it takes either rank stupidity or balls of steel to hand in an essay like this one.
Sadly, this only serves to remind me that Americans can be funny too. I hate that.
The llama song
This is fucking weird, but slightly amusing. And in a very similar vein to the
gonads and strife
ditty. There are some strange people alive in the world today.
Check it out
.
Thursday, January 13, 2005
The hottest ass on the 'net
Its been called the sexiest ass on the internet. And SHIT...I'm not about to disagree with that! Toadie actually distributed a link to a full gallery a month or two ago (the link is now closed), and we were all stunned. Her name is Julieta, but she's now known around the world as Keyra (apparently her nickname). Frankly, I don't give a fuck what her name is. She could be called Morag for all I care. But I would sell my kidneys just to slap my hands against that tight little rump. HOO HA!! I just got goosebumps.
Click on the picture to view the gallery.
Wednesday, January 12, 2005
what to do if you have too much time on your hands..
Gonads and strife. I think the person who put this together should collaborate with splattermail. Our collective IQ's will certainly move up a notch. Although apparently the salami is content with his genius status of 593 - he's reading your mind right now (or making a salami sandwich)(or both).

i smoke too much pot.


permalink posted by smg : 4:54 PM |


my first post of 2005
Christian Wrestling Federation.

jislaaik it.


permalink posted by smg : 11:44 AM |


Snappy the little crocodile


"The hottest thing in German music right now is a 4-year-old girl's made-up song about a crocodile.

Joy Gruttman's song, "Snappy the Little Crocodile" ("Schnappi, das kleine Krokodil"), is the No. 1 song on the German charts. Her family posted the song on a web site as a joke, but a radio station in Cologne, Germany, got hold of it and made it a hit.

Gruttman is the youngest recording artist to make it to the German Top 10, let alone No. 1.

"Snappy" beat out songs by Kylie Minogue and Linkin Park. The song is even appearing as remixes in German dance clubs." TheDenverChannel

Save us from Europe. First Gunther, now this. As much as I like to get on America's case for being uncultured, the fucking Europeans aren't helping with shit like this. Remember Eiffel 65? What the fuck are they thinking? Its not cute - its just plain stupid. Oooooooh, I get sooooo angry!!

You can decide for yourself, if you really have to: take a listen to this hopelessly inane and irritating "song" (the sad thing is that I've definately heard worse from grown-ups).



permalink posted by the Salami from Killarney : 7:29 AM |


Tuesday, January 11, 2005
A little mind bender
For once. Something slightly intellectual on Splattermail. Courtesy of Toadie. I racked my brain with this one and it nearly drove me insane, but I think I finally cracked it. Give it a go.
Spot the difference
.
Yawn...
My apologies, but work and a rather late Monday night have taken their toll on me today. I'm lazy and particularly uninspired. So here's a few interesting submissions from Harps, Splattermail's very own fountain of filth.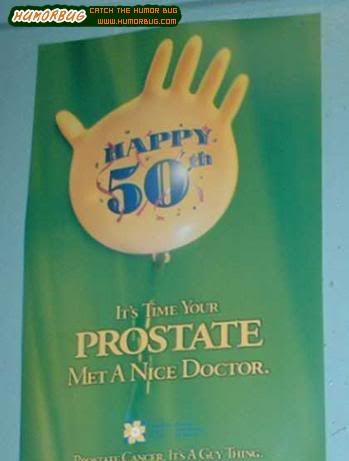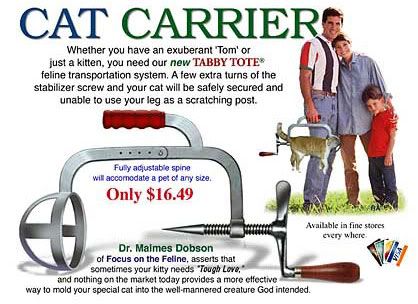 I'll try harder tomorrow. Pinkie swear.
Monday, January 10, 2005
Sheesh...uggo deluxo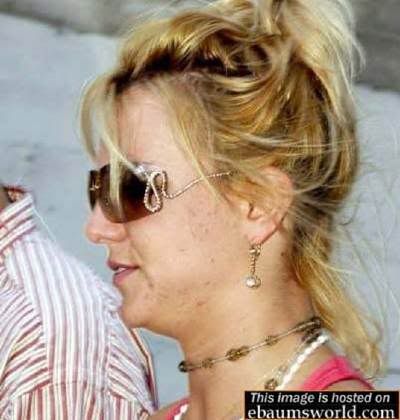 Is it a dead fish? Is it a crack whore? Is it a fat, ugly bitch? YES!! Its Britney Spears. Again. And just as I was falling madly in love with her. Again. How the fuck does she manage to swing from hot-as-fuck to what-the-fuck in such short periods of time? More disturbingly, how the hell do the computer wizards at FHM, GQ and the music video studios manage to transform this poxy lump into a vision of supreme beauty? Black magic, I say!
I want to puke.
Anna Vagina
Some fucking moron has resurrected the rumour that I have genital warts. Once again...it is not true. Please be more responsible in future: the female populations of Joburg and Cape Town are in a frenzy, and even poor Anna Kournikova's a little concerned (thanks to a particularly sexy version of Enrique's Hero with which I managed to croon my way into her thong).

Besides...they're "love blisters", not warts.
The Splattermail offices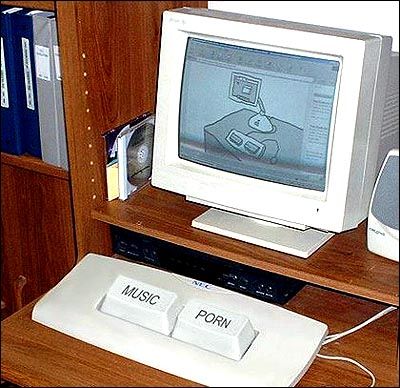 We modelled our keyboard on our man Harps' customised version (as found in his personal study), but added an extra key because we happen to be fond of music as well. We find it cuts back a lot of unnecesary time and effort that would otherwise be wasted on such fruitless pursuits as work and online gambling. There's also normally a big box of Twinsavers on the desk, but I've been really bored and I'm already down to the Rotatrim (and the paper cuts?).

PS. This isn't actually our office - its more of an artist's rendition of what we wish our office looked like. Assuming, of course, that we actually had an office. Bitch bitch bitch.
Brad and Jen - overskidovers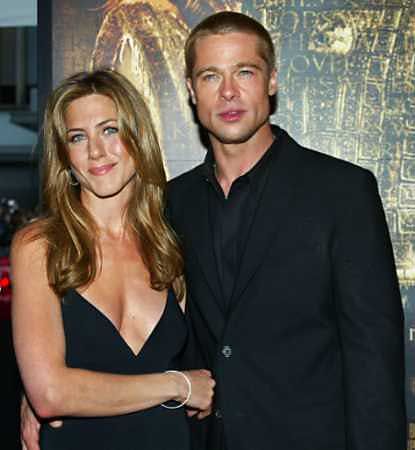 "
LOS ANGELES (Reuters) - Superstar Hollywood couple Brad Pitt and Jennifer Aniston have separated after 4 1/2 years of marriage, but they remain "committed and caring friends," they said on Friday.
The announcement of their split followed months of tabloid stories about spousal ups and downs, including reports that Pitt, 41, wanted to become a father but Aniston, 35, was reluctant to start a family.
News of their breakup came in an understated announcement released late on Friday afternoon through People magazine.
"We would like to announce that after seven years together we have decided to formally separate," they said. "For those who follow these sorts of things, we would like to explain that our separation is not the result of any of the speculation reported by the tabloid media.
"This decision is a result of much thoughtful consideration. We happily remain committed and caring friends with great love and admiration for one another. We ask in advance for your kindness and sensitivity in the coming months."
"
Finally!! Brad Pitt can be mine!! Again! Ag, shit. I'm not gonna get all snotty and bitchy about this one, because I, well, actually
like
these two. So I do kinda feel a bit bad about poking fun at them. Course, I do
desperately
want to nail Jennifer Aniston, and maybe even call Brad while I'm busy just so that I can laugh at him. But we all know that that probably won't happen this year. I'll just bide my time...and carry on trying to pump ugly, fat bitches.
Tickle me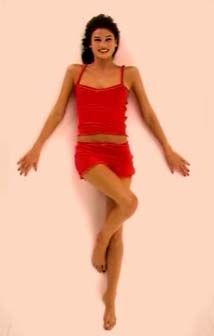 Oooooh,
tickle
this spicy little strumpet. She squeals and giggles for me, and (damn her) she'll probably do the same for you. I wish there was one of these waiting for me when I get home tonight.