Tuesday, February 01, 2005
Team America....fuck, yeah!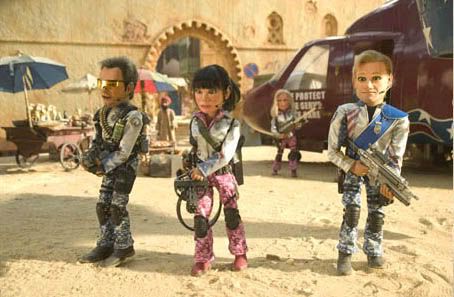 HO-LEE crappers! Went to watch
Team America: World Police
last night, and JEEZ - we laughed until we were farting and crying uncontrollably, and
then
some. This is a
funny
movie.
Trey Parker and Matt Stone of
South Park
fame have outdone themselves with this
Thunderbirds
-inspired effort, featuring a cast of marionettes.
Team America
ties together practically every single action movie stereotype employed in Hollywood since...well, since Hollywood first started making action movies. Think Bruckheimer-meets-Lucas-meets-Woo, and then throw in a fucking cheese board, wrapped up in not-so-subtle references to such genre-busting flicks as
Star Wars
,
The Matrix
and pretty much every Stephen Segal or Van Damme movie ever vomited onto celluloid. And oh yes, there's
even
a little vomit sequence that almost made me toss my dinner over the seat in front of me.
The movie, suprisingly enough, manages to reflect a degree of conscience, and (fairly enough) pokes fun at both the American Republican extreme right (or, "the dicks") and the Democratic liberal left ("the pussies"), the latter of whom are represented by the Film Actors Guild, or F.A.G, under the leadership of the "greatest actor in the world", Alec Baldwin. Sheesh, I'm still laughing.

Even more wonderful, and this isn't a spoiler, is the fact that South Africa gets to see the uncut version of the movie. The US, being the prudes that they are, demanded that a scene, featuring the male and female "leads" engaging in all kinds of overly-explicit conduct (including doggie, 69er, and a blozzer - to name a few), be removed shortly prior to the film's US release. We get to see it. And HEYZUS MARIMBA it is funny.
If you see one movie this month, make sure its Team America: World Police.