Monday, February 14, 2005
Splatter-mile
Sweet! On Friday, Paolo, Fink, Tiger and I set off on somewhat of a voyage of uncertainty as we made our way down to the Midmar Dam, located outside Howick in the Natal Midlands, so that Paolo and I could participate in the annual
Midmar Mile
swim, from one side of the dam to the other. Due to a late start, we decided to find accomodation in Harrismith on Friday night, and settled for a rather strange, but suitably inexpensive, "
backpackers
" in the centre of town.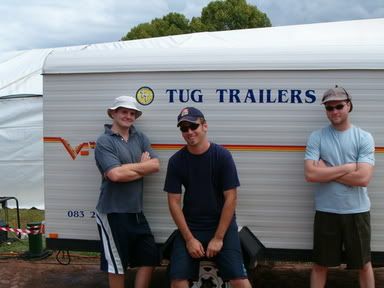 We set off again early on Saturday morning, arriving at Midmar shortly after 9, where we quickly hooked up with another gang of degenerates who had organised a camp site at the Yacht Club. Thanks guys. I guess you, and the rest of the Yacht Club, probably regret that in hindsight.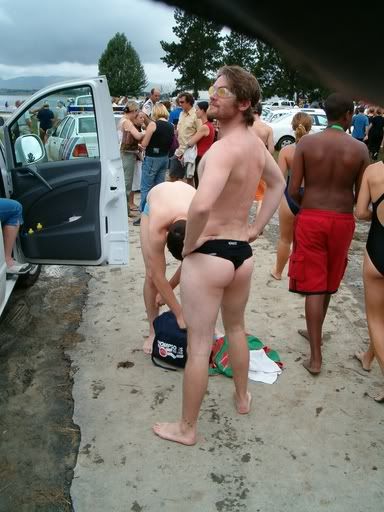 (before pic)
The swim at 11 went well. No serious fitness hassles, although minor cramps and achy joints did plague me throughout. Paolo beat me. Some fat fucker with stretch marks all over his flabby stomach beat both of us. But we did it, and it was great.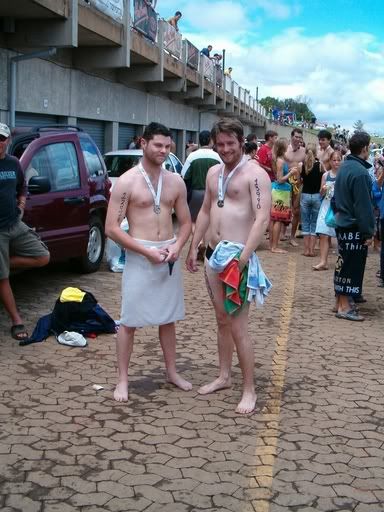 (after pic)
The rest of Saturday was spent getting pretty fucked up. In a surpising twist of responsibility, we procured the services of a taxi driver to take us through to Maritzburgh, where we quickly climbed into Phat Planet and Crowded House, the two flagship clubs in town. Notwithstanding free entry, free drinks and VIP treatment (and the fact the Maritzburgh is dirt cheap at the best of times), we still managed to lose God-knows how much money, and no-one came right...again. We were also ripped off by Bimbo's. That sucked.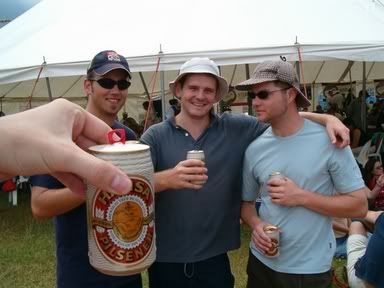 We woke up earlyish on Sunday morning (mostly due to the sun and the wind battering our tents), and spent some time doing damage control pursuant to the "disturbance" in the Yacht Club that we had created upon our return a few hours before.

The drive back was slow, and constituted yet another stage in our Trans-Africa Tour d'Wimpy.

And so concluded another fabulous weekend in the Midlands. What a spectacular place. I'm feeling pretty broken this morning, but - heck! Weekends like our Midmar one are worth a few shitty days at the start of the week.