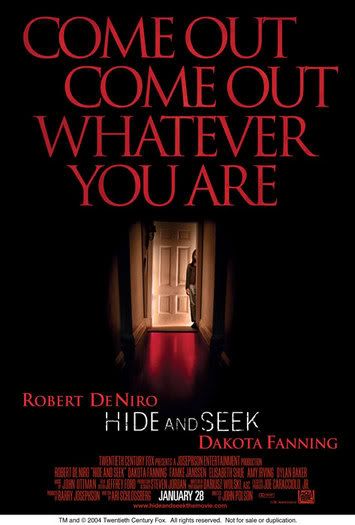 Last night I took myself off to The Zone to watch the new
Robert De Niro
/
Dakota Fanning
psychological thriller,
Hide and Seek
. I have to admit that I was sceptical of the movie after seeing the trailer a few times, and went in under the apprehension that this would at best be standard psych-thriller/slasher-horror fare. De Niro's last foray into the genre with 2004's abysmal
Godsend
was, well, abysmal. This too was in the back of my mind.
Indeed,
Hide and Seek
disappointed in this respect. It slavishly follows the well-established and over-exploited thriller formula, making extensive use of uncomfortable camera angles, eery lighting, long corridor shots, bumps and creaks and haunting music.
Following the success of
The Sixth Sense
, it seems that every vaguely scary movie
must
have some kind of fantastic twist towards its end, supported by little clues throughout the rest of the flick, in the naive hope that the audience will be blown away by the brilliance of the writer's Sherlock Holmesian mind. Yes,
Hide and Seek
gives this a crack too, but fails rather dismally in pulling it off. Well, I think so anyway, having picked the ending like a broken nose (to quote some moron I know).
Having so bitched, Dakota Fanning, the little kleptomaniac that she is, once again steals the show. Her performance is captivating and terrifying - and goes further to prove that this little girl has a dramatic range and talent that makes
Haley Joel Osment
look not unlike The Salami as Drunk No.1 in his high school's production of Oliver!. I was quite good, actually...or so my mother told me.
Robert De Niro puts in a solid, "denero-ish" effort, and competent supporting efforts by
Famke Jansen
and
Elisabeth Shue
(I
loved
her
deeply
after
Cocktail
and the
Back to the Future
trilogy) add substance to an otherwise bland and uninspired story.
Importantly, despite the expected reliance on cheap scares and spooky cinematography, there were still moments during this film that made me curl my legs up and cover my ears.
So I guess its 7/10 Salami Slices for
Hide and Seek
. Worth a watch, but wait for DVD.