Tuesday, February 15, 2005
Have a crappy Valentine's Day, love Osama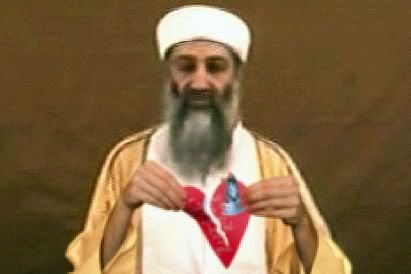 "
WASHINGTON, DC—A new videotape of Osama bin Laden broadcast on the Arab satellite news channel Al-Jazeera Monday beseeched Allah to grant all Americans a "crappy Valentine's Day."

Above: Bin Laden tears up a "putrid Western Valentine's Day trifle" during his videotaped message.

"This Feb. 14th on the Western infidels' calendar, may all Americans receive no valentines from their beloved ones," bin Laden said. "May the homemade construction-paper mailboxes taped to the desks of the American schoolchildren remain empty, as well. May whomever you ask to 'bee yours' tell you to 'buzz off.'"

Bin Laden called for "romantic humiliation for all Americans of courting and betrothal age."

...

"[Bin Laden's] sinister call for romantic disappointment on Valentine's Day is yet another demonstration of the ruthless hatred this evil individual harbors for the American way of life," Bush said. "He directs rage at even our youngest and most innocent citizens, asking God to quash children's joy by making them receive, and I quote, 'only unwanted valentines bearing the laughable likenesses of out-of-favor pop-culture icons from the recent past, such as the Backstreet Boys and the creatures from Monsters, Inc.
'"
Aaah, good 'ol Osama. And good on
The Onion
for a smashing article. The full opus
definately
constitutes Splattermail's list of recommended reading for Tuesday.

"Come Monday, as you pry open your fancy, red Russell Stover box, take heed," bin Laden said. "For in the place of tasty caramels and buttercreams, you will find the flaming sword of righteous jihad!"
Good stuff. And at least no American can say that he/she didn't receive a thought this Valentine's Day.