Thursday, February 10, 2005
The GoDaddy girl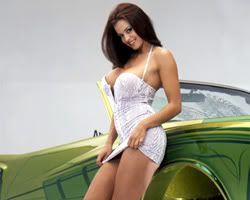 There's been one helluva rucus raised over
GoDaddy.com
's rejected Superbowl ad, which features
WWE
Diva
Candice Michelle
appearing before a Senate hearing committee, whilst trying to deal with a little "wardrobe malfunction" at the same time.
As reported by
WWE
, "
It was the main topic of the post-Super Bowl chatter around water coolers, message boards and blogspots around the country this morning. GoDaddy.com's devilish new ad that, in addition to promoting the site, pokes fun at the Puritanical mindset that has pervaded the post-Janet America.
In the ad, a well-endowed, tank-top-clad brunette flounces about before a stuffy Senate committee, touting the benefits of GoDaddy while desperately trying to prevent, shall we say, a "wardrobe malfunction." The brunette in question is none other than Candace Michelle, one of Raw's newest Divas, and she took a few minutes out of her increasingly hectic schedule to talk about the commercial
."
The full, uncensored ad can be viewed at
GoDaddy.com
, and its worth a view even if just to see what the fuss is about.
But this is Splattermail. And so we are required, in terms of our founding memorandum, to push this story a little further. So below are some gratuitous links to some
naked
pictures of Candice Michelle who, as fortune would have it, is also an experienced Skinemax actress. Aaaah, love it.
Candice enjoys a threeway
,
Candice at the beach
and
Candice in the bedroom
.