Monday, January 10, 2005
Brad and Jen - overskidovers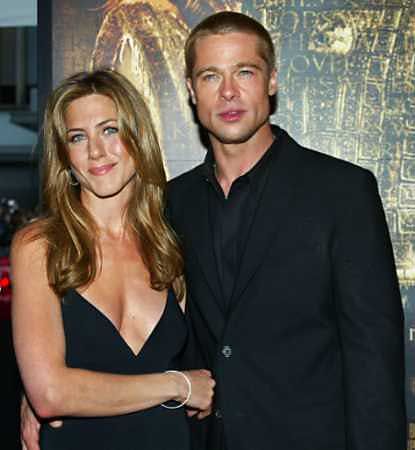 "
LOS ANGELES (Reuters) - Superstar Hollywood couple Brad Pitt and Jennifer Aniston have separated after 4 1/2 years of marriage, but they remain "committed and caring friends," they said on Friday.
The announcement of their split followed months of tabloid stories about spousal ups and downs, including reports that Pitt, 41, wanted to become a father but Aniston, 35, was reluctant to start a family.
News of their breakup came in an understated announcement released late on Friday afternoon through People magazine.
"We would like to announce that after seven years together we have decided to formally separate," they said. "For those who follow these sorts of things, we would like to explain that our separation is not the result of any of the speculation reported by the tabloid media.
"This decision is a result of much thoughtful consideration. We happily remain committed and caring friends with great love and admiration for one another. We ask in advance for your kindness and sensitivity in the coming months."
"
Finally!! Brad Pitt can be mine!! Again! Ag, shit. I'm not gonna get all snotty and bitchy about this one, because I, well, actually
like
these two. So I do kinda feel a bit bad about poking fun at them. Course, I do
desperately
want to nail Jennifer Aniston, and maybe even call Brad while I'm busy just so that I can laugh at him. But we all know that that probably won't happen this year. I'll just bide my time...and carry on trying to pump ugly, fat bitches.