Friday, December 10, 2004
Pantera guitarist shot dead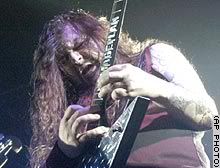 "
COLUMBUS, Ohio (
CNN
) -- A 25-year-old man stormed the stage at a heavy-metal rock concert Wednesday night, shooting and killing Pantera founder and Damageplan guitarist "Dimebag" Darrell Abbott and three others before a police officer shot and killed him, Columbus police said.

At least two people also were wounded in the attack, which occurred shortly after Damageplan began its performance at the Alrosa Villa nightclub on Columbus' north side.

Abbott, 38, and his brother, Vinnie Paul Abbott, 40, formed Damageplan after the breakup of Pantera -- a group they formed in the 1980s. Their father is Jerry Abbott, a country and western songwriter and producer.
Pantera's third release, "Far Beyond Driven," debuted at No. 1 in 1994. The band was nominated for Grammys in 1995 and 2001.

The band dissolved at the end of a tour last year -- amid much speculation on fan Web sites that the split was not amicable. The two brothers, however, played down any bitterness during an April 1 interview with CNN."

Crazy mother-fucking psychos. Why the hell do we have to live in a world where, honestly, you can't really go anywhere or do anything with any kind of guarantee that someone with some dumb issues isn't gonna run up to you and kill you becuase his tapeworm told him to, or the CIA made him do it, or because he was bullied at school cos he was a fat bitch back then, but once he got to university and starting studying computer science, he became bulimic, got skinny, and adopted an undercut with a centre parting. WHOA!! Digression deluxe.

Pantera was cool. This is crap news.
What's that song?

Here's a pretty cool
quiz
. Type in the name of a band at the top, and it plays a clip from one of their songs, asking you to identify it from a list of four song titles. Must have taken some time to compile. Get it right, and you move through to round 2. Etc, etc.
Now don't expect to biff in your pants when you check it out - its cool, and a nice way to waste otherwise valuable productive office time. On that note, everyone who's still at work (and those who'll be working up until Christmas Eve like moi), lets give a big, loud "FUCK YOU!!!" to our bosses.
Thursday, December 09, 2004
Return of the Jewdi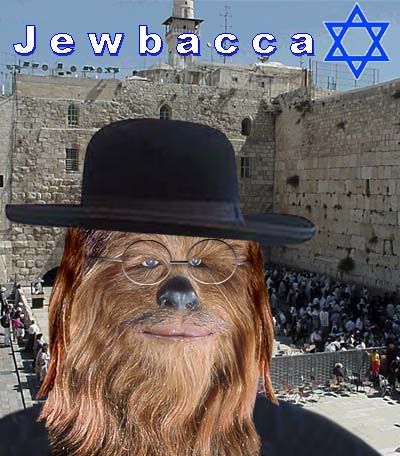 Oy vey! Somebody call Han Solomons and Luke Skywalkerberg. Rumour's afoot that Adolf Vader is building a new and improved Death Star. Somebody's gonna have to kick his toches. Again.

...and tell Chewy he took the Hasidic vibe a little too far.


Woolworths withdraws fiery gravy
From IOL:

Beware: the label on the festive gravy you bought at Woolworths could light up when heated in your microwave, according to an advertisement placed by the company in Thursday's Cape Argus.

The cause of the problem is the foil base on which the label was printed, according to the company.

Only the festive gravy pouches, found on non-refrigerated shelves, have been affected. It has the bar code number 60019006004W and has been on sale since November 27.

The gravy is safe to use but has to be decanted into a microwaveable container, the ad says.

However, customers are free to return the product for a refund.
On reading the heading I thought it was just too spicy, but then i guess it would have read: "Woolworths withdraws fiery gravy after man blows o-ring"
Foreign bergies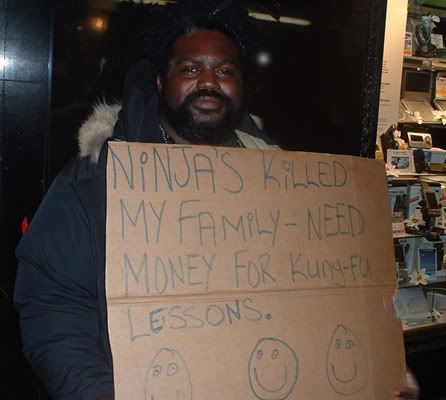 Shit man! Not even our fucking car guards/beggars are world leaders in their field. What the hell kind of third world country are we? It seems the amusing cardboard poster trick is being used the world-over. At least this dude had the creativity to move away from the "naughty cat", "7 wives" garbage, which admittedly amused me the first time I saw it, but which is now so bloody tired.
Still, I'd rather have the stupid signs than the fucking moron leper/epileptic/rickets whatever-the-fuck they're suffering from bendy-leg assholes (yeah, right) who hobble over to your car and give you dribbly miserable gawps. I wanna smack them and take their money, bastards. Also the idiot women who use their cute (but often suprisingly fat) toddlers to try and manipulate you into forking out a few rands.
Show me a little ingenuity, make me laugh, and I'll give you money. Honest.
Got the pic off an interesting site,
die puny humans
. Check out the post on African Menus.
Batman Begins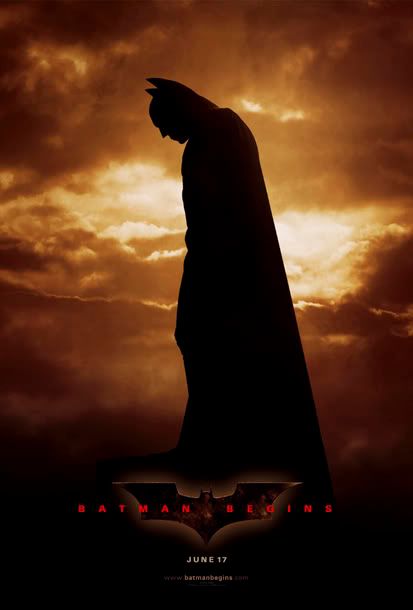 Call me a geek if you want (of course, I'll fucking moer you), but I love Batman (and
not
in that way...I don't think), and I'm super-duper excited about
Batman Begins
, which opens States-side on 17 June 2005. It looks promising, and I'll be fucking mad if they balls it up with such a great cast, director and (apparently, if the rumours are true) script.
Check out the
trailer
and other shit, although it has been playing in SA theatres for a while already.
Hellloooooooo Kylie!


Jeez, another celebrity box shot. Clearly undies are strictly non grata these days. This time Kylie appears onstage with her shaved clam whistling in the wind (if vagina's have lips, surely they can whistle too?). I love Kylie. I think she's a sexy little vixen. Even though she's getting on in years. I also love box. Ergo, I absolutely adore Kylie's box. And you should too.

permalink posted by the Salami from Killarney : 6:35 AM |


Wednesday, December 08, 2004
The Archangel Ricardo
AWF wrestling superstar Archangel's real identity:




and in his super-suit:




We thought he was some kind of thug, after he boldly introduced himself while we were having a quiet (cheap) drink at the Zoo Lake Bowling club. The photo above is a lot more tame than what he looks like in real life - Gold front teeth fillings, shaved head, a serious potty mouth, and neck muscles that he forced me to hit to prove how hard they were (i was going to point out to him that his love handles didn't look that hard but I didn't feel like receiving a Tombstone or The People's Elbow on the bowling green) . Now that I'm his "friend" I can call him on his mobile and get free tickets. cool hey?

Judging by his partners in crime below, he's in good company:



Raja



Chico



Lightning Lodie

AWF wrestling website


permalink posted by smg : 8:49 AM |


Avril Lavigne's Hooters video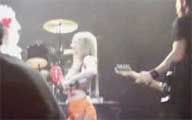 Now I'm perfectly happy to admit that I've always had a bit of a crush on Avril Lavigne. She's such an angry, wild little girl - and I'd just like to ride it all out of her. But I can't say that I've ever thought of her as "hot", or "sexy".
Now just take a look at this pirated (dunno how) video clip of her prancing around onstage in a skimpy little Hooters outfit. The bitch is pretty fucking sexy. And I'd
definately
love to abuse her...even just a little bit. Man, I gotta pop to the bathroom quick.
View the video (.wmv), courtesy of
Anticlown
.
Tuesday, December 07, 2004
Beyonce's bush
Gross. Am I imagining things, or can you see up her pants? There's a little dark patch up her left leg, which I really don't want to think too much about. Seems to me its a jungle up there! Clearly another graduate of the Venus Williams finishing school for young...women?
Harrison Ford on Indy IV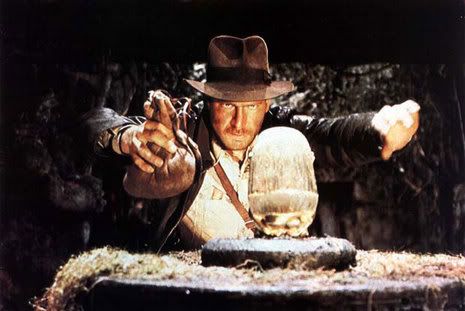 The Indy Experience
lists a few questions and answers from a recent interview with Harrison Ford backstage at the premiere of the upcoming Nick Nolte/Don Cheadle/Joaquin Phoenix/Djimon Hounsou movie,
Hotel Rwanda
(shot on location in...Johannesburg). Han Solo had this to say about the eagerly anticipated fourth instalment in the Indiana Jones series.
"
IESB.net: Is Indy 4 still going to be made?
Ford: "No doubt about it."

IESB.net: George
[Lucas]
has always mentioned that this is his version of a Bond story. Do you think that a younger version of Indy will ever be recast for future feature films?
Ford: "No problem with a younger actor taking on Indiana Jones, but Indy IV is mine."

IESB.net: Will you be doing your own stunts for Indiana Jones 4?
Ford: "At least some of them."

IESB: Are you happy with the script?
Ford: "I hear that George Lucas is happy with the way the new draft is turning out
."

Yee-ha!! It had better not suck! Keep watching Splattermail for more...
Porn music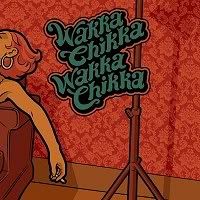 "Even if you have never seen a porn movie in your lifetime, almost everyone in the world knows what the 'Wakka Chikka Wakka Chikka' represents...

Each person, upon hearing it, mentally interprets the 'Wakka Chikka Wakka Chikka' in their own way, fueling a range of emotions from lust to disgust. This CD represents 17 individual artists' interpretations of the 'Wakka Chikka Wakka Chikka'; each providing their own unique cultural and geographic spin on the vibe that is "Wakka Chikka Wakka Chikka'. From celebrations of the beauty of intimacy to a cautionary tale of excess, this collection of sound sculptures of the 'Wakka Chikka Wakka Chikka' mystique from around the world will guide you into the heart of all that is 'Wakka Chikka Wakka Chikka'.

So turn the lights down low, light a few candles, put this CD on the stereo and let the magic of the 'Wakka Chikka Wakka Chikka' take you wherever you want to go. "

"Even if you have never seen a porno?" Who the fuck has never seen a porno? Maybe my gran, but c'mon. Still, I like the idea. And I like the "Wakka Chikka Wakka Chikka" - one of personal favourite sound effects, in any genre.

Of course, if I buy this, I'll have to retire my Engima and Roxette - both of which have served me rather poorly, I must add. I do fancy the idea of pushing some buxom 17 year-old down onto my bed, flicking on the cd player, and hearing "Wakka Chikka Wakka Chikka" as I rip of my velcro trousers. I also have a moustache in this fantasy. Grrroowwwaaar.
Monday, December 06, 2004
Günther's so hot right now...
Just saw what could be the worst music video I've ever seen - "Teeny weeny string bikini" by Günther. Did a bit of googling and found:
Gunthernet.com
.
Fathers hide your daughters, this guy is clearly irrisistible to women. Could it be his snor? or perhaps its his pouty kissing pose? maybe its the mullet - business on top, party at the back?
From the
site
:

ONE MINUTE PROFILE OF THE PLEASUREMAN!
Bringing a message of true love to the world!

Pleasureman Günther is set to have the biggest smash-hit of the summer with his fantastic debut single 'Ding Dong Song'. Günther is a 29 years old gentleman style 2000 in his best years. Günther is from Sweden but he feels like a European. Günther has always been in the entertainment industry and now he feels it is time to change the attitude of the world to do something better. Günther wants to change the worlds look at the sexual way of thinking, so he have started a new trend to sexualise it more in the world. "A Günther trend".
He has only started his mission to go out in the world and spread the message of Love.
The four main things in Günthers life are Champagne, Glamour, Sex and Respect!
Achtung!
the site goes straight into what must surely be one of his big summer hits the "Ding dong song".
Go there now, you can even get his wallpapers (e.g's below)
This guy is gonna be big....
the best advent calendar?
Boobies for peace advent calendar.

Ho Ho Ho and give me a mince pie.


permalink posted by smg : 3:07 PM |


Need help?



Thank you, Senor Harps. Clearly hard at work.

permalink posted by the Salami from Killarney : 10:15 AM |


Happy Monday!
No need for unnecessary banter here. Hope you have a good Monday and a great week.

Here's a few pictures of Angel Across America, Adriana Lima, letting her nipple poke out a bit. Thank you Adriana, from the depths of my trousers.
Duchess of Hazards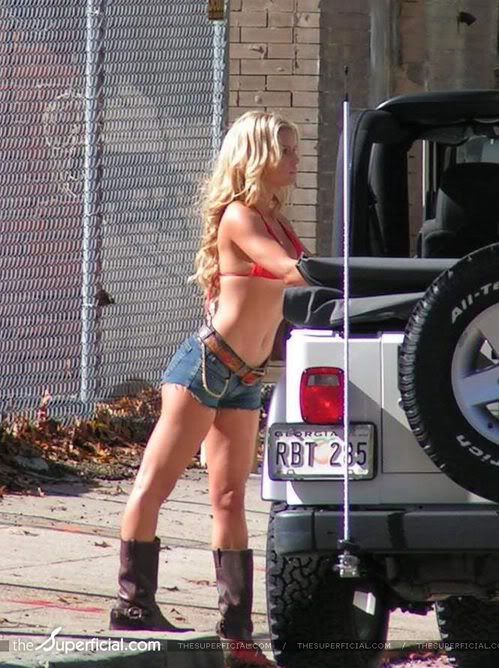 Here's a pic of Jessica Simpson in her role as Daisy Dukes for the upcoming Dukes of Hazzard remake. I think she looks alright. Then again, denim shorts and bikini top are definite "performance enhancing" substances (and I'm talking about the performance that's happening in my pants right now) in my humble opinion.
2004 Nedbank Golf Challenge
Fucking brilliant!! What a marvellous weeked!!

Although smg and I only arrived at the main hotel at Sun City at close to 22h00 (after smg conveniently forgot to arrive on time for his early flight from Cape Town), the night was but an infant, and you know what we do to infants!...look after them, with care and love. Ok, the night was a dirty slut.
We met Splattermail regulars Harps and Finkelstein in the high-rollers lounge in the casino, where the man Harps was embroilled in a rather intense punto banco war against a couple of slammed Patricia Lewis wannabes. We all came out of it alright, Harps richer, and all of us drunker. Then off to the clubs, where we let our true class shine through: champagne, Jager bombs, tequilas and Krugersdorp daquiris (double brandy and coke to the ignorant) saw to it that most of the latter part of the evening was a
genuine
blur. You know its been a heavy night when you arrive home at your hotel room to find the door open and a strange man sleeping in your bed. Unless you're Toadie, in which case the night's only just begun. Some disgusting burgers courtesy of the demons at room service put us to sleep, and gave us disturbing dreams.
Sunday morning was rough. Harps planted the most ridiculously vile turd in our single bathroom. When we came back into the room after a quick trip to the Valley of the Waves, the flowers had wilted, yet the stench remained. We packed and took our bags to the car very quickly.
The rest of the day was spent basking on the golf course. Thanks to smg for hooking us up with some Virgin Atlantic comps - we moved between the hospitality tent on the 1st and the sky box situated behind the green on the 11th. Apparently there was some golf as well. We finally followed Nicky Price and Jim Furyk up to the 18th, whereafter we called it a day and made our way back to Joburg.
Thanks to Harps for sharing his room and hotel benefits (and for being a general all-round jerk), to smg for the ride and the golf tickets, and to Finkelstein for not scoring another orc horse.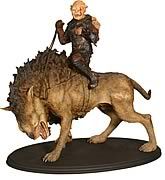 (Above: a photo of Finkelstein riding his date across the dancefloor at his matric dance).