Friday, December 03, 2004
DIY defibrillation
Only in America.

Uber-nerd Finkelstein sent in this link to
Amazon
, where you can purchase your very own pocket defibrillator, especially for those painfully irritating times when your buddies drink themselves into cardiac arrest. Also good for those brilliant evenings where one drunken Johnny Knoxville wannabe spontaneously decides to "kickstart" things (even better than fart lighting or WWF Sofa Smackdown).

And best you order yours today, whilst its on extra-super-special, reduced from $1995,00 to only $499,00 ("subjectotermsandconditions,stocksarelimited,soordernow!!").

There's also an infomerical video link, which is pretty amusing.
Stupid yanks.
Britney steals Paris' rat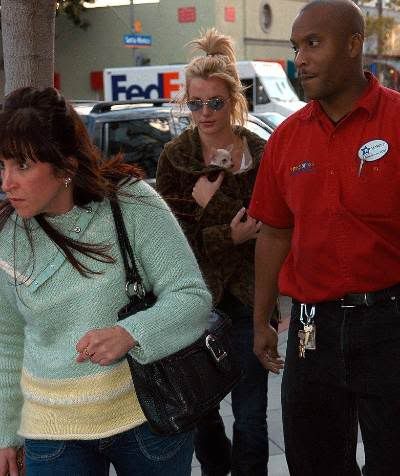 Look!! Its Tinkerbell, getting all snuggly with Britney's tits! Lucky dog. My Britney feelings tend to spike every time I see pictures of her looking hot (which must all be thanks to cutting edge CGI), and I watched her latest video for "My Prerogative" recently - she looks smokin'.

But for fuck's sake! What the hell is the deal with celebrities and shaved gerbils? They're fucking disgusting. They can't catch a ball, they can't fetch a stick. And they look like they're permanently terrified and about to shit themselves.

Maybe there's a big underground celebrity dog swapping syndicate? Remember when Paris' vermin was kidnapped? And now Britney has one? Coincidence? Actually, I don't care.
How to fuck up your wedding reception
"Bride Victoria Anderson's marriage lasted just 90 minutes — when she and her new husband brawled at their reception and he was arrested.

Trouble began at the top hats and tails bash after groom Scott McKie, 23, toasted the bridesmaids, a court heard. First, Victoria, 39, hit him over the head with an ashtray.

Then 50 guests watched in horror as he picked up a hat-stend and threw it "like a javelin" at the bar of the Orange Tree pub in posh Bramhall, Cheshire.

Police were called and tried to calm drunken McKie but he threatened "I will f*****g kill you."

One officer was head-butted and another punched in the eye as they arrested him.
...
McKie of Hazel Grove, Stockport, admitted attempted GBH, affray and assault yesterday. He was given 60 hours community punishment and put on an 8pm-7am curfew for three months.
"
The Sun
Aaah, superb. Another happy story owing its charm to British class. But then I guess that's what a 39-year old woman deserves for marrying a 23-year old. When I was 23, I was fantastically immature. I'm still immature now, but at least I have a deep voice and hair on my balls. Well, a bit.
Thursday, December 02, 2004
Beware the tooth fairy
Apparently she also farms mielies.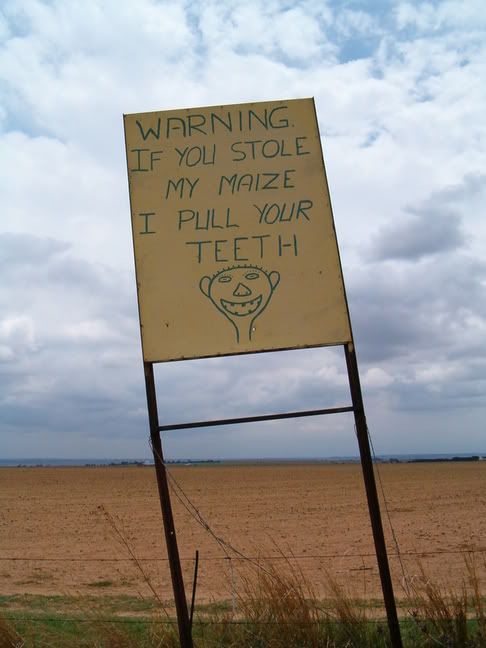 If you ever happen to drive along the Kendal/Balmoral turnoff from the N12 (leaving Joburg), you'll pass this beautiful sign. I do the drive pretty frequently, and I always have a little guffaw when I see it. I still can't imagine what kind of fucking moron would have put it there?
And look at the bounteous crop behind it. Some poor bastard's gonna lose a shitload of teeth.
Wednesday, December 01, 2004
Genetically engineered women?
"Why not just genetically engineer women for milk?

MAdGE (Mothers Against Genetic Engineering in Food and the Environment) today launched a highly controversial billboard campaign in Auckland and Wellington to provoke public debate about the social and cultural ethics of genetic engineering in New Zealand.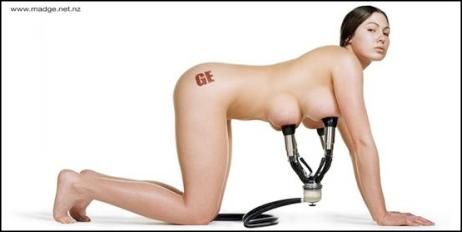 The billboards depict a naked, genetically engineered woman with four breasts being milked by a milking machine, and GE branded on her rump.
"
Scoop

Now, whilst I think that MAdGE are being a tad silly about something so stoopid (who really cares about their milk? I don't), they're onto a fucking brilliant idea: the four-breasted woman!! Why the hell not? Why has no-one thought of it earlier?

Granted, the bitch in the picture is not the most attractive thing in the world, but given she's a Kiwi I suppose we'll forgive her. And New Zealand. Although Rachel Hunter was mildly pretty in her day, I guess.

But the four-breasted woman - what a breakthrough that would be! Nobel prize stuff!

...and I got my wood back.
How to be gay, by Colin Farrell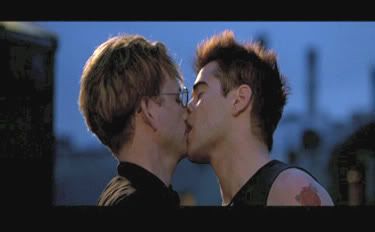 Yikes. It really looks like he's enjoying it too, doesn't it? Yet Colin describes the experience as follows: "
When you feel his stubble against your lip, it's repulsive to me, as repulsive to me as for a lot of gay men the idea of putting their tongue near a pussy is—something that, for me, is akin to heaven sometimes
."
I gotta be honest. The wood I had from looking at porn not 4 minutes ago crashed against my thigh in a little pile of wrinkles. And since there was no one else in the office to hear it, it made no sound.
The Salami is no homophobe. I just don't like the sight of gay men kissing. It gives me the shivers. I also don't like the sight of lions killing cute little gazelles. BUT - and here's the clincher - its just nature, and its not for everyone.
If, on the other hand, you enjoy looking at Colin Farrell kissing another man, then pop over to the
tutorial
, featuring more pictures. And I know there are some closet gaylord Splattermail readers out there too.
PS. The link was sent to me.
Tuesday, November 30, 2004
Yale 1: Harvard 0
"In a rivalry that is 121 years old, students at Yale University successfully pulled off the most impressive prank in the history of rival pranks.

The students faked being members of the "Harvard Pep Squad," passing out pieces of paper to the Harvard side of the stadium.

These Harvard fans were told that the pieces of paper would join together to spell "GO HARVARD." Little did they know, when held up at just the right moment, the pieces actually spelled "WE SUCK."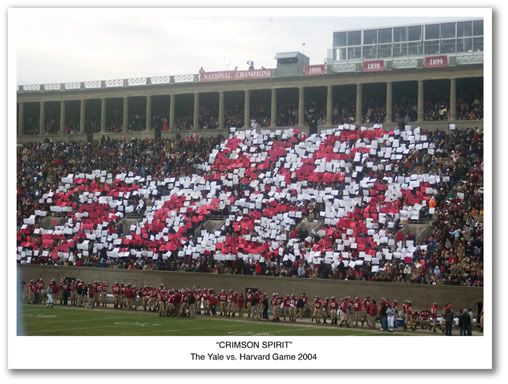 While this was not an original idea, it was still a great feat in and of itself. The prank was reminiscent of the
Great Rose Bowl Hoax
on January 2, 1961
."
juicynewsdaily
And here's a great little
site
dedicated to telling the world that Harvard sucks (videos and pictures available).

Now that's one fucking prank! Imagine organising shit like that? I recall Maties trying to do it to UCT at the 1998 intervarsity, but the four people who were given pieces of paper quickly worked out what they were up to. Stupid Maties.
"America, fuck yeah!!"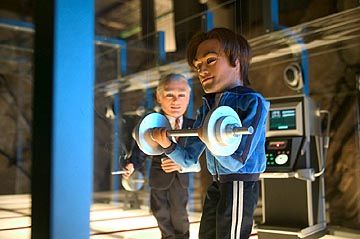 Here we go! A
music video
from the eagerly anticipated movie,
Team America
! It does take a little time to load, so do some fucking work while you're waiting, you lazy bitch.
It is worth the wait, mind you.
Monday, November 29, 2004
Thank you, Paris


...and thanks to Hazard Hadders for the photo. Its a very special photo.

permalink posted by the Salami from Killarney : 2:05 PM |


'Tis the season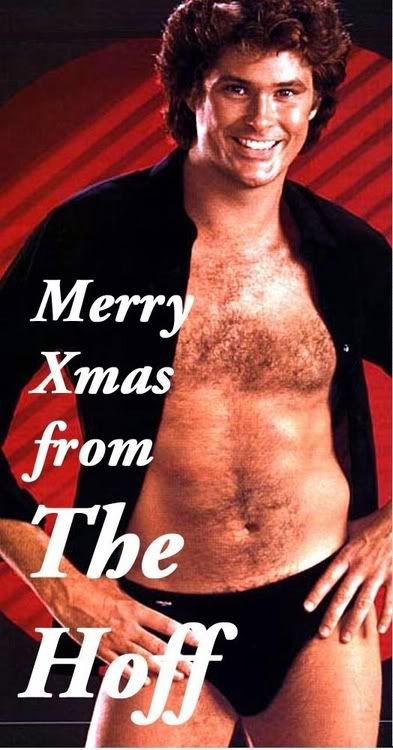 Thanks Harps. You're the best pretend-mate ever.

permalink posted by the Salami from Killarney : 10:07 AM |


The Bill Clinton - Loch Ness Monster connection
"Bill Clinton ordered a bizarre spy unit to contact the Loch Ness monster by telepathy.

The then-US president gave the go-ahead for his Psychic Spying Unit to find Nessie as part of a £15 million operation.

One of the leading lights in the hush-hush mission later claimed to have found a 'faint trace' of the elusive monster using his psychic powers.

But in his report to the White House he admitted that the monster he 'saw' was only the ghost of a dinosaur.

Operation Nessie was launched to establish whether psychic contact could be made with alien life forms.

The exercise has been revealed by author Jon Ronson in his new book 'The Men Who Stare at Goats' about the US military's weirdest tactics and operations. Ronson was given access to previously classified materials for the book. He said: 'It was an extremely serious operation, however crackpot it may sound.

'The Americans were convinced the Russians were ahead of them in the field of psychic study and had platoons of psychically-trained soldiers ready to launch a stealth attack on the US.'

The US Army worked on the project from a base at Fort Meade, Maryland. It was led by General Albert Stubblebine, Chief of Intelligence for the US Army, and Major Ed Dames. The unit had begun investigating UFOs and the possibility alien races - particularly Martians - were living among humans.

The major believed that Martians had been resettled on Earth thousands of years ago by leaders of the Galactic Federation - an ancient race who had been visiting the planet since the age of the dinosaurs.

Ronson said: 'Dames told me he had targeted the Loch Ness Monster for psychic contact. He spent a long time trying to reach the monster from his clapperboard hut in Maryland but he could only find a faint trace of her. Based on his work he decided she must be the ghost of a dinosaur. His report went right up to President Clinton.'

Stubblebine was relieved of his position after he started to believe he could levitate and pass through walls.
He frequently sported black eyes and bruises because of his habit of running at walls full tilt - with no success.
"
Sunday Mail
This doesn't often happen, but I am at a loss for words. What the fuck can I say? This is phenomenal.
Fuck it. I'm stumped.
I can confirm, however, that after reading this riveting article, I have an unnerving suspicion that General Stubbleline is now living in Johanesburg under the moniker Tiger Cohen.
Julia Roberts pops out a pair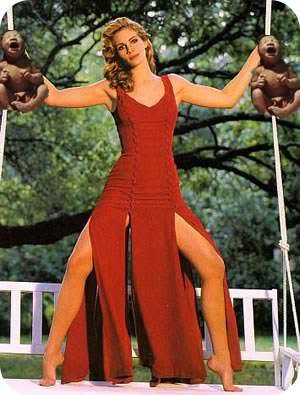 Congratulations to Julia Roberts and husband Danny Moder who
gave birth
to twins Hazel Patricia Moder and Phinnaeus Walter Moder on Sunday morning in a Los Angeles hospital.

Splattermail's sympathies go out to poor Hazel and Phinnaeus who are the latest victims of Fuckinstoopidnameitis, an afflication carried by famous celebrities, but ultimately suffered by their innocent offspring.

WHAT THE FUCK IS WRONG WITH THESE PEOPLE???

Cruel celebrity parents irritate me.