Friday, November 26, 2004
More letters from Africa
Sigh. It seems Splattermail has developed a reputation of late for being sympathetic to the plight of North Africans looking to randomly donate millions of US dollars. Here's the latest piece of desperate bullshit from Sierra-Leone, and our gentle reply thereto.

"From Miss Funke Komana

Good Day

I know that this mail might be a surpriseing to you but do consider it as an emergency. In a nut shell, My name is Funke Komana from the republic of Sierria-Leone in west Africa, now seeking for refugee in Dakar -Senegal under the(UNHCR).

The only child of late Dr.Solomon komana. I am looking for someone who can take me as child I promise to be obidient to you and I will bring happiness to your life, I prayed over it and selected your name amoung two names due to it's esteeming nature and the recommendations given to me, as a reputable and trustworthy person.

I can do business with, and by their recommendations I must not hesitate to confide in you for this simple and sincere business.I want you to assist me in this transaction. My late father was the managing director of Rainbow Gold and Diamond Mine company in (KENEMA)Sierra-Leone.

But he was poisoned to death along side with my mother by his business associate, On one of their outing to discuss a business deal in oversea, However, after their death I managed to stay alone and when the war broke out in my country. I escape to refugee camp in senegal with every important files of my father.

He has the sum of (US$15.2M)Fiften million two hundred thousand U.S Dollars only. This amount was deposited by my late father in one of the leading Security Company in outside Sierria-Leone. The deposit documents indicate me as the next of kin. Presently, I am saddled with the problem of securing a trust worthy foriegn personality to help me. I will map out 15% for you.

(1) you will Stand on my behalf as the beneficiary for the claim of the inheritance from the Security Company since the management of the Company adviced that I should solicit for an individual or corporate organization to claim the deposit for me as they cannot release it directly to me due to my refugee status in Senegal.

(2) Transfer the money over to your own country and into your possession pending my arrival to meet with you.

(3)Invest and manage the money for me in a good business pending my maturity.

(4) Help me secure my travelling documents to meet you as soon as my money is released to you. Furthermore,you can contact the Security Company for confirmation and I will issue a letter of authorisation on your name,that will enable the Company correspond with you on my behalf.

I am giving you this offers as mentioned with every confidence on your acceptance to assist me or adopt me as your Child if possible and manage the money for me.

Conclusively I wish you send me a reply immediately you recieve this proposal.

Until then, I remain with the best Regards,

Miss Funke Komana"


And, of course, our reply:


"Dear Miss Funke Komana

Thank you for contacting us. Indeed, in our country, Splattermail is an entity of enormous esteem and influence, reaching into the topmost eschelons of our blossoming democracy. Your story has touched our hearts.

In many ways I, Mr Salami Killarney, sympathise with your plight. My father was a very powerful and highly respected tar baron in our capital city of Bronkhorstspruit. He was a good man, who loved his employees and his family.

One dark night, however, my father and my eldest brother, Mauritz "Handpomp" Killarney, were attacked by mielie-wielding ruffians demanding a wage increase of ZAR 1,00 per week. You must appreciate that a 500% increase such as this would be grossly unreasonable in any country, and would have crippled my father's multi-billion dollar tar empire. Handpomp managed to kill 50 of the scoundrels with the flamethrower that he used to sleep with at night, but sadly he set fire to the curtains, and our family mansion, Graca-land, burnt to the ground. In a fit of rage, my father beat Handpomp to death with a sock filled with old 20 cent coins, before hurling himself into one of our family tar pits, never to be seen or heard from again.

This all happened on Tuesday night, and I am still in a state of shock. For the past three days, I have been living on nothing but boerewors rolls and warm sterling lite lager. Have you ever had sterling lite? It does not taste very nice. The only family heirlooms I was able to save from the smouldering ruins of our homestead were our autographed copy of the Magna Carta, and one of the original 10 commandment tablets, which my beloved father won in a mampoer-downing contest in Brakpan when he was 34.

In response to your urgent appeals, I would be happy to adopt you as my child. Of course, I am only 14 and not really fit to be a father, but if you are an attractive, slim lady, with a bounteous bosom, who has not yet been touched by the hand of man (also, if you don't smoke or have any disfiguring scars), then your money and you will both be most welcome. Please send a picture, so that I might know what my daughter will look like.

I look forward to hearing from you.

Kindest regards,

Mr Salami J Killarney.

PS. The last time I helped out someone with a request like yours, I spent 5 years in CMax, where my exit hole was systematically enlarged to the size of a stormwater drain. This won't happen again, will it?"

These people are funny. Fucking annoying, and clearly brainless, but funny nevertheless.

Top 10 best and worst US shows
...as voted for by the British which, I have to say, have moments of dumbness (with particular reference to magazine polls) that are terrifyingly American. I think they're ok with these lists, although there are a few dubious inclusions.


"Sex 'n' surf show Baywatch is apparently the worst TV import from the USA of all time.

The series which brought Pamela Anderson, David Hasselhoff and some very skimpy swimsuits to our screens topped a list of programmes.

At one time, Baywatch was the world's most popular show seen by one billion viewers in 140 countries, including Chandler and Joey in Friends.

But British executives voted it worst in a survey compiled by Broadcast magazine.

"The appeal to a certain demographic of a series about a muscular lifeguard and his crew of pneumatic young helpers with raging hormones was enough to sustain this show through 12 years, despite a script of mind-numbing predictability," Broadcast said.

The Anna Nicole Show, an Osbournes-style reality programme, came in second.

The Dukes of Hazzard, described by Broadcast as "The Benny Hill Show meets Deliverance", came in third.

Also listed in the magazine were the top 25 best US shows.
The Simpsons was heralded the "undisputed champion of US imports"
."
Ananova

Now I personally do not believe that Baywatch (at its peak) is the worst US show ever. I used to go mad for Baywatch in the early days. When the chicks were hot, and the stories were vaguely new and interesting. And let no-one diss Pammy Anderson. She was the original, pioneering slutty actress with video tapes - without her, there would be no Paris Hilton. Pam will always hold a special place in my heart. Sorry, my willy.

But I fucking love the Dukes of Hazzard quip - sheer, sheer pommy class! Kudos!

Anyways - here are the worst and best lists:

10 WORST US IMPORTS:
Baywatch
Anna Nicole Show
Dukes of Hazzard
Wild Palms
Manimal
The Jerry Springer Show
Knots Landing
Falcon Crest
The Bold and the Beautiful
Extreme Makeover

10 BEST US IMPORTS:
The Simpsons
Dallas
M*A*S*H
24
The Larry Sanders Show
Hill Street Blues
The X-Files
I Love Lucy
Twin Peaks
Star Trek/The Next Generation
Stupid robber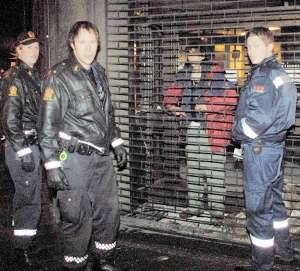 "A spectacularly unsuccessful thief was trapped and on display for arriving police, who needed inside help getting their man out and under arrest.

The 33-year-old broke into a pawn shop in downtown Oslo, but as he smashed the window at the entrance the alarm went off, sending an rolling iron gate crashing down behind him.

The thief was then trapped and on display while waiting for police to respond to the alarm. Nearly half an hour later, the law arrived.

"We have control of one person but he is not yet apprehended," the first patrol on the scene reported. "Well, there isn't much of a difference here really," head of operations replied.

But bringing their man in did take some effort as the lock resisted the efforts of both police and security guards to open it from the outside. The extraction of the caged burglar was only managed when police lent him their tools and he opened the lock himself.

"Don't take photos, that's double punishment," the man said while caged.
The 33-year-old claimed he didn't smash the entrance window, but had no explanation for his bloody hands or who else had arranged the break-in that left him trapped
."
Aftenposten
Fucking moron. If that had to happen in South Africa, the guy would have thought of some ingenious way of stealing the security gate.
Happy thanksgiving, you fucking turkeys
Hooray, hooray. Thursday, 25 November 2004 was (and on the West Coast still is) Thanksgiving over in the land of opportunity and dribbling idiots.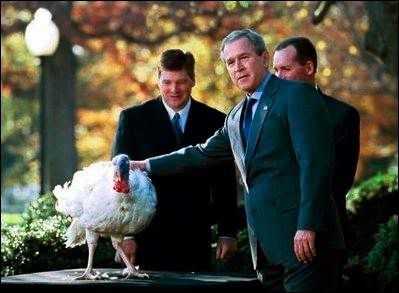 George W didn't realise it was Thanksgiving at all. Probably because the only calendar he's familiar with is the chocolate advent one that his missus buys him every December. The reason he's grinning and looking so cordial is that he apparently thought he was holding diplomatic talks with the Prime Minister of Canada.
Needless to say, the talks were gruelling and intense. And after some cunning manipulation on the part of the turkey, the White House had Donald Rumsfeld for dinner instead.
Thursday, November 25, 2004
A "backdoor Trojan" - ha ha ha
"
The Italian Senate has been the subject of a hack attack by cybercriminals who uploaded images of gay porn onto screens all around the senate building.

The hack was made possible due to an infection by a variant of the Rbot worm, a backdoor Trojan, which can surrender control of key systems to a hacker.

Italian politics is regarded in some quarters as a bastion of homophobia, with certain recent events stoking that particular fire. Firstly there was the debacle when Rocco Butiglione, Italy's candidate for European Union Commissioner, branded homosexuality a sin, and secondly the sacking of Senate vice-president Dario Mattiello after he was pictured at a gay night spot in Rome.

Now it is appears a pro-gay group or individual may be striking back.

According to reports the upper house of the Italian Senate in Rome ground to a halt as it was hit by the worm. Following the infection images of hardcore gay pornography started to be displayed on screens around the building.
"
ZDnet

I have a strong suspicion that the culprit behind this dastardly attack is Splattermail regular, Toadie. His computer is always chocked with images of men having sex with other men. And with other farm animals.
I, however, am hoping that we all get savaged by the dreaded Lesbians With Enormous Tits virus, which apparently has been doing the rounds on my personal laptop. Its a shocker!
More on our Lady of Cold Toasted Cheese
Here's a follow up on the story of the woman who put her
stale lunch
up for auction on eBay.
"
A woman who said her 10-year-old grilled cheese sandwich bore the image of the Virgin Mary will be getting a lot more bread after the item sold for $28 000 (R168 468 ) on eBay.

GoldenPalace.com, an online casino, confirmed that it placed the winning bid, and company executives said they were willing to spend "as much as it took" to own the 10-year-old half-sandwich with a bite out of it.

"It's a part of pop culture that's immediately and widely recognisable," spokesman Monty Kerr told The Miami Herald. "We knew right away we wanted to have it."

...

[The owner/maker of the sandwich, Diana] Duyser said that, after making the sandwich 10 years ago she took a bite and saw a face staring back at her. She put the sandwich in a clear plastic box with cotton balls and kept it on her night stand.

This whole debacle begs a very important question: if you rocked home at 2am, stoned and drunk off your face, and you "accidently" chowed this holiest of relics (because the steak and kidney pie you just smashed at the Engen was a little old, and didn't quite hit the spot), what would happen? Lightening bolts? Plagues of locusts? Or would you and your turds be eternally blessed? The truth is out there...

I still think people are stupid.
Wednesday, November 24, 2004
"Call me Mimi"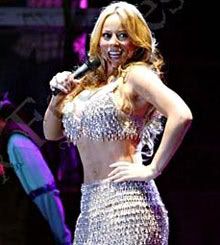 Dar she blows!!


"Mariah Carey has a message for fans: Call me Mimi!

The singer now joins the list of divas who've taken an alternative moniker, such as Jennifer Lopez (J.Lo) and Madonna (Esther). In fact, Carey's new name will appear in the title her forthcoming album: "The Emancipation of Mimi."

"Mimi is a very personal nickname only used by those closest to me... just one of those little things that I've kept for myself in an attempt to have some delineation between a public persona and a private life," Carey explains on her Web site.
By publicly adopting her private name, Carey explains, "I am letting my guard down and inviting my fans to be that much closer to me… Most importantly, I am celebrating the fact that I've grown into a person and artist who no longer feels imprisoned by my insecurities or compelled to try and live up to someone else's vision of 'Mariah Carey.' I now feel I can honestly say 'this is me, the real me, take it or leave it.'"
"
MSNBC

Maybe she's thinking of Mimi from The Drew Carey Show? And maybe she's also related to Drew Carey (they're starting to look similar)? Listen up - I'll actually admit to thinking that, once upon a time, Mariah Carey used to be hot. But we've all had our quirks, haven't we? But this dumb bitch is getting way out of hand, and far too big for her boots. Literally. I bet her elephant cankles wouldn't squeeze into a pair of high-heeled wellingtons these days. She disgusts me.

So Mariah: I think I'll leave it, thanks.
Paris' lesbian fling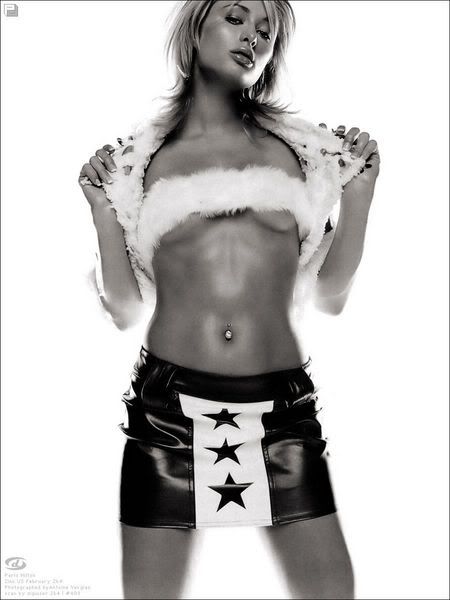 "Paris Hilton is making headlines yet again after steamy pictures of her kissing another woman were snapped up by Hustler publisher Larry Flynt, who plans to print the shots in an upcoming issue of the magazine.

The pictures, which were taken about three years ago when the saucy socialite was 20, show a clothed Hilton cavorting with a still unidentified brunette at a club.

In a series of eight photos, the two girls get progressively closer--dancing, lightly kissing and finally going for a full-on makeout session, with Hilton's friend grasping the celebutante's breast.

Hilton wears a leopard-print halter top and black pants in the pictures--a far cry from the birthday suit she sported in her infamous sex tape with partner Rick Salomon.

Still, Hustler paid photo broker David Hans Schmidt an undisclosed amount for the newly revealed photos after Schmidt said he had the photos forensically tested to make sure that they featured Hilton.
"I think people will see a new Paris Hilton," Flynt told the New York Daily News on Monday
."
Eonline
This girl is a machine! She's even more hardcore than The Ma-Sheen (Charlie, that is)! I love it! Is it really too much to ask the girls in Joburg to behave like Paris? Or do they already, and I'm just a pathetic ignoramus? I think I'm long overdue for an evening at the Lounge.
Tuesday, November 23, 2004
Wonder Woman: the twilight years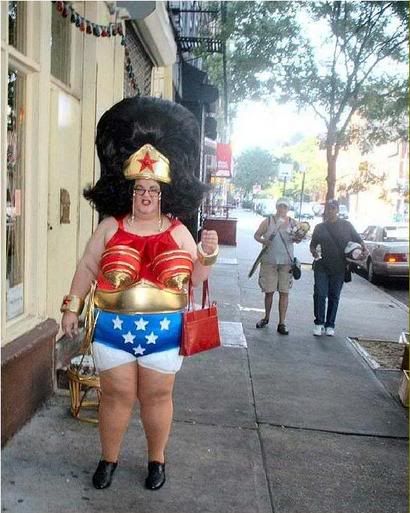 Gross.
permalink posted by the Salami from Killarney : 6:39 AM |


13-year old abducts stripper
Man. This is my kinda 13-year old. And not in a Michael Jackson way, mind you.
"
VIRGINIA BEACH, Va. - A 13-year-old boy was charged with abducting an exotic dancer when she showed up for an appointment at what turned out to be a vacant house with no electricity, police said Monday.

When the woman entered the house at 6:30 p.m. on Nov. 16, she realized her client was a juvenile, police spokeswoman Rene Ball said.
The boy told her the contract was for his older brother, but no one else showed up. The woman tried to leave, and the boy pointed a shotgun at her and ordered her to dance for him, Ball said.
She tried to call 911 on her cell phone, but the boy grabbed the phone. The woman bit the boy's hand, broke free and ran to her car.
The boy was arrested Thursday and charged with abduction by force, conspiracy, using a firearm to commit a felony, brandishing a firearm and transporting and possessing an assault firearm at age 13. He was being held at the Virginia Beach Detention Center.
"
Yahoo
Now
that's
a story the little shit will still be able to entertain his friends with in 20 years time. Why didn't I ever think of it? Oh yes - I may be a pervert, but I'm all Salami and no...meatballs? Then again, I'm also not a rampant psycopath and my dad never had a shotgun, so it was never really on in the first place. I must have had a pretty lame childhood.
Holy skeletor!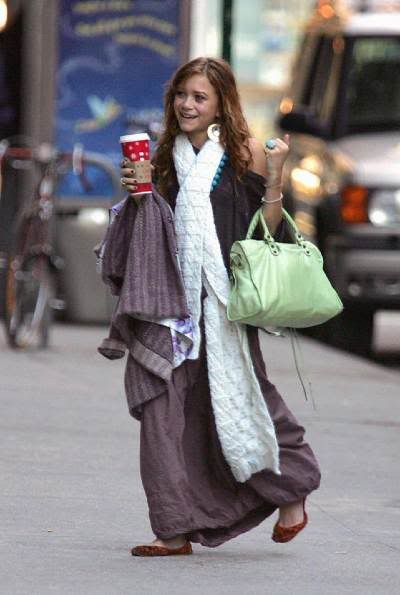 Could it be Mary-Kate Olsen? God, I wish not. But it is! And jeez does she look scary! How the hell she's managing to hold that cup of coffee in her zombie arm is beyond me. And where are her cats? She looks like a witch, so she must have cats. Maybe she keeps them in that fuck off enormous handbag?

I don't what the hell she's grinning about. She looks like she stepped straight off the set of the Evil Dead (which, I believe, writer/director Sam Raimi and actor Bruce Campbell (Ash) are considering a remake of - FYI).
Aaaarr...!
Even pirates keep blogs, it seems.

"Battled a giant squid this morning. I found the brute sat in the bath, eating my best dressing gown.

If you should ever find yourself attacked by a giant squid, it's actually a lot easier to deal with than you might think:

1) punch the squid on its sensitive beak to make the brute chase after you (don't wear your good shirt for this, because cleaning off ink can be a nightmare)

2) let the squid chase you onto the deck of your boat, where you will of course have already had your loyal pirate crew put down a big sheet of glass.

3) glass is invisible, so the squid won't know anything about it until he's slithered his way onto it - by which time it will be too late, because the suckers on his tentacles will have stuck fast to the shiny glass surface.

Then you can just spend the afternoon throwing barnacles at him."

It makes for pretty amusing reading. Check it out.

permalink posted by the Salami from Killarney : 6:07 AM |


Monday, November 22, 2004
Which movie villain are you?
...and its probably slightly appropriate too! Except the part about the penis. I don't call me The Salami for nuthin'!
Check out the
quiz
. Its entertaining, and it'll distract you from the craphole that is work for a few minutes. Which never hurts.
94.7 blues
Don't ever do the Pick 'n Pay 94.7 Cycle Challenge. I did. I nearly died (with Omo Lady's voice). A quiet vomit after 20km almost ended me, but by some miracle, I persevered and made it home in 6 hours and 8 minutes, no more than 20 minutes before the last rider was ushered over the finish line. Corn syrup and crappy energy supplement drinks rule!! As does a good pair of walking shoes.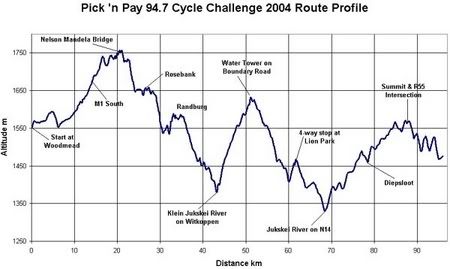 Above is a graphical representation of my anxiety and "I just wanna fuckin' give up" levels throughout the race. Amazingly, it correlates precisely with the altitude profile of the route. Fancy that!

A special word of thanks to all the enormous, fat middle-aged bitches who managed to pass me along the way. I don't know how you did it, but you certainly made me feel more like a chipolata than a Salami.
...and my ass feels like its taken an enormous kielbasa. Or, as Finkelstein (who feels it too) puts it, like this guy's ass must have felt a few seconds after the photo was taken.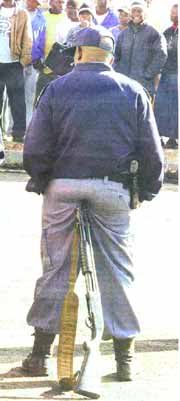 (picture courtesy of our friends at
Jo'blog
)
Sunday, November 21, 2004
Woopsy daisy!
When lifting a car out the water, be sure you know what you're doing. Oh yes and always have a camera ready... link.


permalink posted by smg : 5:05 PM |


94.7 reasons not to cycle
just got an sms from the salami. he's somewhere between the start and the finish line walking up the hills, free wheeling down the otherside.

I feel like frodo on my way into mordor.
He's definately not doing too well at all. That's too bad. I warned him that drinking Irish car bombs (Guiness + Jamesons + Baileys) until 4am on friday night/saturday morning does not constitute carbo-loading.
Am I going to ride it next year?
Ich bin don't think so!
.