Thursday, November 04, 2004
...and more Bush stuff


Yes, yes. But it is funny, and it couldn't be more topical. I like.

permalink posted by the Salami from Killarney : 1:30 PM |


Comedy, CNN-style
This is just too priceless. Clearly some Kerry-flavoured CNN tekkie decided to hide his opinion on the front page of CNN's website.

Here's the deal.

1. Visit this link:
2. This is what you'll find: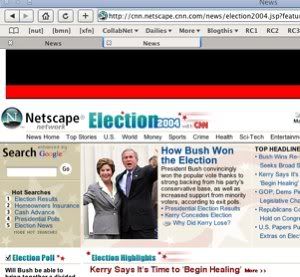 3. Now right-click on the photo of Mr and Mrs Bush, and select "Save image", "Open image" or the equivalent.
4. Check out the image name.
Bloody marvellous! Boy, is one CNN employee gonna shit himself when this spreads across the 'net. As it no doubt will.
Gross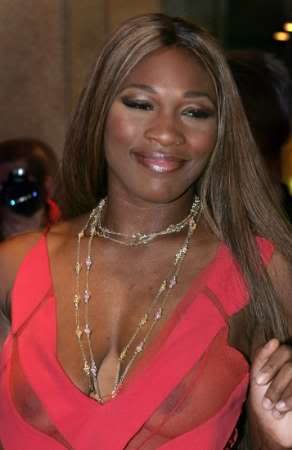 Here at Splattermail, we celebrate diversity. We also mourn ugliness. So if any of you find troll-faced Serena Williams even vaguely attractive, maybe you'll enjoy her in this see-through dress. Of course, we'll have to burn your eyes out with boiling custard, because you clearly have no taste and are a disgrace to mankind.

Gadzoinks!, I wouldn't like to meet her in a dark alley. Scary bitch.
First prize and suspension for KKK kid
"
GRAND RAPIDS, Mich. (AP) - A high school student's costume garnered a top prize — and a five-day suspension — at the school's Halloween masquerade party.

The Ku Klux Klansman getup took the prize for the scariest costume at the City High School dance attended by the principal, assistant principal and other staff members.

Superintendent Bert Bleke said he agreed with the school's decision to suspend the student but wanted to know why adults at the party failed to stop the senior, who was wearing a white-hooded outfit, from entering, much less winning a prize
."
LancasterOnline

Crazy bastard. But then who can blame the poor asshole? His teachers hand him sweets in one hand, and then slap him in the balls with the other. I wonder if the "Mind-Fuck" method of education was also employed at Columbine High? Now here's a blinder: was the student black, and if not, would a black student have been suspended for pitching in the same outfit? And if a tree falls in the forest and no-one is around, does anyone actually give a shit?

I don't know how well this translates into a South African context - if I were to dress up as Verwoerd or Eugene Terre'blanche, would anyone be even vaguely frightened, let alone take me seriously? Not likely. On the other hand, if I were to dress down as Beau Brummel...
Yes, yes...we know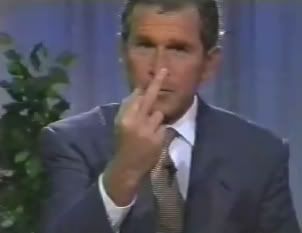 ...as Dubbya says a big "fuck you very much" to the 49,9999% who voted against him (rather than
for
John Kerry).
So the rest of the world has to put up with this fucking asshole for another 4 years. How depressing. Its kinda like losing the World Cup (take your pick) to Australia, and then being forced to watch them parade the trophy around until the next one - a really bitter pill to swallow. I cried myself to sleep about the whole mess last night.
On the positive side, at least we'll have four more years worth of complaining and entertaining material to enjoy. I was concerned that Splattermail was going to have to shift focus away from the American presidency, but as long as Bush sits on his silly little throne in DC, I will continue to bitch about him. Because I like it. And because Bush is a fucking twat.
Here are some amusing
Bushisms
, sent in by Splattermail ol' faithful, Harps.
Wednesday, November 03, 2004
The Australian Army: a classy bunch
"An army chopper crew has been stood down after a crewman issued a very public invitation for women to "show us your tits" at the recent Indy 300 car race on the Gold Coast.

Unfortunately for the crew of Iroquois helicopter No 295, an onlooker in a high-rise flat snapped a photo of the sign displayed by a crewman as the chopper flew along the beachfront on October 23.

The image ended up on the website of the Professional Pilots Rumour Network.

The photo attracted a variety of mostly approving comments on the website's forum, including "Onya boys!!!!" and "Now how about the shots taken from the helicopter please?"

A spokesman for the Australian Defence Force said it was aware of the incident and did not approve.

"This type of behaviour is totally unacceptable and will not be condoned by the Australian Army," the spokesman said.

"An investigation is under way and the crew of the aircraft have been stood down while the investigation is under way."
The spokesman said the crew was stood down as soon as the army became aware of the incident in the past week.
"
News.com.au

Aussie aussie aussie! Whilst I categorically despise Australians (with a few notable exceptions, such as Merv Hughes and Kylie Minogue), I think this is bloody fantastic. Good on 'yer! I wish I had a helicopter so that I could harrass girls. Well, apart from the chopper in my pants, that is. Although that normally does the trick. Enough.
Ashton Kutcher has a small willy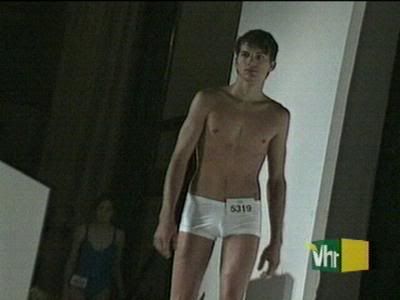 "
Brittany Murphy has apologised for hinting ex-boyfriend Ashton Kutcher has a small manhood.

The sexy actress, who dated the handsome star after meeting him on the set of 'Just Married', revealed Ashton's little secret on a recent US chat show while talking about his relationship with older woman Demi Moore.

She said at the time: "I suppose that the crux of their relationship is that, to him, age doesn't matter and, to her, size doesn't matter."

But Brittany insists she was just joking and has said sorry to the 'Punk'd' presenter for making the cheeky comments
."
Female First

Ha ha ha. That is sooo funny. And she totally meant it too! The apology was just a feeble attempt at damage control, and we all know it! This is superb, because I have an enormous penis (or Salami), which means that I too can date Brittany Murphy and Demi Moore. Maybe even at the same time! Happy days!

This most certainly bodes well for teeny-weeny men around the world: if you happen to be cursed with a pint-sized cock, then clearly you too can have sex with some of the hottest women alive. It will probably help your chances if you are also a hot, fabulously rich and famous supermodel/actor. Inspirational stuff!
Dogs vote Kerry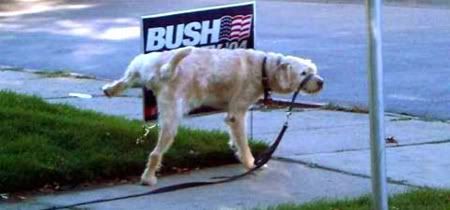 Not suprisingly, of course. Aaah, freedom of expression: somewhat salty, somewhat warm. Word around the White House has it, however, that George W quite enjoys the occasional golden shower.
The election itself is looking pretty tight, although Bush is (vomit) leading at the moment. It is sad. But here's something pretty cool and interactive: the live
BBC US election monitor
- its smashing! Also a useful geography aid, particularly if you're planning to spend December in Kentucky, and never really cared to find out
precisely
where Kentucky was.
Tuesday, November 02, 2004
Ananzi: Part Deux
The saga continues! You wanted it...and here it is: Ananzi's response to Splattermail's
letter of disgust
, which was delivered to the South African "search engine" (puh-leeze!) on Thursday, 28 October 2004 (names have been blanked to protect identities - cool!).
>
"From: "Ms Some lady" <
somelady@ananzi.com
>
>To: "'The Salami from Killarney'" <
splattermail@gmail.com
>
>Subject: RE: Ananzi Submission
>Date: Fri, 29 Oct 2004 15:27:16 +0200
>Hi Salami
>Thank you for being in touch with us.
>I have escalated this to our Managing Director, Mr Some Dude, who asks
>if you could please provide him with your contact details so he may
>contact you directly. His e-mail address is
somedude@ananzi.com
.
>Thank you for posting your response to us on your web site.
>Regards,
>Some Lady
>SITE ADMINISTRATOR
>www.ananzi.co.za
"
Ha ha ha. My favourite part is the bit where she thanks me for posting Ananzi's response. Brilliant. Sarcastic? If it is, touche! The gloves are off indeed! Not to let a great opportunity slide, I happily responded:
"
Dear Mr Some Dude
Your Ms Some Lady's email of 29 October 2004 (as above) bears reference.
We thank you for your swift response, and for the ostensible importance with which you regard Splattermail's concerns. I thank you further for resisting the urge to sink to the level of immaturity adopted by the writer in his initial communication to you, although we would have guffawed heartily had you likewise employed such a tone.
The writer's aforesaid rant was precipitated by the extreme frustration and annoyance experienced by Splattermail in attempting to register itself on Ananzi, a site which holds itself out to be somewhat of a leading force in the frenetic South African internet search engine industry.
After two attempts, and in the absence of any helpful response from Ananzi for a period exceeding two weeks, the disappointment at Splattermail was palpable and ultimately destructive. Two of our regular contributors have subsequently left to commence blogging for their own account.
We feel that the attention directed to our applications for registration was considerably below standard and, whilst this treatment might have been tolerated had it been encountered via our interactions with one of your international siblings (i.e. Google or Yahoo), it was not expected from a search engine of relatively poor quality, which must surely be conscientiously engaged in actively expanding its user base. We refer, of course, to Ananzi.
We trust that you will take the aforegoing into consideration, and that you will revisit your application procedures and protocols forthwith to avoid such incidents in the future.
Kindly direct any further communications in this regard to
splattermail@gmail.com
.
Yours faithfully,
The Salami from Killarney
SPLATTERMAIL
www.splattermail.org
"
Yes, yes. I know its not puerile and whiney like our first mail, but maybe, just maybe, Splattermail can make a difference. C'mon, readers - Ananzi is listening! Now is the time to voice your woes! Now is the time to stand up and be counted! YEE-HA!!! LET'S GET IT ON!!
Election predictor
Check out this US election
predictor
, forwarded by the Toad. It currently puts Kerry at 298 electoral votes, 28 clear of the 270 required for an outright win (thanks mostly to strong pro-Kerry sentiments in California and New York).
Good stuff. Lets hope it holds!
Frankie's new face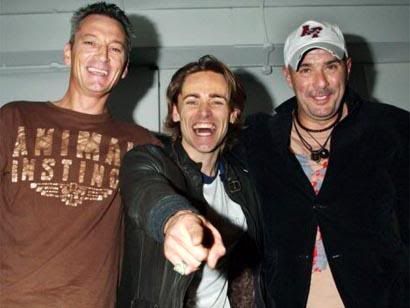 "
Pop band Frankie Goes to Hollywood have revealed their new frontman who will sing at a one-off charity concert.

Ryan Molloy, 28, beat 200 hopefuls who flocked to the open audition in Leicester Square on Sunday.

The band, whose 1983 hit Relax was banned by the BBC, are re-forming to play a one-off Prince's Trust concert at Wembley Arena in November.

But Holly Johnson, the original flamboyant frontman, decided not to take part
. "
BBC
Disgraceful! Absolutely disgraceful! They look a fuckload more like Cecil Goes To Hollywood. The new guy looks like a useless twat. Fine, the other two look a trifle stupid as well, but they are members of one of the most phenomenal bands of the 80's, and perhaps ever (the songs "Two Tribes" and "Relax" are amongst the most successful songs ever recorded - and that is not just my opinion!) - so they're excused.
Is this maybe like a Reach for a Dream thingy? In which case, I guess I can stomach the whole deal. Poor dude. I still find him highly offensive.

But the other guys aren't entirely free from blame at all. What audience in their right mind would tolerate a replacement for Mick Jagger? Or Bono? I don't think I really have to go into the whole David Lee Roth/Sammy Hagar fuck-up to stress my point any further. You dig? Holly Johnson was hot shit, and I'm really struggling to imagine a Frankie performance without him. Especially given his cock-faced substitute.

I'm a bit cranky this morning, in case you hadn't noticed.
Just another Friday night...
"Tokyo - A man allegedly broke into a house in western Japan with the intention of robbing it, but was so drunk that he fell asleep in his victim's home without stealing a thing, police said on Monday.

The occupant returned to his home in Kobe city on Sunday afternoon to find the unemployed suspect, Tatsumi Okagawa, 52, asleep on the floor upstairs, a Hyogo prefecture (state) police spokesperson said on condition of anonymity.

Okagawa told police he had intended to rob the home but instead just fell asleep.
Police caught him as he tried to flee the house and arrested him on suspicion of illegal entry, the spokesperson said
. "
News24
Jeez, I totally sympathise with this idiot. With the passing out vibe, that is - not with the criminal crap (well...maybe a bit). It really does suck when you wake up in a strange house after a bender the night before. Luckily for this dude, there wasn't some dog-faced lardbottom snuggling up behind him, which probably means he was still relatively sober when he arrived.
Bring it on!
2 November is here!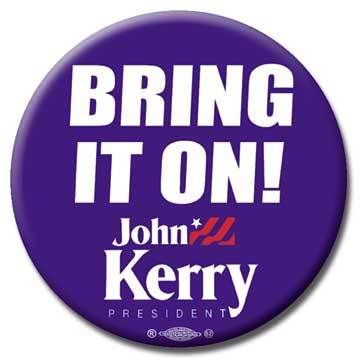 YEE-HA! I love election time!

"Kerry, Kerry, he's my man...if he can't do it, fuck America!"

permalink posted by the Salami from Killarney : 6:29 AM |


Monday, November 01, 2004
an interesting personals ad
attractive young lady seeking romance with guy who has had HPV/genital warts... Link

and no, i wasn't looking for this. thegumtree.co.uk a site that got me my first job in London a few years back has opened up in joburg, cape town, and durban, and with content like this its sure to be a winner.


permalink posted by smg : 5:29 PM |


Midlands madness
Happy Monday to all of you! November is a fantastic month, because it was the month in which the Salami was spawned. Hooray!
My apologies for the belated blog, but server problems and a protracted visit to Witbank, the Newcastle of Africa, were largely (in fact entirely) to blame.
Instead of reporting on what colour panties Paris Hilton wore to the shops the other day, or bitching about how fucking ugly Britney Spears is (again), I'm going to blab a little about the ridiculous weekend past during which the Salami and certain Splattermail contributors and supporters despoiled the otherwise pristine beauty of the Natal Midlands Meander.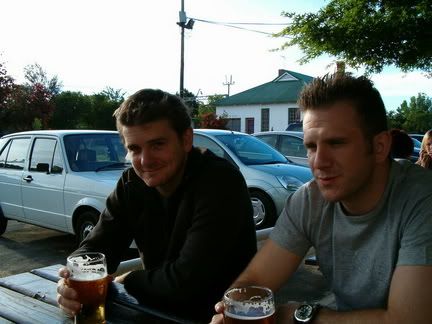 After a ludicrous Billy the Bum's friday night, the team took off on their Britney-esque journey of post-adolescent discovery, arriving shortly after 17h00 in the sleepy hollow of Nottingham Road. Where we drank a crapload and coerced a couple of blossoming 18-year old barmaids into joining us for a few more tipples in nearby Martizborough. Which is when the already dirty evening took a rather perverse turn south. If you're not getting me, try R38,00 for a round of tequilas and suitcases. How bout them apples?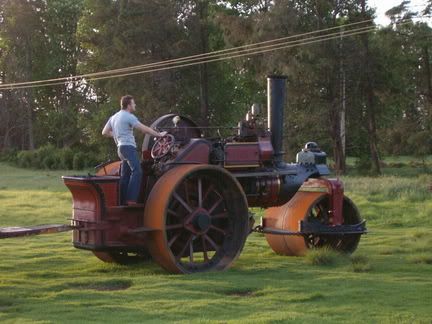 The "Win 'n Spin" flashing-lights-of-doom at Crowded House's shot-bar proved both enormously entertaining and alarmingly perilous, and we quickly set about punishing our stomachs, our credibility, the dancefloor, and later, on the drive home, my car, which fleetingly went airborne after colliding with a traffic island at around 100km/h. Thankfully, I wasn't driving - I was way too busy doing Robbie Williams karaoke service and trying to focus on the streetlights to concentrate on a minor detail like driving. Big thanks to Toadie and the Fink for their combined support, without which we would probably all have spent Sunday receiving Zero Tolerance in a KZN police holding cell.
Golfing hungover is always an experience - and not usually a pleasant one. Especially when you feel like you've developed glass-encrusted eyelids, a brain tumour and amoebic dysentery all at once. Toss in your partner's mother, grandparents and kid brothers and sister (who conveniently joined us for our round), and you may actually begin to understand why people suddenly find religion. 18 holes of justice indeed! Notwithstanding, I had the round of my life. Finkelstein, however, managed to freshie the first drive of the day, and then promptly dropped the pig ball into the drink with his very next attempt. In front of a gallery. Fucking buttpump.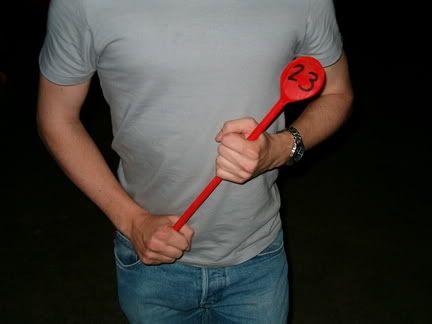 In all, a smashing weekend, and barrels of fun. Thanks again to the birds of
The Bierfassl
for reminding us why 18-year olds are so wonderful, and for showing us how pathetic and crusty we actually are. Fucking tarts. By the way, we have your stupid spoon. We suggest you make a plan to come and fetch it pronto, and preferably before Toadie decides to have his way with it.
Did you know?
Just got given a Chappies bubblegum.

Did you know? 165
A Giraffe has the same number of bones as a human does?

Did you know? 126
Mayflies live just four to five hours while the insect with the longest life span is the queen termite which can live up to 50 years?

Did you know? 127
The most widely-used vegetable in the world is the onion?

This is definately one of the worst gums out there, the flavour lasts about 3 chews, and, according to my mother who told me this when i was about 6 - it is made from pigs ears.

I've always believed that if you get the "Did you know number 1" you can win a gazillion bucks - thats the only reason I accepted it. Has anyone got a number 1 before?


permalink posted by smg : 2:27 PM |