Friday, October 29, 2004
Boozewatch
De Niro Is 'Greatest Living Actor'
2. Will Ferrell
3. Bill Murray
4. Benny Hill
5. David Spade
6. Pauly Shore
7. Sir Lawrence Olivier
8. Jeff Bridges
9. Keanu Reeves
10. John Cusack
Thursday, October 28, 2004
Ananzi kiss my ass
"
Mnr Die Administrateur
Ek was baie teleurgesteld toe ek jou e-pos van 28 Oktober 2004 gelees het.
As u eintlik ooit by my site gekuier het, sou u onmiddelik gesien het dat die inhoud daarvan, alhoewel dikwels van 'n internasionale aard, is met 'n onteenseglike Suid Afrikaanse geur geskryf.
En, as u half 'n brein het, sou u ook maklik opgemerk het dat, direk bo die liggaam van die site, is dit duidelik gestaat: "Splattermail news views entertainment and other kak. A South African blog".
Maar dis ok. Ananzi is a kak search engine, vir kak mense, en is waarskynlik deur vertraagde poephols gehanteer.
Nou fokof. Julle mors my tyd.
Die Salami van Killarney af.
"
Bollocks to Ananzi. Bollocks, I say.
George W Bush: Movie Villain of the Year

"He was absolutely terrifying in that film. The infamous scene where he's informed about the Twin Towers attack while visiting a school, and sits there absolutely paralyzed, is enough to strike fear into anyone's heart," he said. "


Hoo ha! Not gonna argue with this one - George W's a very scary man. Did anyone see his cameo appearance in Dawn of the Dead? Very, very contraversial: the filmmakers cast him as a brainless, shuffling, mumbling zombie; George thought he was cast as himself. Either way, he still needed help with his lines.


Only 7 (or so) more sleeps to go....






Ashlee Simpson...again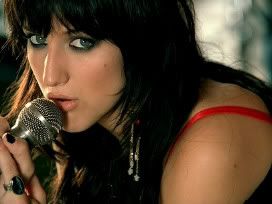 Sorry to bring up the topic again, but little Ashlee has publicly responded to the widespread furor surrounding her recent little lip synching blips on Saturday Night Live. Here's what she wrote in her diary (available on her
official site
, for all you weirdo fans):

"I'm sure you all have figured out how crazy its been the last few days,but I just wanted to personally write to y'all-my true fans-and thank you for your support and love. I have decided to speak openly and honestly about what happened on snl because I want you guys to know what really happened. My acid reflux started acting up and I know my real fans know that music and performing is my true passion and you support me for that....I couldn't control what happened that day. People always say things that are hurtful,and I encourage my fans to do what I do and not read what people are saying on the internet...in a couple of days everyone's attention will be on someone else. As far as me and my band are concerned...we are all a family and love each other very much-they are the best guys in the world and I wouldn't want anyone else to be with me at this time.

Keep up the support...its the love my fans have shown me that makes me want to go back out there and continue to prove all the negative press wrong!"

Acid reflux?? What the bull fucking crap? I get acid reflux every now and then, but mostly after I've been drinking myself close to catatonia. Is Ashlee suggesting she's a booze hound? Hell, I like her even more! And "y'all"?? Its fucked up enough to say it, but this bimbo is actually writing it? No wonder the broader American populace is so impressed by George Bush! In the land of the brain dead, the man with a stone and two walnuts in his skull is king, I guess.

Let's wait and see what the media reaction to acid-fucking-reflux is, shall we?
Multiple Origami
"A paper-folding expert claims to have erected the world's biggest origami penis.
Wednesday, October 27, 2004
"The Simple Life 3"
Hooray! Just...Hooray! Life is good.
Arnie statue scrapped
Taiwan politics
Tuesday, October 26, 2004
Hoe om te vloek
Tales from Lenny's crapper
Ashlee Simpson's lip synching debacle
Paris in love match?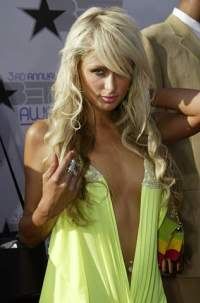 I still think Paris is a fly beeatch.
Monday, October 25, 2004
More Pinkies Party Pics
fuck you
i'd like to take this opportunity from where i can voice my opinion on a public level, to say a big fuck you to both the mosquito and the noisy biatch upstairs that kept me awake last night. fortunately i could eliminate the mosquito. as for the ho from upstairs between a mixture of some weird kind of grunting/coughing sound, loud phone calls shouting at boyfriends or ex boyfriends or, and most likely, to an engaged signal you suck ass (probably literally).

by the way, Pinkie party pictures and videos are available by clicking here. (unfortunately during the editing stage, the times were lost, so there's no chronological order at all. sorry)


permalink posted by smg : 2:16 PM |


Temptation, temptation
Thanks to Harps, our man in the field.
Pinkies Party
Aaah. Many thanks from Splattermail to the Passion Palace for one heck of a do last Saturday. We trust that the clean-up went well - although we did clean up (in a manner of speaking) during the course of the party itself.
Take a stroll down ACDC Lane
So Australia are finally catching on to what I always believed was a South African phenomenon? Good for them! And its all due to the successes of such musical greats as Beyers Naude, Peter Mokaba and Nelson Mandela (whose falsetto warblings and dance floor antics inspired the latter's nickname, Nelson "Trousersnake" Mandela, long before JT was even a twinkling in his mother's and her brother's eyes). Sorry, its been a heavy weekend.
Superman casting confirmed