The ISNA student news agency posted photographs of the charred shell of the car on its Web site and quoted witnesses describing the driver's frantic but fruitless pleas to the parking attendant not to issue a ticket.

"Extremely angry, he took a jerrycan of petrol out of the boot and set fire to his car," ISNA quoted a witness in poor south Tehran as saying.

Fines have increased heavily since March in an attempt to bring Iran's reckless drivers into line. Road rage is common on the gridlocked streets of Tehran."
Whoa, buddy. Come and live for a month in South Africa, and you'll probably torch yourself to death. I know if I lived in Iran, I'd probably have gone through a fair whack of Fiestas already. I can't really imagine what the moron was trying to accomplish - although at least he won't get anymore tickets for reckless driving.
Shit, imagine what would happen at a Tehranian road block?
Poop Valhalla
Holy smokes, this is funny! Triumph the Insult Comic Dog tackles the presidential candidates' spin doctors with some informed, insightful and cutting questions..."for me to poop on!". Its American reporting at its best, and its fucking hilarious. smg and I had a hearty cackle with it last night. Do yourself a favour, and don't skip past this one. If we manage to snare only a handful of Triumph converts, then we've done our job.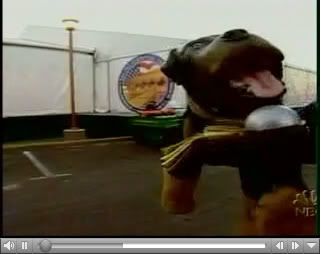 Click on the pic. If that doesn't work, try this
mirror
.
Thursday, October 21, 2004
a device that can straighten bananas
IOL reports: Berlin - A German man, who earlier this year tried to have Santa Claus banned, says he has a device that can straighten bananas.

Karl-Friedrich Lentze said he has been flooded with calls from people wanting to use his method for what he calls the cigar-banana.

The 56-year-old from Berlin has even gone so far as to apply for a patent. His application included sketches showing how bananas will be carried along on a conveyor belt while robots chop out the curvy bits.

He told German newspaper Bild: "This is the biggest thing since sliced bread - the straight banana. Depending on the degree of the curve, chunks will be cut out of the banana, which are then resealed using a biologically safe plaster."

He said the curvy chunks wouldn't be wasted as they could be dried or used in fruit salad.

"Once people get used to them I believe the straight cigar-banana will drive the curved banana from the market. It's easier to eat, and easier to store. - Ananova.com
Thanks to Robere for this valuable information
calcboy
If there's one constructive thing you do today, i suggest it be downloading and installing Calcboy (yes salami, its free).
'nuff said
Barbies that never quite hit the shelves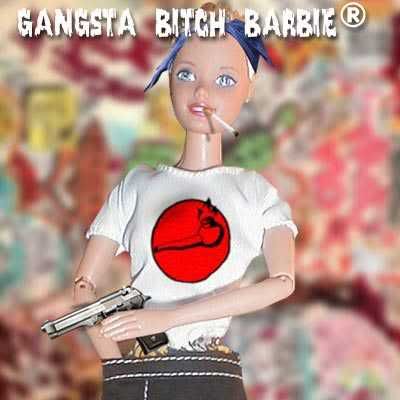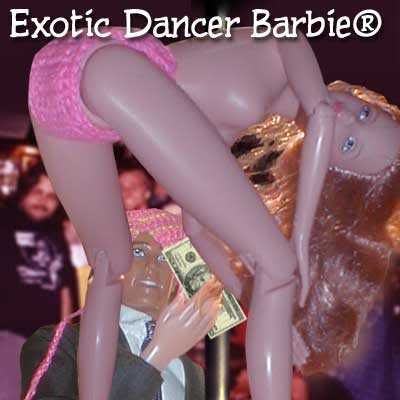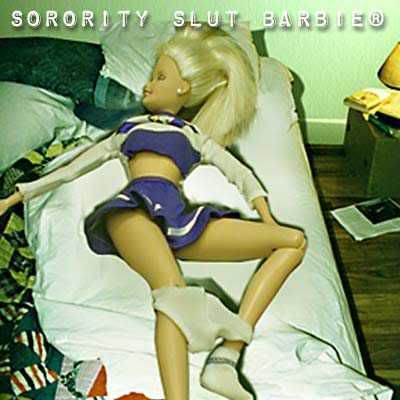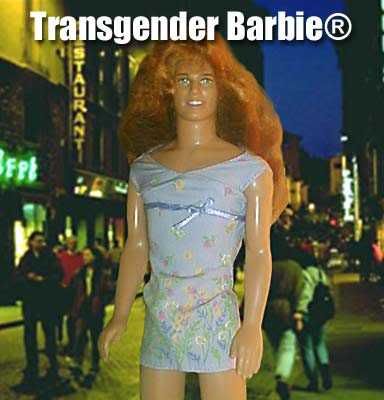 The man Harps never ceases to come through for Splattermail. Thanks again for the submissions, bitch. Ironically, Transgender Barbie reminds me that Harps is, as I type, harvesting the ladies tank top section at Mr Price in Sandton, only confirming what many have suspected for a long, long time.
Britney the Brit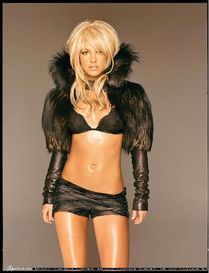 "Britney Spears has revealed she wants to move to London (according to Ananova).

The wannabee Cockney says she and new hubby Kevin Federline are preparing to move to the capital.

Britney is quoted as saying: ""I love London. I have to get a place there. It's the one place I feel anonymous.

"I just love it. When I'm not working that's where I feel at home. I love the clothes, I love the shops.""

Uh, maybe the reason no-one recognises you is because you're a tubby bitch with zits? Its hard to focus on who it is you're talking to when the weeping sores on their face are constantly squirting puss at you.

PS. the above picture came from the same studios as Nicole Ritchie's magical snaps - do not be fooled. I was, and I cried for a little bit.


permalink posted by the Salami from Killarney : 8:52 AM |


Soap star for Superman?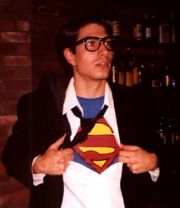 "
LOS ANGELES (Reuters) - Little-known TV actor Brandon Routh appears poised to leap from soap-opera obscurity to film fame as the Man of Steel in a new "Superman" movie being developed at Warner Bros.

Both of Hollywood's leading trade papers reported on Wednesday that Routh, 25, whose credits include the ABC daytime drama "One Life to Live," is expected to assume the big-screen role once filled by the late Christopher Reeve.

A spokeswoman for Warner Bros., a unit of Time Warner Inc., declined to comment on the reports other than to say that no casting deal was in place.

The "Superman" project is under the direction of Bryan Singer, the filmmaker behind the two "X-Men" movies for 20th Century Fox , and is aimed for a summer 2006 release, Warner's spokeswoman said. Production would likely begin early next year."

Brandon Routh's casting has been rumoured for quite some time now, but it looks like the rumours are really starting to take seed. The picture above was taken at a 2003 fancy dress party, before speculation as to Routh's involvment in the Superman project ever became public - pretty ironic, dontcha think? And he doesn't look half bad - as a potential Superman that is. Ahem.
Whoa, Nicole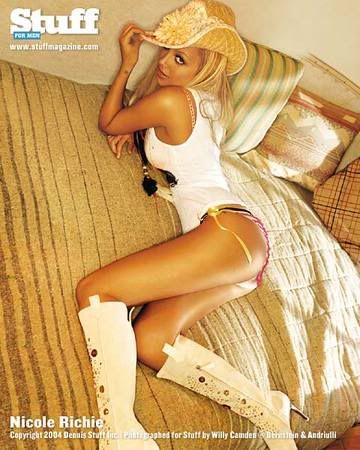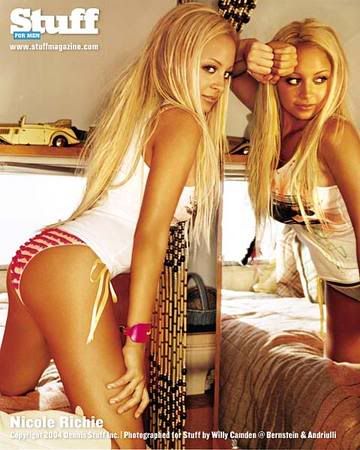 Somebody hose me down! Hell, I'll admit to being slightly hooked on The Simple Life, the American reality show which pits society fiends Paris Hilton and Nicole Ritchie against small-town Arkansas, but I never for one minute thought that Nicole could look like this.


Although she's definately the cooler of the two birds, Nicole's always looked (to me, anyways) to be a tad dumpy. In fairness, she has her good days, but I would never believe, even with the wonders of Photoshop, that she could turn out like this! Clearly Photoshop has developed fantastic new software that allows you to impose anyone's head on Gisele Bundchen's body! Much in the same way as my plastic surgeon put my head on Brad Pitt's body.
Wednesday, October 20, 2004
Hotwheels get serious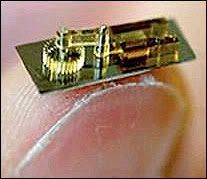 "Among all the hype about hydrogen engines, fuel cells, hybrids and electric cars powered by lithium ion batteries, a miniaturised version of an old mainstay has made news – a mini-motor than can run for two years on a squirt of lighter fuel!
The engine, which is tiny enough to power a watch and can be balanced on a fingertip, is said to produce 700 times more energy than a conventional battery despite being less than a centimetre long. Engineers at the University of Birmingham in the United Kingdom say it could be used to operate laptops and mobile phones for months on end - doing away with the need for recharging."
The future is here! Imagine the possibilities! Well, to be honest, apart from laptops and mobile phones, i'm struggling - throw me a frikkin' bone, someone? I do have some questions about this gizmo, like: does it make a noise?; and how do you start it - with a mini lawnmower pully-thingy? And will the 500 SL model cost ten times the prices of the Fiesta 1.3l? And so on and so on. End.
Team America: the lyrics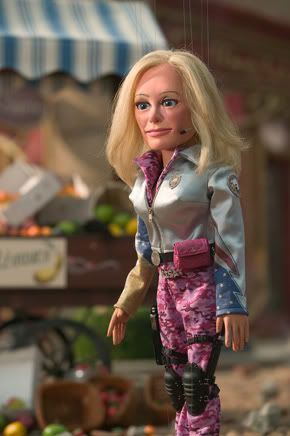 Much as I would
hate
to ruin
anything
for
anyone
ahead of the highly anticipated South African release of
Team America
, I stumbled across a compendium of the lyrics to the movie's
songs
. And, I gotta admit, there are a couple of shit funny numbers. Granted, the less brazen of them will require a movie context, and so a lot of the humour is probably wasted without the visual. But does
America Fuck Yeah!
require context? You be the judge:
"
AMERICA F@#K YEAH!
America. America. America F@#k Yeah.
Comin' again to save the motherf@#king day,
yeah.
America, f@#k yeah!
Freedom is the only way, yeah.

Terrorist your game is through
'cause now you have to answer to America, fuck yeah.
So lick my butt and suck on my balls.
America, f@#k yeah.

What ya gonna do when we come fo' you now?
It's the dream that we all share, it's the hope for tomorrow.
F@#k yeah.
McDonalds, Wal-mart, the Gap, baseball, NFL, rock 'n roll, the internet, slavery, F@#k yeah, f@#k yeah.

Starbucks, Disneyworld, porno, valium, Reebok, fake tits, sushi, Taco Bell, rodeo, BedBath and Beyond.
Liberty, waxed lips, the Alamo, Band-Aids, Christmas, immigrants, Popeye, Democrats, Republicans, sportsmanship, books.

Sad F@#k Yeah
America, f@#k yeah.
Comin' again to save the motherf@#king day yeah.

America, f@#k yeah.
Freedom is the only way yeah.

Terrorist your game is through.
Now you have to answer to America, f@#k yeah.
America, f@#k yeah."
Mary Kate Olsen - how to lose weight fast
"
LOS ANGELES (Reuters) - A spokesman for actress Mary-Kate Olsen on Tuesday denied media reports that she had suffered a relapse in her battle against anorexia, saying the "flatout" wrong stories were "incredibly hurtful" to the teen icon.

News and pictures of a rail-thin Mary-Kate last summer prompted an outpouring of sympathy among the "tween" fans of the twin sisters and revived media interest in the perplexing subject of anorexia and bulimia among young girls."
Ag, shame. It must be tough on the poor girl - I imagine that being a billionaire must be incredibly traumatic, especially given the ludicrous price of a MacMeal these days. I gotta admit, though - the girls are pretty hot...but I do feel fairly dirty when I think about them both...naked. Not that dirty, mind you. Or maybe dirty in a good way? It'll be fantastic when an Olsen sex tape finally surfaces on the 'Net - maybe they can call it Full House...The Story of a Lesbian Dormitary.
Tuesday, October 19, 2004
A case for Cheat and Eat...
The Atlanta Journal-Constitution* reports: Americans' expanding waistlines are adding to the airlines' already rising fuel bills.

A report by physicians at the Centers for Disease Control and Prevention says the average American gained 10 pounds during the 1990s. The extra weight translated to 350 million extra gallons of fuel used by airlines. The cost? About $275 million in 2000 alone, the report says — and that was when jet fuel cost less than half today's price. The higher fuel consumption also resulted in an extra 3.8 million tons of carbon dioxide and smaller amounts of other pollutants, it adds.
I say they should charge travellers per kilo of body weight. Imagine: Today's specials: Kulula.com at R10/kg, SAA at R11.50/kg, potatoes at R 13/kg
* Registration required. Go to bugmenot.com to get a quick login. bugmenot rocks
"Dude, where's my ballot slip?"
Here it is: American voting solution for stoners. Suprisingly, it gives a nice little run down about Bush's War on Drugs, why US citizens should stop spending money trying to catch Osama and rather start spending to support Tommy Chong, and why Splattermail's fave, John Kerry, is tops.
Inter alia
, of course.
Worth a read:
Hightimes
I, Ron Jeremy
Golly. And there I thought I was the
only
porn star with a blog.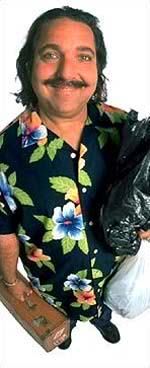 Ron Jeremy - a true enigma. Is it the moustache? Is it the long greasy hair? Is it the fact that he's a repulsive fat bastard? I just don't get it. But check out his
blog
.
Monday, October 18, 2004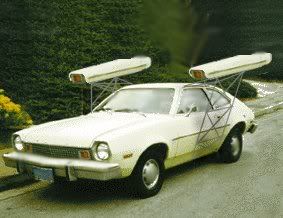 "Professor David Allen Batchelor of the NASA Goddard Space Flight Center announced today a major step forward in vehicle propulsion.

Simply put, his experts at NASA have designed a propulsion system that seems to generate a "gravity effect" which enables a an object to use the effect for propulsion. The effect could eventually lead to "near Light Speed travel" announced Batchelor.

An experiment was conducted in extreme secrecy late last month in the test facility in Sacramento when a Ford Pinto was equipped with two "nacelles" which contained materials that would theoretically shield the vehicle from the effects of gravity. Readings from inside the small ford hatchback showed a significant drop in the weight of a test subject who sat on some scales on the driving seat.

"Had we started up the vehicle and driven it, we may have seen improved performance as we postulate that the vehicle, at that time, weighed less than Oprah Winfrey".

The experiment was terminated at that point as there were concerns that the seat belts would not be strong enough for the speeds it was theoretically capable of and the tyres were only remolds.

"Our next test will involve us actually starting the car and driving it for one mile along a test track and measuring how much energy was used to do so. Having a benchmark MPG already, we should be able to determine the quantum effect of the anti-grav nacelles and then be able to extrapolate whether the effect is beneficial", added Batchelor. If the effect is duplicated, they are hopeful that the effect of warping gravity around the vehicle could help develop an "almost Lightspeed" drive for future interstellar craft".

"It would certainly influence our thinking in terms of designing an interstellar vehicle; we would most likely increase the trunk space though, as the Pinto was really only designed for interstate travel and two suit cases and a travel bag isn't likely to be enough for interstellar astronauts of this day and age" postulated Batchelor.

He admitted that the technology bore some resemblance to the propulsion technologies used ion the popular Science Fiction TV And Movie series "Star Trek" and added: "What is really weird is the car we used was an ex hire car, and the company we bought it from was Enterprise Rentals".

He denied that they were also working on Matter transportation, phasers, photon torpedos and that weird metal thing plugged into Uhuru's right ear that looked like a marital aid.
Controlled Impact Test: Photos and Video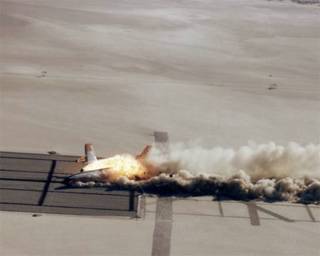 From coolgov.com (source boingboing):

"On the morning of December 1, 1984, a remotely controlled Boeing 720 transport took off from Edwards Air Force Base (Edwards, California), made a left-hand departure and climbed to an altitude of 2300 feet, says the NASA Dryden Controlled Impact Demonstration (CID) Aircraft Movie Collection.

It then began a descent-to-landing to a specially prepared runway on the east side of Rogers Dry Lake. Final approach was along the roughly 3.8-degree glide slope. The landing gear was left retracted. Passing the decision height of 150 feet above ground level (AGL), the aircraft was slightly to the right of the desired path. Just above that decision point at which the pilot was to execute a 'go-around', there appeared to be enough altitude to maneuver back to the centerline of the runway. Data acquisition systems had been activated, and the aircraft was committed to impact. It contacted the ground, left wing low. The fire and smoke took over an hour to extinguish." go here

I wonder if the guy from Loftus that drives the radio controlled car with the kicking tee knows about this. F~ck Derek Hougaard, I want to crash a Boeing.




Nicholas "Skeletor" Cage
Latest casting rumours ahead of the highly-anticipated (at Splattermail, anyways) John Woo remake of
He-Man
has Nicholas "gimme a fucking break" Cage broadening his stock of facial expressions in a desperate attempt to win the highly coveted role of Mary-Kate's dad, Skeletor Olsen.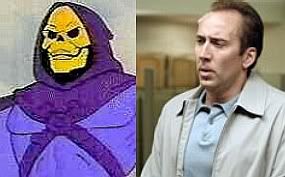 "
Cage has reportedly been speaking to Woo about the role, but as CRI Online reports, his commitment to the Ghost Rider film may prevent him from taking the part.

CRI also tips that Woo may approach Sex and the City's Jason Lewis for the lead role of Prince Adam/He-Man. Lewis, who played Smith Jerrod during the sixth season of Sex, recently wrapped shooting on the films My Bollywood Bride and The Jacket."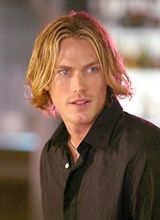 I actually think Lewis really looks a bit like He-Man, so i've got no complaints there. Brilliant. Nicholas Cage, on the other hand, can suck my ass. I don't like him.
Renaissance Men
Sad, sad, sad...indeed.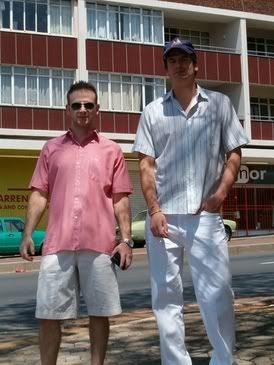 On Saturday, Splattermail vistited the Goodman Art Gallery in Johannesburg, and was shocked by what artist Tracey Rose had to exhibit: angry, feminist artwork, with loads of swearing, penises and vaginas. Grrrrr....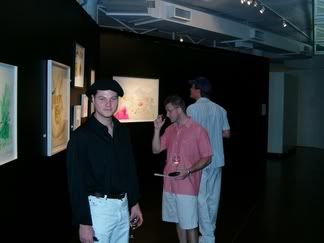 Being the liberal, hip-to-it (and filthy-minded) group of individuals that we aspire to be, we were naturally...stunned, to say the least. Whilst there were some undeniably enthralling pieces on display, most notably an underwater basketball match involving teams of moist, gyrating hasidic rabbis, there were some questionable items representing even more dubious inspiration. Including some ginormous, dripping phalluses, and a half-naked donkey-riding woman. We laughed a bit, we winced a bit, and then we left.

Do yourselves a favour: take some time to visit exhibitions by artists who are unfamiliar to you - they deserve support, and you will be suprised by the wealth and depth of talent that can be found. Even if it is, frankly, obscene. And yes, that even applies to Johannesburg.
Angelina Jolie: sexiest woman alive
...and I'm not gonna argue with that!

"LOS ANGELES (Reuters) - Angelina Jolie, who manages to mesmerize men -- and fight off robot invaders -- with just one eye in her latest movie, has been named the "sexiest woman alive" in the latest edition of Esquire magazine.

Jolie, featured as the alluring, courageous fighter pilot with an eye patch in "Sky Captain and the World of Tomorrow," was the top pick of the magazine's editors and mostly male readers to grace the cover of Esquire's annual "Women We Love" issue.

The 29-year-old Jolie, who also lends her voice and sexy persona to a vampish fish named Lola in the computer-animated undersea adventure "Shark Tale," received 7 percent of all votes cast by readers.
Fellow Oscar winner and "Catwoman" star Halle Berry ran a close second with 6 percent. Newlywed pop princess Britney Spears made the cut this year at No. 3.
"
Reuters

Kudos, kudos. Angelina is a true hottie - maybe a tad scary at times, but I like that! Not Madonna scary, mind you. And for those of you brave enough to check out Catwoman this year (which, I will add, got a lot more stick than it deserved), you'll surely agree that Halle Berry is up there with the year's best...as far as tits and ass go, anyways.

I do find it rather disappointing that Britney chalked up a top 3 podium position - clearly, Esquire readers don't visit Splattermail as often as they should!