Saturday, October 16, 2004
GOD NAMES NEXT "CHOSEN PEOPLE"; IT'S JEWS AGAIN
From (the retired): http://www.satirewire.com/news/march02/chosen.shtml
GOD NAMES NEXT "CHOSEN PEOPLE"; IT'S JEWS AGAIN
"Oh Shit," Say Jews

Jerusalem (SatireWire.com) Update — Jews, whose troubled, 10,000-year term as God's "chosen people" finally expired last night, woke up this morning to find that they had once again been hand-picked by the Almighty. Synagogues across the globe declared a day of mourning.

Asked if the descendants of Abraham shouldn't be pleased about being tapped for an unprecedented second term, Jerusalem Rabbi Ben Meyerson shrugged. "Of course, you are right, we should be thrilled," he said. "We should also enjoy a good swift kick in the head, but for some reason, we don't.

"Now don't ask such questions until you watch the news, or read history, or at least rent 'Fiddler on the Roof'."

Much of the world's re-blessed Jewish community shared that feeling. "It's always been considered a joke with us. You know, 'Please G-d, next time choose someone else,' ha ha," said New York City resident David Bashert.

"Ha. Ha ha," Bashert added. "Shit."

According to a worldwide survey of faiths, not a single group expressed an interest in being chosen, and the only application submitted before last night's filing deadline, on behalf of the Islamic people, proved to be a fake.

"Somebody filled out a form and signed our name to it, but I guarantee it wasn't us," said Imam Yusuf Al Muhammed of Medina, Saudi Arabia. "I'm not going to say who it was, but the application was filled out in Hebrew."

"Oh, don't be such a k'vatsh," responded Meyerson. "It's only 10,000 years. Trust me, after a few diaspora, you would have gotten used to the universal hatred thing."

Due to the absence of voluntary candidates, God's Law stipulated that the Almighty had to choose a people at random to serve out the next 10-millenia term. Elias Contreau, director of the International Interfaith Working Group, said he wasn't surprised it came to a blind drawing.

"According to the Bible, God promised to bless Abraham and those who came after him," said Contreau. "Who knows, maybe that sounded good at the time, or maybe 'blessed' meant something different back then, like 'Short periods of prosperity interrupted by insufferable friggin' chaos.' Whatever, I think it's safe to say that people didn't know what they were agreeing to."

Now they do, Contreau added, which he said explains why so many religions had lately been exalting God's existence, but downplaying their own.

"We were not avoiding Him. We just told our parishioners that if Anyone asks, we're out," insisted Archbishop of Canterbury Dr. George Carey, who had called off services during February. "Besides, we weren't the only ones. I didn't see the Hindus raising their hands."

"Now look, it's like we told the ethereal vision who dropped off the application, 'Sure, we have a strong shared faith and all that, but I wouldn't exactly say we're a 'people,' not really,'" recalled Hindu leader Samuldrala Swami Maharaj of Calcutta. "Plus, you know, I told him we had a lot of other commitments. We'd like to help, honestly. Another time, maybe."

In Jerusalem, Jewish leaders said they will propose an amendment to God's Law prohibiting a people from having to serve more than two consecutive terms. "Hopefully, G-d will hear our prayer," said Meyerson. "No, wait, that's what got us into this."

Americans, meanwhile, expressed outrage at the decision, saying they had assumed they were God's chosen people. However, explained Archbishop Carey, "It only seems that way because so many people don't like you."
Friday, October 15, 2004


smg
permalink posted by smg : 4:30 PM |


Tsvangirai acquitted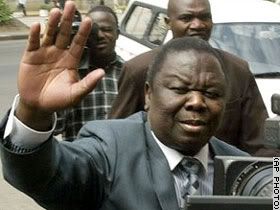 "
HARARE, Zimbabwe
(CNN)
-- Zimbabwe's High Court has acquitted opposition leader Morgan Tsvangirai of charges he conspired to have President Robert Mugabe assassinated.

Judge Paddington Garwe pronounced Tsvangirai innocent Friday in a long-awaited judgment, saying the prosecution's treason case was not credible.

"The evidence has not shown beyond reasonable doubt that there was such a request (for an assassination and a coup d'etat)," Reuters quoted Garwe as saying. "The court therefore returns a verdict of 'not guilty.'"

Tsvangirai smiled broadly as the verdict was announced, and supporters of his Movement for Democratic Change (MDC) broke out in spontaneous applause in the packed colonial-style courthouse.

"I am vindicated; democracy has been vindicated," Tsvangirai said. "I think that it has been an overwhelming judgment for me."

Had he been convicted, Tsavangirai could have faced the death penalty.

This is a bold step for the Zimbabwean judiciary, and one that offers just a glimmer of hope that Mugabe has not corrupted every branch of his government. It is also an indication that there are those in responsible and, albeit in a limited capacity, powerful positions who are still prepared to protect truth and justice.

In the past, the Zimbabwean government has not shied away from threatening, and even incarcerating, judicial officers who have acted contrary to Mugabe's blatantly dictatorial agenda. It is heartening to see that the events of recent history have not swayed the judges in their current Tsvangirai deliberations.

Hopefully this bodes well for the continued participation of the Movement for Democratic Change (MDC), the main opposition to Mugabe's Zanu-PF, in Zimbabwe's quest for democracy, and in its attempts to liberate the Zimbabwean people, black and white alike, from the cruel grip of Africa's most despised (and most bespectacled) mother fucka.

Hooray for African democracy! This is a good day! Let's hope this is a sign of even better things to come.
Nympho is a dream lover
"
A WIFE sneaked out at night and had sex with strangers — while SLEEPWALKING, a doctor revealed yesterday.

The middle-aged woman returned to the marital bed and woke the next morning without any recollection of what she had done.

Sleep specialist Peter Buchanan said she only discovered what was going on when her husband stirred one night, went out to find her and discovered her having sex with someone she did not know.

The husband was already aware she was a sleepwalker — and had previously found condoms strewn randomly around the house.

The condition has been dubbed "sleep sex".
"
The Sun
Oy, hubby. Can you spell F-U-C-K-I-N-G M-O-R-O-N? What the fuck kind of useless excuse is "sleep sex"? And, more disgustingly, what kind of gullible turd buys that crap? Face it, dude - your wife's a randy nympho slut. Still, I think I may "develop" a case of "sleep sex" myself.
I've sent a letter to The Sun asking where Ms Sleep Sex lives. Next time i'm in the UK, i'll pop round one night with some domes, a thermos and a pack of crisps and sit in her garden.

US Supreme Court Judge: "Orgies are way cool"
"He is the conservative bastion of the US supreme court, a favourite of President Bush, and a hunting partner of the vice-president. He has argued vociferously against abortion rights, and in favour of anti-sodomy laws.
But it turns out that there is another side to Justice Antonin Scalia: he thinks Americans ought to be having more orgies.

Challenged about his views on sexual morality, Justice Scalia surprised his audience at Harvard University, telling them: "I even take the position that sexual orgies eliminate social tensions and ought to be encouraged."

It seems unlikely that this is what President Bush meant when he promised to appoint more judges like Scalia to the court, should the opportunity arise. Crucially, Justice Scalia is one of the judges in favour of overturning Roe v Wade, the landmark judgment protecting abortion as a constitutional right.
"
The Guardian
Even conservative judges like a bit of a polony sandwich every now and then, eh? Good for him! Course, I don't think I'd invite him to any one of my orgies, unless he's a 36C tanned blonde with great legs and an ass you bounce quarters off of. At least then we'd have one hot chick. Maybe I'll go hang around the courts next week looking for a party? Please excuse the legal pun.
Thursday, October 14, 2004
newsmap
If you're looking for world news and Mr.Salami has forgotten hasn't put it here on splattermail for some reason, look no further than newsmap

Newsmap is an application that visually reflects the constantly changing landscape of the Google News news aggregator. A treemap visualization algorithm helps display the enormous amount of information gathered by the aggregator. Treemaps are traditionally space-constrained visualizations of information. Newsmap's objective takes that goal a step further and provides a tool to divide information into quickly recognizable bands which, when presented together, reveal underlying patterns in news reporting across cultures and within news segments in constant change around the globe.
Newsmap does not pretend to replace the googlenews aggregator. It's objective is to simply demonstrate visually the relationships between data and the unseen patterns in news media. It is not thought to display an unbiased view of the news, on the contrary it is thought to ironically accentuate the bias of it.
Top searches
And now for something completely different (with a dash of geek). Here's a list of the top 10 most searched terms in the past 24 hours from the largest Metacrawlers (a type of search engine) on the web (source Wordtracker):

Nos. Count Keyword
===========================================
1 3654 rodney dangerfield
2 3599 rachel hunter
3 3437 factcheck.org
4 2182 halloween costumes
5 1776 google
6 1724 paris hilton
7 1665 scottie pippen
8 1594 yahoo
9 1519 ebay
10 1434 hainan island
More offerings from Jimmy Pop
Vaguely amusing, but worth a blog, I guess (although I suspect they may be a bit dated). Hopefully it'll keep the bastard off my back for a while.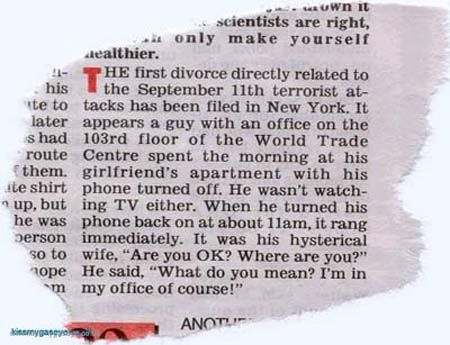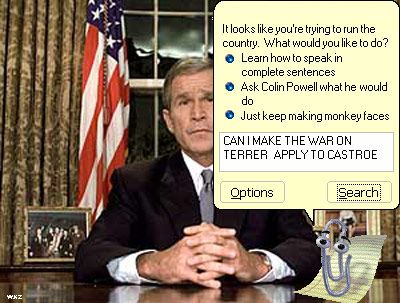 "Target Marketing"
"
Target marketing" takes on a whole new meaning in the first-ever viral marketing use of an interactive urinal communicator in America. The deodorizing urinal drain filter cover -- featuring a waterproof anti-glare lenticular viewing display -- has a pre-recorded greeting by a woman that commands, "Don't miss OUTLAWS on CMT. You seem to miss everything else!" The CMT OUTLAWS 'Wizmark' has flashing lights and is motion-activated: step up to the urinal and the unit starts flashing, talking and alternating pictures.
The deodorizing urinal drain filter cover - featuring a waterproof anti-glare lenticular viewing display, pre-recorded audio and flashing lights -- is motion-activated: step up to the urinal and the unit starts flashing, talking and alternating pictures. The units are designed to last more than 10,000 flushes."
My problem is quite simple: what if the guy next to you is watching something more interesting? Is it alright to look over into his urinal? And by the same token, how do you know if the guy to your left, who seems fascinated by what's happening in your porcelain telly, isn't actually wondering how your willy tastes? Uuugggh.
Nicky Hilton returns to the open market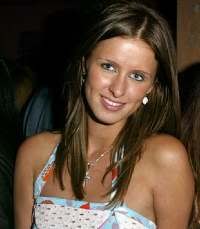 "LOS ANGELES (Reuters) - Socialite Nicky Hilton, heiress to the Hilton hotel fortune with elder sister Paris, is seeking to annul her 2-month-old marriage to money manager Todd Meister, Us Weekly magazine reported on Wednesday.

Hilton, 21, and Meister, 33, tied the knot at a Las Vegas wedding ceremony on Aug. 15.

But Us Weekly said Hilton was seen at a political fund-raiser and a nightclub earlier this month without her wedding band and that the couple actually split several weeks ago.

"They're working on an annulment," the magazine quoted one unnamed source as saying. "Nicky and Todd remain the best of friends, but she is 21, and it's just not the right time in her life for her to be married. He lives in New York; she's in L.A.""
Shame. Poor Nicky. I really don't give a rat's ass, but heck - its news, and I don't make it. Still, there haven't actually been any good reports about Nicky's marriage at all in the past two months, so maybe its all for the best. Sniff.
More Britney....again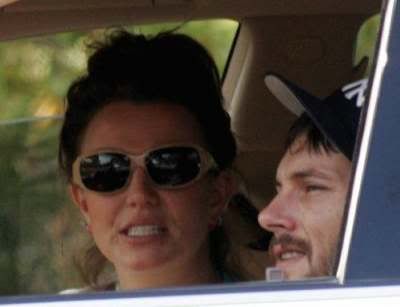 Sorry everyone. You know how much I hate to write about Britney Spears. But heck - look at this picture...has she just walked off the set of "The Exorcist 4: Possessed in the Face"? Anyways, the Whore of Kentucky has revealed (shock horror) that she wants to take on her hubby's name (Kevin Spears?...nah!)

"I probably will, Britney Federline, I like that," Spears, 22, told Germany's Bunte magazine. "Society probably won't allow me but I would like to change it."

Word, sister. When I was five, I wanted to change my name to Batman van den Heever, but I got a nice handwritten note from society telling me to get a fucking life. That was tough.

And Britney wants a baby too!

"There are a few things I want to take care of this year before I have my baby," she said. "I'd love to have a baby already. But I've got to take care of some things first ... I want to become a mother. I'm crazy about children ... next year, when I'm 23 I'll be ready."

C'mon, Britney! In Southern trailer-trash land, most women are cruising through menopause at that age!
Sigh. I miss the old Britney. Quite a bit.
Wednesday, October 13, 2004
Anyone for fancy dress?
More from our filthy friend Harps. His folks have a fantastic photo collection!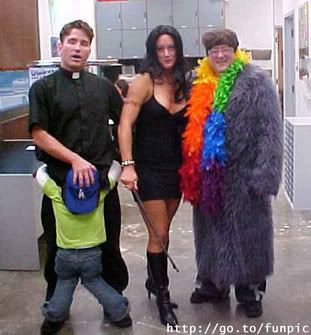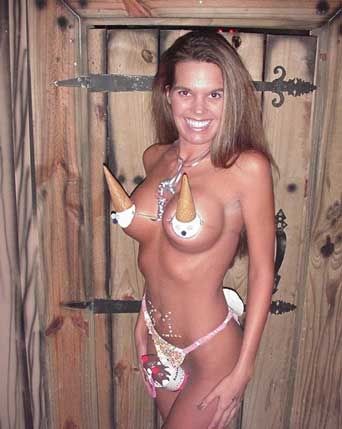 I think we may need to put our heads together for the Pinkies Party, cos we sure as hell can do better than these bastards!
New U2 single
U2.com reports:

12.10.2004
U2, Vertigo, iTunes!

Check out a striking new video of 'Vertigo' as the band hook up with Apple's iTunes Music Store.

A cross between Apple's acclaimed 'Silhouette' ads and a music video, it begins airing in the U.S. tonight.

Catch it online now. www.apple.com/itunes/u2

Vertigo has already been the No 1 download bestseller in all four iTunes international territories as well as breaking the US record for digital download sales in a single week.

It is currently No1 in the UK download charts.
Crisis in Amsterdam
"
AMSTERDAM, Netherlands - There's a whiff of crisis in the air at the Dutch Health Ministry: It's sitting on a pile of pot that it just can't sell.

The Netherlands rolled out a program last year that allows patients to buy prescription marijuana at any pharmacy. Some medical insurance policies cover at least part of the cost, but often not enough to offset the pharmacy price.

In a country where any adult can walk into a "coffee shop" and smoke a joint for much less than the government price, many say the experiment is a bust.

"I think it's a shame that they can't deliver a cannabis product a little bit cheaper than the coffee shops," said David Watson, head of Hortapharm, an Amsterdam-based company licensed to research and develop cannabis for pharmaceutical use
." "
Yahoo

For shame! Poor Amsterdam! If South Africa wasn't too busy trying to get cheap/free ARV's into the market, dealing with enormous poverty, rampant crime and widespread corruption, maybe we too could stress about the price of our weed. Hey Amsterdam - stop bitching, and find some real problems to whine about.

In other news, Paris Hilton has broken a nail. Friends and family are devastated.
Acne Spears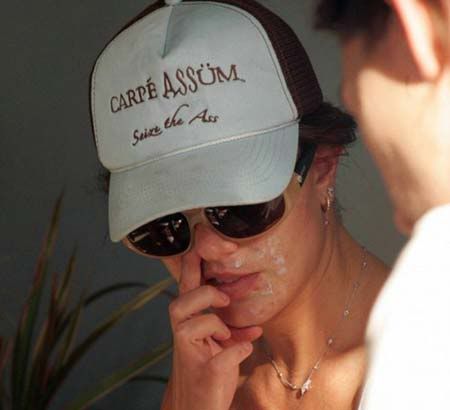 Sies! Not a pretty sight in the slightest. Britney's looking fucking disgusting. In fact, this could very well be one of those pictures that just finally helps you get over a Britney obsession for good - its definately working on me! Maybe she should get Kevin to help squeeze her chorbes? I'm feeling a little ill after this one, so let's just leave it for now, mkay?
Tuesday, October 12, 2004
Croatia Hilton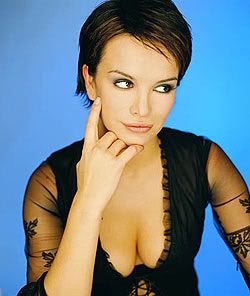 "
A top Croatian pop star "Severina Vuckovic" appealed to the public on Wednesday to return or destroy private pictures of her enjoying a lusty sex romp which appeared on the Internet this week. Severina Vuckovic told the daily Jutarnji List the pictures and an 11-minute video of her making love to an unidentified dark-haired man had been stolen from her private collection. They showed up on an internet site on Tuesday and immediately became the hottest news in the former Yugoslav republic, where 32-year-old Vuckovic had previously been an icon of righteous and religious modesty."
In other news, a Johannesburg man, known simply as Harps, will appear before a disciplinary committee in his boss's office to answer questions relating to his questionable usage of the company Internet facility. Although cookies for Splattermail will undoubtedly stand in his favour, the endless lists of filth contained in his Explorer History will probably be his downfall. Thanks anyways for the link.
Brad and Jennifer no more?
"Hollywood couple Brad Pitt and Jennifer Aniston are allegedly suffering a marriage crisis because Pitt is spending all his time with actress Angelina Jolie.
The Troy hunk and the former Friends star have appeared together in public just once in the past two months -- at Los Angeles' Emmy Awards on Sept. 19 -- and Aniston's friends are blaming Pitt's closeness to his Mr. And Mrs. Smith co-star Jolie, reports Britain's News Of The World newspaper
."
South Florida.com
Could this be it!? The opportunity I've been waiting for!? I was so upet when they got married - it hurt like hell, and it took me weeks to get over, although I don't think my heart ever really healed. But now, finally, and thanks to the super hot Angelina Jolie...Brad Pitt could be mine! Again!
If that doesn't work out, I'd settle for a threeway with Jennifer and Angelina. They could both get naked and kiss and rub each other, and then I could...aw, jeez. I've gotta go to the bathroom.
Fellowship 9/11
Check it out
.
"
Michael Moore's searing examination of the Aragorn administration's actions in the wake of the tragic events at Helms Deep. With his characteristic humor and dogged commitment to uncovering - or if necessary fabricating - the facts, Moore considers the reign of the son of Arathorn and where it has led us. He looks at how - and why - Aragorn and his inner circle avoided pursuing the Saruman connection to Helms Deep, despite the fact that 9 out of every 10 Orcs that attacked the castle were actually Uruk-hai who were spawned in and financed by Isengard
."
Sean Penn v South Park

After satirising him in their upcoming
Team America: World Police
movie, creators Matt Stone and Trey Parker have received a
tongue lashing
from anti-Bush activist, Sean Penn, for supposedly disparaging comments they made
apropos
voting in a recent edition of
Rolling Stone
.

"I remember not being bothered as you traded on my name among others to appear witty, above it all, and likeable to your crowd," Penn's purported letter says, referring to Parker and Stone including a puppet version of the actor in their upcoming Team America.

"I never mind being of service, in satire and silliness. I do mind when anybody who doesn't have a child, doesn't have a child at war, or isn't or won't be in harm's way themselves, is encouraging that there's 'no shame in not voting.'

"You guys are talented young guys but alas, primarily young guys," the letter continues. "It's all well to joke about me or whomever you choose. Not so well, to encourage irresponsibility that will ultimately lead to the disembowelment, mutilation, exploitation, and death of innocent people throughout the world."

Parker and Stone's latest film, the puppet-powered Team America, takes on heavy political issues like terrorism with their trademark irreverence in full effect. While both Parker and Stone are far from conservative, both have taken some heat for their perceived oversimplified caricatures of Saddam Hussein in their 1999 film South Park: Bigger, Longer and Uncut and Kim Jong Il in the soon-to-be released Team America.

Team America also reportedly features a sequence in which Penn pal Susan Sarandon is dropped from a skyscraper and her equally political partner Tim Robbins is set on fire--no doubt a sure-fire Penn pleaser. Penn's puppet doppleganger puts in an appearance as part of a group of liberal actors who go to Korea for a ill-conceived attempt at striking a peace accord."

I'm really gonna have to sit on the fence on this one. I admire Penn as both one of the most gifted actors of our time, and as a vociferous anti-war campaigner. But then again...who doesn't love Stone and Parker, who too satirise (and criticise) US policies and citizens in their works? So, guys. Can't we all just learn to...get along??
Monday, October 11, 2004
Quasimodo and the Battle of the Bulge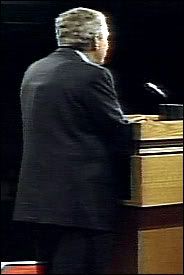 What is that underneath George Bush's jacket? Is it a bullet proof vest? Bush campaign officials say no. Is it a rumpling or fold that just naturally appeared in the fabric, as the same officials would have us believe? C'mon - not everyone is a stupid, gullible Republican.
Or...is it something more sinister, more...sneaky? The Internet has been abuzz with conspiracy theories over the past week, the most contraversial of which is (of course) the most exciting. The New York Times reported last Friday:
"According to rumors racing across the Internet this week, the rectangular bulge visible between Mr. Bush's shoulder blades was a radio receiver, getting answers from an offstage counselor into a hidden presidential earpiece. The prime suspect was Karl Rove, Mr. Bush's powerful political adviser."
PS. Informed feedback would be greatly appreciated!
The Bush diaries
Shocking! Contraversial! Quite funny!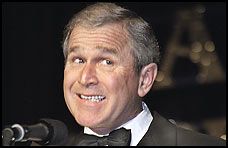 Check out George Dubbya's personal
diary
- whilst it makes for entertaining light reading, it is of grave concern that the author is pretty much running the world.

Here's an excerpt:

"Monday, 27 September 2004:

Dear Diarhea (he-he),

Today was a really fun day. The flight crew of Air Force One let me back the plane out of the hangar. I had no idea pilots nowadays had so many buttons to push. Back when I flew in Air National Guard, all we had was the stick driving thingie and the little globe that showed if you were going N or E or S or W. I always liked going W because of my nick name, "Dubya." Later on, the captain gave me a really cool plastic Air Force One lapel pin. Laura had to put it on me because the pin kept poking me when I did it."
And before any snotty Republicans get all up in my ass about this: its not really his diary.
Robbie Williams will NOT be 007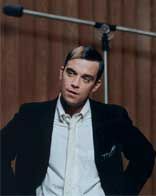 Shit. How did he know we were talking about it? Its a huge pity, because its a point of unanimous asset amongst the Johannesburg illuminati that Robbie would make the ideal Bond.
So what's his problem anyway? Could the Robbie-gaylord rumours be true? What self-respecting man in his right mind wouldn't want to do a stint as everyone's favourite boozing slut with nice gadgets who can also fight a bit?
The upside, I guess, is that I shift up a position in the queue.
blah blah blah
Superman dies

Jeez. Its been a heavy week! Splattermail's starting to read like an obituary.
The
death
of Christopher Reeve (52) yesterday from heart failure will be deeply mourned throughout the entertainment industry. Reeve was unquestionably one of the most inspirational figures in Hollywood, as I'm sure anyone who had followed the wheelchair-bound actor's career both pre- and post his 1995 horse-riding accident will testify.

"Reeve fell into a coma Saturday after going into cardiac arrest while at his New York home, his publicist, Wesley Combs, told The Associated Press by phone from Washington, D.C., on Sunday night.

Reeve was being treated at Northern Westchester Hospital for a pressure wound that he developed, a common complication for people living with paralysis. In the past week, the wound had become severely infected, resulting in a serious systemic infection."