Sigh, old Rodney will be missed. He was a funny man. Not as funny as Chevy Chase, who is without question the funniest man alive (and who was not killed on 9/11, as some have tried to convince me), but funny nevertheless.
He-Man returns!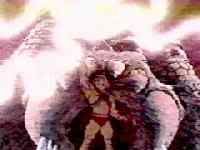 YES!! YES!! John Woo (of Face/Off and Paycheck fame) has been signed by Fox to direct a
new Masters of the Universe flick
. I'm sure we all remember the embarassing 1987 attempt to bring He-Man and pals to life, with Dolph Lundgren as the panty-clad Prince Adam and veteran stage actor Frank Langella as the angry, bulimic Skeletor. Hmm. I watched it with my gran at the old two-tiered Rondebosch Nu Metro in the Fountain Centre. Neither of us were impressed. Let's hope that this time round Mr Woo puts in a little more effort, mkay?

There's no word yet as to who will actually star in the movie, and I have to admit - i'm at a loss myself. Why not post some suggestions as comments?

Oh boy oh boy oh boy! I can't wait for this one! "By the power of Grayskull!"

In the meantime, check out one of the bigger He-Man fan sites for a laugh:
he-man.org
Tuesday, October 05, 2004
The truth about Iraq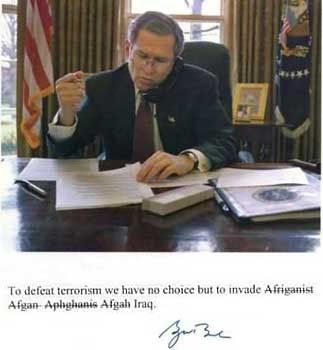 "Dear Splattermail
You are the coolest part of my day. Without you, I would be lost. I hope you like this picture I sent you.
With love always,
Toadie"
Macaulay Culkin is gay!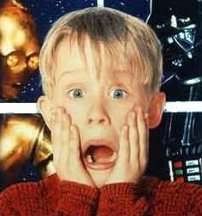 And I'm not just saying that. Again. This time it looks legit. According to
popbytes
, lil' Kevin from the Home Alone series has been "
romantically linked
" with animal rights activist and TV spokesperson Jeffrey Brunner.
Together, the pair have been campaigning for gerbil rights and freedoms which, if granted, would entitle US resident gerbils to engage, inter alia, in consensual sexual relations with animals of any species, including human beings and Macaulay Culkin. I keed, I keed!!
Aah, well. I guess the little wanker is just happy to get it wherever he finds it.
Janet Leigh dies
"
LOS ANGELES
(Reuters)
- Hollywood movie star Janet Leigh
(mother of actress Jamie Lee Curtis)
, best known as the (
showering)
knife attack victim in Alfred Hitchcock's "Psycho," has died at the age of 77, CNN reported on Monday.
"

Leigh was nominated for an Oscar for her role in Psycho, but otherwise had an unremarkable career. She will, however, remain a cinematic icon beacuse of that role for decades to come.
Moon Unit Zappa has the weirdest name in the world
...and its official, according to
Ananova
.
The top twenty fucked-up names, according to a poll of 1000 Poms between the ages of 18 to 25, are the following:

1) Moon Unit; Frank/Gail Zappa
2) Fifi Trixibelle; Paula Yates/Bob Geldof
3) Satchel; Mia Farrow/Woody Allen
4) Apple; Gwyneth Paltrow/Chris Martin
5) Daisy Boo; Julia/Jamie Oliver
6) Rumer; Demi Moore/Bruce Willis
7) Peaches; Paula Yates/Bob Geldof
8) River; Arlyn/John Phoenix
9) Rocco; Madonna/Guy Ritchie
10) Nell Marmalade; Helen Baxendale/David Eliot
11) Maddox; Angelina Jolie/(Adopted)
12) Tiger Lily Heavenly Hirani; Paula Yates/Michael Hutchence
13) Dweezil; Frank/Gail Zappa
14) Brooklyn: Victoria/David Beckham
15) Eugenie; Sarah Ferguson/Prince Andrew
16) Zowie; Angie/David Bowie
17) Rolan; Gloria Jones/Marc Bolan
18) Phoenix Chi; Mel C/Jimmy Gulzar
19) Coco; Courtney Cox/David Arquette
20) Romeo; Victoria/David Beckham

Let's not forget how reliable and unbiased these polls are - less than 5 years ago, a similar such poll of ignorant, oxygen-starved Brits voted Steps as the most influential band in history, ahead of the Beatles and Elvis.
SpaceShipOne wins the race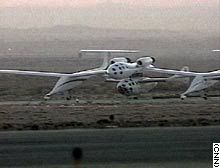 "MOJAVE DESERT, California (CNN) -- SpaceShipOne achieved its most spectacular flight yet, climbing to an altitude of 377,591 feet (71 1/2 miles) to win the $10 million Ansari X Prize on Monday.

X Prize officials said it set an altitude record exceeding the military X-15's top altitude of 354,200 feet (67 miles) set on August 22, 1963."
CNN
The $10 million prize is supposedly intended to promote and advance civilian space flight. Seems like a hell of a lot of work. Frankly, I'd rather stick to the Lotto.
Big up to South African pilot Mike Melvill who completed the first two of the three space trips required to take the winning cheque. Brian Binnie, who piloted the final trip, reported that his trip was a little bumpy, particularly when the craft went into a roll.
Pathetic, useless Yanks. Melvill managed his second trip despite spiralling through 29 rolls. With a hot cup of coffee between his thighs, one hand on the throttle and a faceful of steak 'n kidney pie.
Lennon killer up for parole
Mark David Chapman, the man currently serving his 24th year in prison for the murder of John Lennon on 8 December 1980, is eligible for parole. Again. Chapman has been denied parole on two prior occasions, in 2000 and 2002 respectively.
Chapman has received numerous death threats from Lennon worshippers, and has been told that he will be killed the second he steps out of prison.
The Smoking Gun
has a rather interesting piece, featuring a letter written by Lennon's widow, Yoko Ono, to the parole board, pleading with them to refuse Chapman's parole. Makes for topical and interesting reading, I think.
Yoko Ono was always a strange bird, wasn't she? Not really my cup of tea.
Rumsfeld says no WMD's
In not so shocking news (but great news nevertheless), US Secretary of Defence, Donald Rumsfeld (who's term has arguably been a bumpy one), has now confirmed that US intelligence was "wrong" in concluding that Iraq had weapons of mass destruction, and that he "simply doesn't know" the reasons for the error. Rumsfeld added that, to his knowledge, he had "not seen any strong, hard evidence that links the two".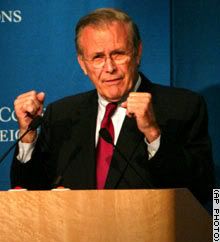 Only four months or so ago, in June, Vice President Dick Cheney reported that: "There clearly was a relationship [between Saddam Hussein and Iraq]. It's been testified to. The evidence is overwhelming".
These remarks come less than a week after the Kerry-Bush Presidential Debate, in which Bush fiercely defended (blah blah blah, doesn't he always) his position apropos the war on Iraq. It now seems that, according to a leading figure in his cabinet, the only two reasons for the Iraqi invasion lack any real substance whatsoever. Of course, we all knew this anyway, but confirmation from someone in the know (and who better than Rumsfeld?) is bloody marvelous. The fact that Rumsfeld is himself a veritable ass-sucking puppet-boy in the field on international politics (probably even monkey politics too), and the Bush administration's whipping boy, will be conveniently overlooked.
No WMD's. No ostensible relationship between Saddam and al Qaeda. So why did the US go to war? The answer is simple: George Bush is a fucking donkey idiot cock with flapping ears and a face you want to smash with bricks. Now THAT should get canvassed in the Debates.
Monday, October 04, 2004
The end of the Simpsons?
Could it be true?

"SIMPSONS creator Matt Groening has revealed he wants the hit show to end. Matt, 50, is finding it increasingly tough to think up new ideas for the cartoon family.

"The Simpsons' success has been unbelievable. But the show gets harder and harder every year because we are trying to keep surprising the audience — and trying to surprise ourselves", says Groening.

Actors who do voices for Bart and co signed a four-year deal in May, doubling their salary to £147,000 an episode. That takes them up to series 19, in 2008.

Animator Matt hopes to do one more after that, to rival America's longest-running show Gunsmoke, a Western that ran for 20 series."
The Sun


It would be a sad moment for television indeed! But, and don't lynch me for saying it, maybe the Simpsons have had their time? They're definately not as funny as they used to be.
Kerry v Bush: the transcript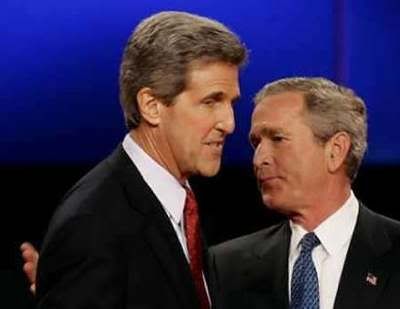 I was fortunate enough to catch the closing remarks of both candidates in the first US presidential debate, held during the course of last week. And it only reaffirmed my position ahead of the upcoming elections - Bush is a ridiculous clown-boy moron, and Kerry can't help but look good standing next to him. To be fair to Kerry, he is good, and he doesn't need a monkey like George to boost his image.

I've been able to track down the
full transcript
of the debate itself, and there are some humdingers in it. Unfortunately, although I guess it is the issue on which the presidency will ultimately be decided, a shitload of time is spent debating the war in Iraq and the war on terror (yes, they are two independent wars - go and stick your head up your ass if you disagree).

In closing, here's chairperson Jim Lehrer posing a question to Kerry with respect to the aforesaid wars:

"LEHRER: New question, two minutes, Senator Kerry.
"Colossal misjudgments." What colossal misjudgments, in your opinion, has President Bush made in these areas?

KERRY: Well, where do you want me to begin?"
Kids visit Margaritaville
"
SEPTEMBER 29--Earlier this month, the staff, faculty, and Board of Trustees at Virginia's private Alexandria Country Day School had a Mexican-themed dinner complete with some tasty margaritas. For some reason, the leftover hooch was placed in a school refrigerator. You can probably guess what's coming next. On September 10, the booze was mistaken for "limeade" by school workers and actually served at lunch to students in the third, fourth, and fifth grades.

The margarita mixup came after the school ran out of milk and apparently had no negative effect of the students, who "sipped it and said that it didn't taste good." They're young, they'll learn. An embarrassed and contrite Harvey promised that booze will now be banned on campus and all faculty parties will be held off-site."
Yeah, right - it was served "by accident". More likely that some disgruntled cafeteria worker, who was sick of getting shat on all day by parents and teachers, and for having to put up with crappy spoilt private school biters, just decided he'd get them all drunk and invite them back to his place for a "slumber party". Heck, it could happen. Apparently it was a big problem at Bishops during the mid-eighties to early nineties.
Anyhoo, here's the
letter
sent from the school to the parents.
Meet Droopy Cock
Well, its actually Drew Peacock, but his parents only realised this when his old boy did an internet search for famous namesakes and was prompted by Google: "Do you mean 'Droopy Cock'?". Ha ha - Google can be funny. Poor kid, though.

"
Russell Peacock said: "People at work are already saying, 'Hey, look there's Droopy's dad'.

"But we don't want to change his name. It is on his birth certificate and other documents.""

Russell Peacock is a tosser. I bet Droopy won't give a flying fuck what his birth certificate says.

Read:
The Sun