Friday, December 10, 2004
Pantera guitarist shot dead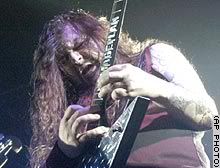 "
COLUMBUS, Ohio (
CNN
) -- A 25-year-old man stormed the stage at a heavy-metal rock concert Wednesday night, shooting and killing Pantera founder and Damageplan guitarist "Dimebag" Darrell Abbott and three others before a police officer shot and killed him, Columbus police said.

At least two people also were wounded in the attack, which occurred shortly after Damageplan began its performance at the Alrosa Villa nightclub on Columbus' north side.

Abbott, 38, and his brother, Vinnie Paul Abbott, 40, formed Damageplan after the breakup of Pantera -- a group they formed in the 1980s. Their father is Jerry Abbott, a country and western songwriter and producer.
Pantera's third release, "Far Beyond Driven," debuted at No. 1 in 1994. The band was nominated for Grammys in 1995 and 2001.

The band dissolved at the end of a tour last year -- amid much speculation on fan Web sites that the split was not amicable. The two brothers, however, played down any bitterness during an April 1 interview with CNN."

Crazy mother-fucking psychos. Why the hell do we have to live in a world where, honestly, you can't really go anywhere or do anything with any kind of guarantee that someone with some dumb issues isn't gonna run up to you and kill you becuase his tapeworm told him to, or the CIA made him do it, or because he was bullied at school cos he was a fat bitch back then, but once he got to university and starting studying computer science, he became bulimic, got skinny, and adopted an undercut with a centre parting. WHOA!! Digression deluxe.

Pantera was cool. This is crap news.