Tuesday, December 21, 2004
Just a little festive "what-the-fuck"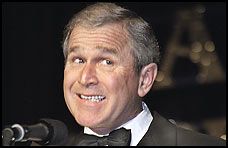 "
For sticking to his guns (literally and figuratively), for reshaping the rules of politics to fit his ten-gallon-hat leadership style and for persuading a majority of voters that he deserved to be in the White House for another four years, George W. Bush is TIME's 2004 Person of the Year
"
More

Yes. Again. What the fuck!!?? And there I always figured Time was a respectable publication. Maybe they were thinking of MAD? Granted, their justification for his nomination is kinda wishy-washy. Like giving a turd on your shoe an award for just fucking sticking there, despite your best efforts to scrape it off on the kerb.

I hope he has a rubbish Christmas, and that he gets a slap in the chops from Santa. That assumes, of course, he hasn't convinced himself that Santa has weapons of mass destruction in his sack or installed on his sleigh.

PS. Sorry about my absence - been working like a dog out of the office. I'm also sick and grumpy. This is the first window of opportunity I've had to do anything for a week!! And I could have spent it crapping...