Wednesday, December 01, 2004
How to be gay, by Colin Farrell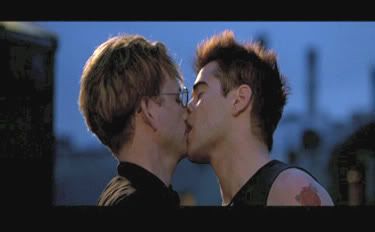 Yikes. It really looks like he's enjoying it too, doesn't it? Yet Colin describes the experience as follows: "
When you feel his stubble against your lip, it's repulsive to me, as repulsive to me as for a lot of gay men the idea of putting their tongue near a pussy is—something that, for me, is akin to heaven sometimes
."
I gotta be honest. The wood I had from looking at porn not 4 minutes ago crashed against my thigh in a little pile of wrinkles. And since there was no one else in the office to hear it, it made no sound.
The Salami is no homophobe. I just don't like the sight of gay men kissing. It gives me the shivers. I also don't like the sight of lions killing cute little gazelles. BUT - and here's the clincher - its just nature, and its not for everyone.
If, on the other hand, you enjoy looking at Colin Farrell kissing another man, then pop over to the
tutorial
, featuring more pictures. And I know there are some closet gaylord Splattermail readers out there too.
PS. The link was sent to me.