Wednesday, December 01, 2004
Genetically engineered women?
"Why not just genetically engineer women for milk?

MAdGE (Mothers Against Genetic Engineering in Food and the Environment) today launched a highly controversial billboard campaign in Auckland and Wellington to provoke public debate about the social and cultural ethics of genetic engineering in New Zealand.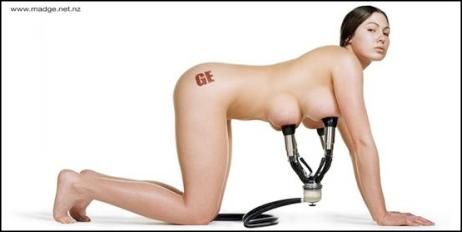 The billboards depict a naked, genetically engineered woman with four breasts being milked by a milking machine, and GE branded on her rump.
"
Scoop

Now, whilst I think that MAdGE are being a tad silly about something so stoopid (who really cares about their milk? I don't), they're onto a fucking brilliant idea: the four-breasted woman!! Why the hell not? Why has no-one thought of it earlier?

Granted, the bitch in the picture is not the most attractive thing in the world, but given she's a Kiwi I suppose we'll forgive her. And New Zealand. Although Rachel Hunter was mildly pretty in her day, I guess.

But the four-breasted woman - what a breakthrough that would be! Nobel prize stuff!

...and I got my wood back.