Thursday, December 09, 2004
Foreign bergies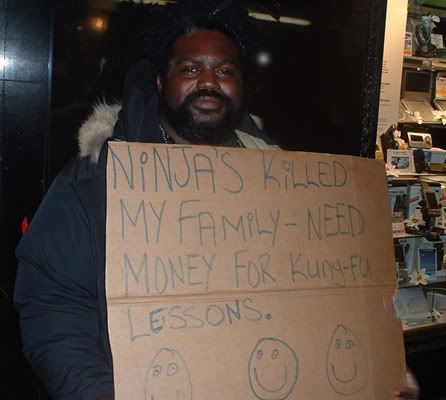 Shit man! Not even our fucking car guards/beggars are world leaders in their field. What the hell kind of third world country are we? It seems the amusing cardboard poster trick is being used the world-over. At least this dude had the creativity to move away from the "naughty cat", "7 wives" garbage, which admittedly amused me the first time I saw it, but which is now so bloody tired.
Still, I'd rather have the stupid signs than the fucking moron leper/epileptic/rickets whatever-the-fuck they're suffering from bendy-leg assholes (yeah, right) who hobble over to your car and give you dribbly miserable gawps. I wanna smack them and take their money, bastards. Also the idiot women who use their cute (but often suprisingly fat) toddlers to try and manipulate you into forking out a few rands.
Show me a little ingenuity, make me laugh, and I'll give you money. Honest.
Got the pic off an interesting site,
die puny humans
. Check out the post on African Menus.