Wednesday, December 08, 2004
Avril Lavigne's Hooters video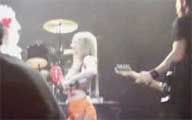 Now I'm perfectly happy to admit that I've always had a bit of a crush on Avril Lavigne. She's such an angry, wild little girl - and I'd just like to ride it all out of her. But I can't say that I've ever thought of her as "hot", or "sexy".
Now just take a look at this pirated (dunno how) video clip of her prancing around onstage in a skimpy little Hooters outfit. The bitch is pretty fucking sexy. And I'd
definately
love to abuse her...even just a little bit. Man, I gotta pop to the bathroom quick.
View the video (.wmv), courtesy of
Anticlown
.