Fucking brilliant!! What a marvellous weeked!!

Although smg and I only arrived at the main hotel at Sun City at close to 22h00 (after smg conveniently forgot to arrive on time for his early flight from Cape Town), the night was but an infant, and you know what we do to infants!...look after them, with care and love. Ok, the night was a dirty slut.
We met Splattermail regulars Harps and Finkelstein in the high-rollers lounge in the casino, where the man Harps was embroilled in a rather intense punto banco war against a couple of slammed Patricia Lewis wannabes. We all came out of it alright, Harps richer, and all of us drunker. Then off to the clubs, where we let our true class shine through: champagne, Jager bombs, tequilas and Krugersdorp daquiris (double brandy and coke to the ignorant) saw to it that most of the latter part of the evening was a
genuine
blur. You know its been a heavy night when you arrive home at your hotel room to find the door open and a strange man sleeping in your bed. Unless you're Toadie, in which case the night's only just begun. Some disgusting burgers courtesy of the demons at room service put us to sleep, and gave us disturbing dreams.
Sunday morning was rough. Harps planted the most ridiculously vile turd in our single bathroom. When we came back into the room after a quick trip to the Valley of the Waves, the flowers had wilted, yet the stench remained. We packed and took our bags to the car very quickly.
The rest of the day was spent basking on the golf course. Thanks to smg for hooking us up with some Virgin Atlantic comps - we moved between the hospitality tent on the 1st and the sky box situated behind the green on the 11th. Apparently there was some golf as well. We finally followed Nicky Price and Jim Furyk up to the 18th, whereafter we called it a day and made our way back to Joburg.
Thanks to Harps for sharing his room and hotel benefits (and for being a general all-round jerk), to smg for the ride and the golf tickets, and to Finkelstein for not scoring another orc horse.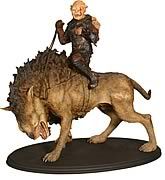 (Above: a photo of Finkelstein riding his date across the dancefloor at his matric dance).