Thursday, November 04, 2004
Yes, yes...we know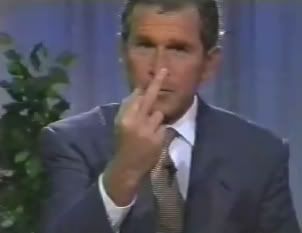 ...as Dubbya says a big "fuck you very much" to the 49,9999% who voted against him (rather than
for
John Kerry).
So the rest of the world has to put up with this fucking asshole for another 4 years. How depressing. Its kinda like losing the World Cup (take your pick) to Australia, and then being forced to watch them parade the trophy around until the next one - a really bitter pill to swallow. I cried myself to sleep about the whole mess last night.
On the positive side, at least we'll have four more years worth of complaining and entertaining material to enjoy. I was concerned that Splattermail was going to have to shift focus away from the American presidency, but as long as Bush sits on his silly little throne in DC, I will continue to bitch about him. Because I like it. And because Bush is a fucking twat.
Here are some amusing
Bushisms
, sent in by Splattermail ol' faithful, Harps.