Thursday, November 18, 2004
Our Lady of Cold Toasted Cheese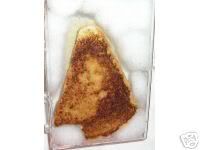 And this ain't no joke. Some fucking stupid degenerate is offering his old lunch for sale at the special, bargain price of $3 000,00. Because you can see the face of the Virgin Mary in it.
Ebay's
a fucking beaut.
What's even more pathetic is that the latest
bid
for this doos's half-assed sandwich (it doesn't even come with tomato, ham or Miracle Whip) is $18 750,00.
I give up.