Tuesday, November 16, 2004
Ol' Dirty Bastard dies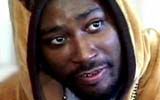 More sad news from the entertainment obituaries: Rapper O.D.B., a founding member of the hugely successful Wu Tang Clan and a fairly prolific artist in his own right, died of unknown causes on Saturday.
"O.D.B. had complained of chest pains before collapsing at the Manhattan studio, and was dead by the time paramedics arrived, said Gabe Tesoriero, a spokesman for O.D.B.'s record label, Roc-a-Fella.
The cause of death was not immediately clear, but O.D.B. had recently finished a prison sentence for drug possession and escaping a rehab clinic. He would have turned 36 on Monday
."
CNN
R.I.P.,O.D.B - the Salami will miss you - a little bit.