Happy Monday to all of you! November is a fantastic month, because it was the month in which the Salami was spawned. Hooray!
My apologies for the belated blog, but server problems and a protracted visit to Witbank, the Newcastle of Africa, were largely (in fact entirely) to blame.
Instead of reporting on what colour panties Paris Hilton wore to the shops the other day, or bitching about how fucking ugly Britney Spears is (again), I'm going to blab a little about the ridiculous weekend past during which the Salami and certain Splattermail contributors and supporters despoiled the otherwise pristine beauty of the Natal Midlands Meander.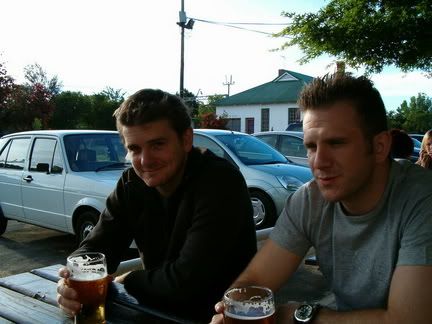 After a ludicrous Billy the Bum's friday night, the team took off on their Britney-esque journey of post-adolescent discovery, arriving shortly after 17h00 in the sleepy hollow of Nottingham Road. Where we drank a crapload and coerced a couple of blossoming 18-year old barmaids into joining us for a few more tipples in nearby Martizborough. Which is when the already dirty evening took a rather perverse turn south. If you're not getting me, try R38,00 for a round of tequilas and suitcases. How bout them apples?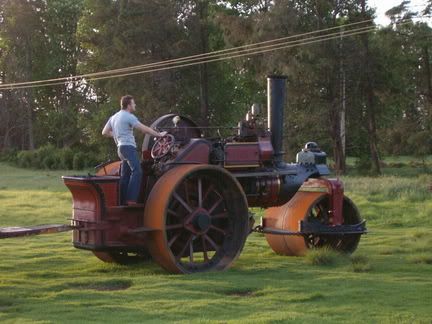 The "Win 'n Spin" flashing-lights-of-doom at Crowded House's shot-bar proved both enormously entertaining and alarmingly perilous, and we quickly set about punishing our stomachs, our credibility, the dancefloor, and later, on the drive home, my car, which fleetingly went airborne after colliding with a traffic island at around 100km/h. Thankfully, I wasn't driving - I was way too busy doing Robbie Williams karaoke service and trying to focus on the streetlights to concentrate on a minor detail like driving. Big thanks to Toadie and the Fink for their combined support, without which we would probably all have spent Sunday receiving Zero Tolerance in a KZN police holding cell.
Golfing hungover is always an experience - and not usually a pleasant one. Especially when you feel like you've developed glass-encrusted eyelids, a brain tumour and amoebic dysentery all at once. Toss in your partner's mother, grandparents and kid brothers and sister (who conveniently joined us for our round), and you may actually begin to understand why people suddenly find religion. 18 holes of justice indeed! Notwithstanding, I had the round of my life. Finkelstein, however, managed to freshie the first drive of the day, and then promptly dropped the pig ball into the drink with his very next attempt. In front of a gallery. Fucking buttpump.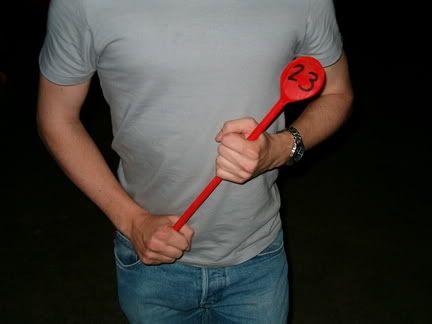 In all, a smashing weekend, and barrels of fun. Thanks again to the birds of
The Bierfassl
for reminding us why 18-year olds are so wonderful, and for showing us how pathetic and crusty we actually are. Fucking tarts. By the way, we have your stupid spoon. We suggest you make a plan to come and fetch it pronto, and preferably before Toadie decides to have his way with it.