Friday, November 26, 2004
Happy thanksgiving, you fucking turkeys
Hooray, hooray. Thursday, 25 November 2004 was (and on the West Coast still is) Thanksgiving over in the land of opportunity and dribbling idiots.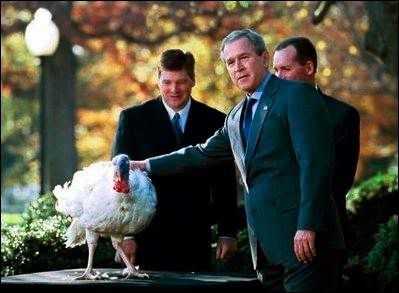 George W didn't realise it was Thanksgiving at all. Probably because the only calendar he's familiar with is the chocolate advent one that his missus buys him every December. The reason he's grinning and looking so cordial is that he apparently thought he was holding diplomatic talks with the Prime Minister of Canada.
Needless to say, the talks were gruelling and intense. And after some cunning manipulation on the part of the turkey, the White House had Donald Rumsfeld for dinner instead.