Sunday, November 07, 2004
Frat party at 21 Rivonia
Friday, 5 November. One heck of a frat party. Many thanks and a load of credit to the guys at 21 Rivonia for managing to pull off a rather spectacular, and thoroughly dirty, "American Pie"-styled bash. They were, of course, aided enormously by the antics of the nerds from Lamda Lamda Lamda, who were kind enough to provide the now-infamous funnel, which quickly established itself as the indisputable smash hit of the party.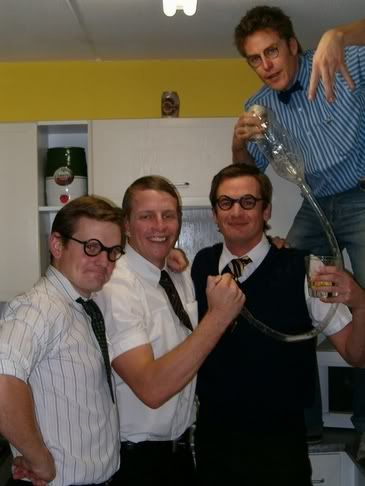 What would a frat party be without hot sorority bitches? "Pretty shit", is the simple answer. Fortunately, there were thirsty slappers aplenty, the majority of whom were appropriately kitted out in tiny white skirts and red ribbons. Gloriously, and with very little encouragement from the boys, the sorority girls descended on the funnel
en masse
, putting on a show in the process that would make Jenna Jameson blush (very nice, ladies). A cheerleading exhibition and impromtu wet t-shirt competition all contributed to a sterling party performance, easily rivaling that of the Tri-Lams.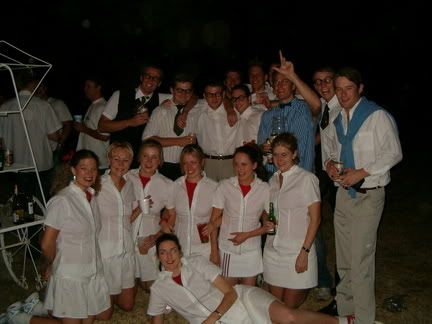 As expected, and in keeping with the theme of the party, there were those who took things a bit far. Amongst them were the poor bastard below, and the randy third-basers who did a great job of moistening up the wallpaper in the corner of the dance floor (pictures to come...).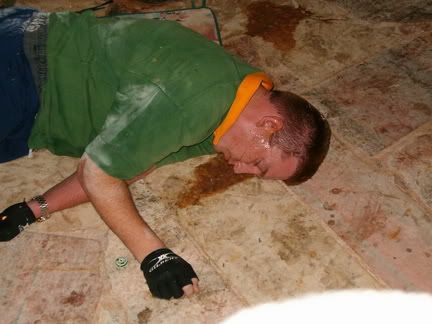 Thanks again to the guys for an awesome evening. Watch this space - plenty more photo's still to come.