Tuesday, November 02, 2004
Frankie's new face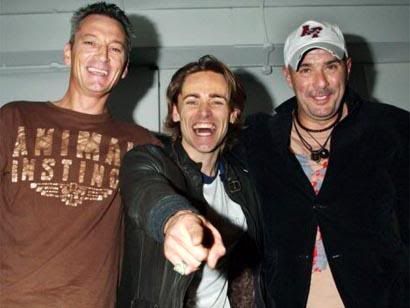 "
Pop band Frankie Goes to Hollywood have revealed their new frontman who will sing at a one-off charity concert.

Ryan Molloy, 28, beat 200 hopefuls who flocked to the open audition in Leicester Square on Sunday.

The band, whose 1983 hit Relax was banned by the BBC, are re-forming to play a one-off Prince's Trust concert at Wembley Arena in November.

But Holly Johnson, the original flamboyant frontman, decided not to take part
. "
BBC
Disgraceful! Absolutely disgraceful! They look a fuckload more like Cecil Goes To Hollywood. The new guy looks like a useless twat. Fine, the other two look a trifle stupid as well, but they are members of one of the most phenomenal bands of the 80's, and perhaps ever (the songs "Two Tribes" and "Relax" are amongst the most successful songs ever recorded - and that is not just my opinion!) - so they're excused.
Is this maybe like a Reach for a Dream thingy? In which case, I guess I can stomach the whole deal. Poor dude. I still find him highly offensive.

But the other guys aren't entirely free from blame at all. What audience in their right mind would tolerate a replacement for Mick Jagger? Or Bono? I don't think I really have to go into the whole David Lee Roth/Sammy Hagar fuck-up to stress my point any further. You dig? Holly Johnson was hot shit, and I'm really struggling to imagine a Frankie performance without him. Especially given his cock-faced substitute.

I'm a bit cranky this morning, in case you hadn't noticed.