Wednesday, November 10, 2004
Dumb, fat bitch spotted in Cape Town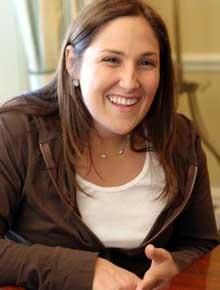 "Ricki Lake arrived in Cape Town on Sunday to promote her talk show, The Ricki Lake Show, which is aired on e.tv in the afternoon.

Her dark, short hair has made way for longer, lighter hair.

Lake says she is gloriously happy and has a fantastic life - her two sons, aged seven and three, have adapted well after her divorce two years ago and there is a new "Greek god" in her life.

This man is Apollo Yiamouyiannis and she has a "very special" relationship with him.

Yiamouyiannis has accompanied Lake to South Africa.

Her talk show mainly deals with relationships - something she believes every person can relate to.
She admits that her biggest issue in her personal life is her weight. Her weight has fluctuated over the past ten years.
At the start of her television career, she lost 57kg, but after her second pregnancy, she picked up nearly as much. She has managed to lose some of this excess weight but those extra 10kgs are still bothering her.
"
News24

Mothers! Hide your children, and lock your fridges - there's a hungry ogre in town! Jeepers, how the hell do we manage to get international celebrities of such calibre through our airports? And I mean that literally as well, 'cos Ricki's a porky slag. And why the fuck anyone would care about poor Ricki's fluctuating weight is beyond me. Unless they're scientists, and are concerned that the presence of her gargantuan bottom in Cape Town will have some influence on the tides. Give me a fucking break.

One of Splattermail's most reliable schleb correspondents in the Mother City was able to confirm for me yesterday that PARIS HILTON hereself recently popped in for a visit. And was it reported anywhere? No fucking way! The South African media is poked. Poked, I tell you! I'm a mad Salami this morning.