Wednesday, November 03, 2004
Dogs vote Kerry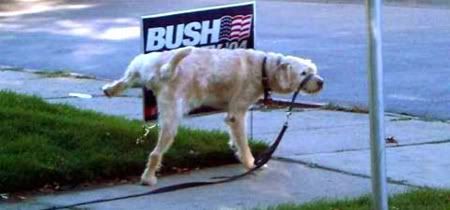 Not suprisingly, of course. Aaah, freedom of expression: somewhat salty, somewhat warm. Word around the White House has it, however, that George W quite enjoys the occasional golden shower.
The election itself is looking pretty tight, although Bush is (vomit) leading at the moment. It is sad. But here's something pretty cool and interactive: the live
BBC US election monitor
- its smashing! Also a useful geography aid, particularly if you're planning to spend December in Kentucky, and never really cared to find out
precisely
where Kentucky was.