Monday, November 22, 2004
94.7 blues
Don't ever do the Pick 'n Pay 94.7 Cycle Challenge. I did. I nearly died (with Omo Lady's voice). A quiet vomit after 20km almost ended me, but by some miracle, I persevered and made it home in 6 hours and 8 minutes, no more than 20 minutes before the last rider was ushered over the finish line. Corn syrup and crappy energy supplement drinks rule!! As does a good pair of walking shoes.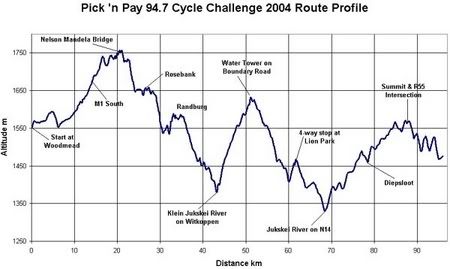 Above is a graphical representation of my anxiety and "I just wanna fuckin' give up" levels throughout the race. Amazingly, it correlates precisely with the altitude profile of the route. Fancy that!

A special word of thanks to all the enormous, fat middle-aged bitches who managed to pass me along the way. I don't know how you did it, but you certainly made me feel more like a chipolata than a Salami.
...and my ass feels like its taken an enormous kielbasa. Or, as Finkelstein (who feels it too) puts it, like this guy's ass must have felt a few seconds after the photo was taken.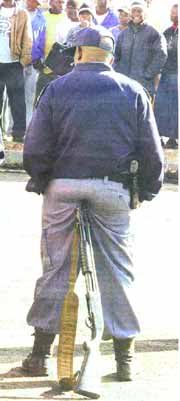 (picture courtesy of our friends at
Jo'blog
)