Friday, October 15, 2004
Tsvangirai acquitted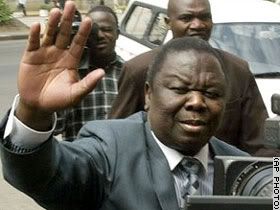 "
HARARE, Zimbabwe
(CNN)
-- Zimbabwe's High Court has acquitted opposition leader Morgan Tsvangirai of charges he conspired to have President Robert Mugabe assassinated.

Judge Paddington Garwe pronounced Tsvangirai innocent Friday in a long-awaited judgment, saying the prosecution's treason case was not credible.

"The evidence has not shown beyond reasonable doubt that there was such a request (for an assassination and a coup d'etat)," Reuters quoted Garwe as saying. "The court therefore returns a verdict of 'not guilty.'"

Tsvangirai smiled broadly as the verdict was announced, and supporters of his Movement for Democratic Change (MDC) broke out in spontaneous applause in the packed colonial-style courthouse.

"I am vindicated; democracy has been vindicated," Tsvangirai said. "I think that it has been an overwhelming judgment for me."

Had he been convicted, Tsavangirai could have faced the death penalty.

This is a bold step for the Zimbabwean judiciary, and one that offers just a glimmer of hope that Mugabe has not corrupted every branch of his government. It is also an indication that there are those in responsible and, albeit in a limited capacity, powerful positions who are still prepared to protect truth and justice.

In the past, the Zimbabwean government has not shied away from threatening, and even incarcerating, judicial officers who have acted contrary to Mugabe's blatantly dictatorial agenda. It is heartening to see that the events of recent history have not swayed the judges in their current Tsvangirai deliberations.

Hopefully this bodes well for the continued participation of the Movement for Democratic Change (MDC), the main opposition to Mugabe's Zanu-PF, in Zimbabwe's quest for democracy, and in its attempts to liberate the Zimbabwean people, black and white alike, from the cruel grip of Africa's most despised (and most bespectacled) mother fucka.

Hooray for African democracy! This is a good day! Let's hope this is a sign of even better things to come.