Tuesday, October 26, 2004
Tales from Lenny's crapper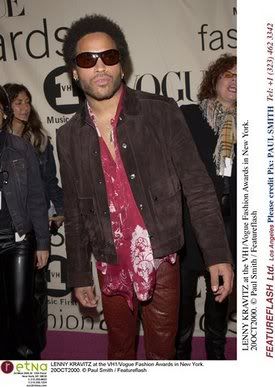 "Lenny Kravitz is being sued after his blocked toilet allegedly caused 'catastrophic' damage to a neighbour's apartment.

Kravitz is accused of causing about £170,000 of damage to retired Joel Disend's home in Manhattan, reports the BBC.

Insurance company Amica Mutual claimed Kravitz allowed 'a commode to become blocked, clogged and congested with various materials'.
Kravitz owns a 6,000-square-foot duplex in the building, where Courtney Love is also a tenant
."
Ananova

I don't really want to dwell too long on this one (although these clearly are not words Lenny Kravitz would use in respect of his china pot).

If anyone's interested, I'll be watching Ebay over the next few days to see how long it takes for some degenerate to try and punt a log of Lenny's turd. Judging by the Britney-chewing-gum incident, it could fetch a pretty packet.

I feel nauseous, so that's all.