Wednesday, October 27, 2004
Taiwan politics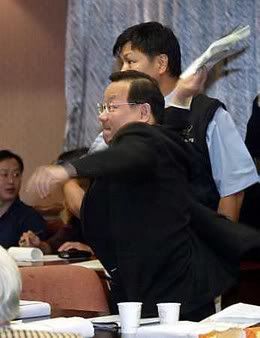 "
TAIPEI (
Yahoo News
) - A food fight erupted in Taiwan's parliament on Tuesday as lawmakers quarrelling over a massive arms budget hurled their lunch boxes at each other.

"You've got no shame!" screamed Chu Fong-chih of the opposition Nationalist Party, after throwing a take-out box of chicken and rice at Chen Tsung-yi, a legislator from the ruling Democratic Progressive Party who backed the special budget.

Chen responded by accusing Chu of sympathizing with Taiwan's arch-foe China, and flung his own lunch box at her.

Taiwan's parliament is notorious for fistfights, with many lawmakers enjoying the media attention when scuffles break out. Chairs and shoes have also been known to fly across the chamber on occasion.
"
You gotta love the Taiwanese...I suppose. I also like Chinese food a lot (which I'm guessing is close to Taiwanese food?). But most importantly - THIS is the way parliamentary debates should be handled. A few babotie, samoosa and pap fights in Cape Town would probably up viewership ratings for Parliamentary TV (you can find it somewhere on DSTV) by about 100 000%, and people might actually take an interest in what their elected representatives get up to during the day. Its a well known fact that MP attendance levels at parliamentary sessions are appalling, so maybe an occasional pie-chucking or ANC Smackdown will ensure that delegates pop in periodically to avoid getting caught without egg on their face. Culinary accountability - I like it!