Monday, October 25, 2004
Superman casting confirmed
Indeed.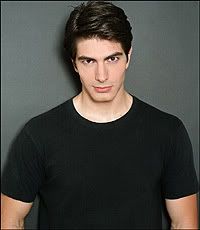 "
Little-known actor Brandon Routh will be the new Superman, Warner Brothers has announced.
The 25-year-old has been cast as the Man Of Steel in the as yet untitled movie, set for release in 2006.
Warner Brothers President Alan Horn said: I think we're going to make a Superman movie that all of us can be very proud to bring to our audience around the world."
Routh was chosen for the role of Superman following an exhaustive search that spanned North America, Britain and Australia.
Producer Bryan Singer added: "It was always my absolute intention to hire an unknown for this role.

"Brandon is an extremely fine actor who possesses the physical qualifications of Clark Kent/ Superman."
Routh's television credits include Will & Grace and Cold Case
."
Ananova
Personally, i think this dufus looks like a real knucklehead. Somebody call "
The Bold and the Beautiful
" and tell them one of their inbred, plastic-haired cast took a wrong turning outside the studio and wandered into another lot.
Maybe it'll add a new dimension to the film? What does Clark say when he discovers that Lois Lane once had sex with his father in a barebacking parlour, and that she is in fact his mother, but then she was involved in a horrible car crash and forgot all about it, whilst at the same time Lois' slightly retarded twin sister, Magda, pretending to be Lois, is possessed by an evil demon, who convinces her that she is pregnant with Clark's baby? And so on, and so on. Tune in again tomorrow for more.
My expectations for this movie have been lowered.