Tuesday, October 05, 2004
SpaceShipOne wins the race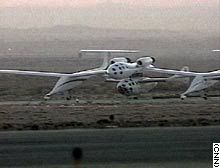 "MOJAVE DESERT, California (CNN) -- SpaceShipOne achieved its most spectacular flight yet, climbing to an altitude of 377,591 feet (71 1/2 miles) to win the $10 million Ansari X Prize on Monday.

X Prize officials said it set an altitude record exceeding the military X-15's top altitude of 354,200 feet (67 miles) set on August 22, 1963."
CNN
The $10 million prize is supposedly intended to promote and advance civilian space flight. Seems like a hell of a lot of work. Frankly, I'd rather stick to the Lotto.
Big up to South African pilot Mike Melvill who completed the first two of the three space trips required to take the winning cheque. Brian Binnie, who piloted the final trip, reported that his trip was a little bumpy, particularly when the craft went into a roll.
Pathetic, useless Yanks. Melvill managed his second trip despite spiralling through 29 rolls. With a hot cup of coffee between his thighs, one hand on the throttle and a faceful of steak 'n kidney pie.