Thursday, October 21, 2004
Soap star for Superman?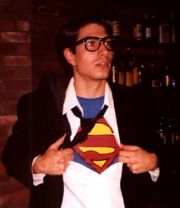 "
LOS ANGELES (Reuters) - Little-known TV actor Brandon Routh appears poised to leap from soap-opera obscurity to film fame as the Man of Steel in a new "Superman" movie being developed at Warner Bros.

Both of Hollywood's leading trade papers reported on Wednesday that Routh, 25, whose credits include the ABC daytime drama "One Life to Live," is expected to assume the big-screen role once filled by the late Christopher Reeve.

A spokeswoman for Warner Bros., a unit of Time Warner Inc., declined to comment on the reports other than to say that no casting deal was in place.

The "Superman" project is under the direction of Bryan Singer, the filmmaker behind the two "X-Men" movies for 20th Century Fox , and is aimed for a summer 2006 release, Warner's spokeswoman said. Production would likely begin early next year."

Brandon Routh's casting has been rumoured for quite some time now, but it looks like the rumours are really starting to take seed. The picture above was taken at a 2003 fancy dress party, before speculation as to Routh's involvment in the Superman project ever became public - pretty ironic, dontcha think? And he doesn't look half bad - as a potential Superman that is. Ahem.