Wednesday, October 27, 2004
"The Simple Life 3"
"
NEW YORK (
Reuters
) - Two rich blond women and three dogs will board a Greyhound bus on Wednesday -- with dozens of cameramen, makeup artists and hangers-on in hot pursuit -- as a new installment of the reality TV show "The Simple Life" starts filming.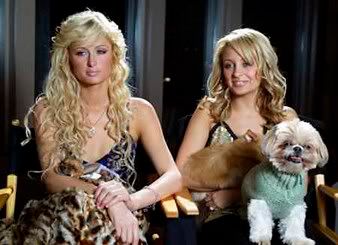 The stars of the show, heiress Paris Hilton and her best friend Nicole Richie, said they planned to spend the eve of their departure packing -- nine suitcases for Hilton and six for Richie.

"I never end up wearing even half the things I bring, but it's always good to have a selection. You never know where we're going or what the weather's going to be like," Hilton said.

Fox scored a major hit with the first two seasons of "The Simple Life." In the first season, the pair were transplanted to a farm in middle America, while the second season saw the duo traveling from town to town in a camper van.

This time, the pair will visit major cities along the East Coast and work as interns in a range of jobs, including stints on Wall Street and in a classroom. "
Hooray! Just...Hooray! Life is good.