Monday, October 25, 2004
Pinkies Party
Aaah. Many thanks from Splattermail to the Passion Palace for one heck of a do last Saturday. We trust that the clean-up went well - although we did clean up (in a manner of speaking) during the course of the party itself.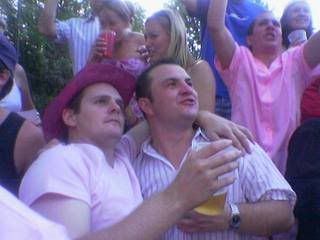 Dressed to the letter "P", or shamelessly splashed in pink, party-goers were treated to a solid opening set from rockers The Parlotones, a drunken karaoke exhibition from Justin "Is every one having a good time?" Bergh, and a spectacular show from main attraction Prime Circle, who had the pink masses bouncing and screaming like pre-school kids in a sherbet factory. And once the bands had packed it in, it was up to the resident DJ to keep the party pumping - a feat he achieved with aplomb.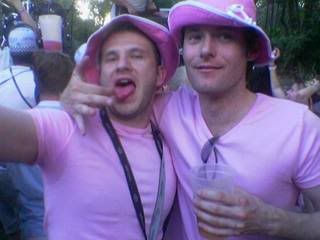 After destroying kilolitres of beer and Pink Punch, I would be fascinated to know how many people actually managed to find their way to the after party at Night Fever. And how many are sitting in charge offices and prison cells throughout Jo'burg just for trying to get there.

If any Splattermail readers have any Pinkies Party photos or news that they'd like to share, please submit them. smg has been charged with the duty of gathering photos taken by some Splattermail regulars, and will (hopefully) be posting a few more during the course of the day.

Once again - a fucking AWESOME party! Too bad it was the last one. Sob.