Tuesday, October 26, 2004
Paris in love match?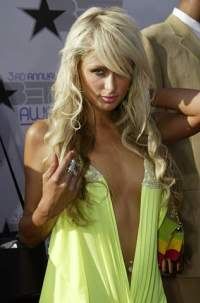 "Hotel honey Paris Hilton is playing doubles with Australian tennis hunk Mark Philippoussis, but his jilted girlfriend would like to backhand them both.

"The Simple Life" reality-TV star went public over the weekend about her new ace, and rubbed salt on scorned Aussie pop star Delta Goodrem's wounded heart by calling her "boring."

"I've got a new man and I'm head over heels in love. I adore him, he's so hot. His name is Mark Philippoussis," Hilton, 23, told reporters Saturday, while on a shopping spree in West Hollywood with her sister, Nicky, who recently split with her husband of six weeks, Todd Meister.

Paris even showed off a photo of a bare-chested Philippoussis, 27, that she keeps on her cell phone display. When he responded to her text message, she gushed, "I love him, I love him, I love him."
"
NYDN
Jeez, Louise. Scary. He's "so hot"? "I love him, I love him, I love him"? What, is Paris a fucking 12-year old first discovering the joys of girlhood? No! That was a few months ago, when she showed the world that she knew exactly what the joys of girlhood are (as well as the joys of boyhood...mmmmmm).
Still, I suppose it is kinda sweet that even billionaire socialite porn stars get excited when the new man in their life sms's them. I get that way as well with girls, so I'm not going to bitch too much. Although things usually end up pretty messy when they discover I somehow managed to get a bare-chested photo of them onto my phone display.
I still think Paris is a fly beeatch.