Thursday, October 14, 2004
Nicky Hilton returns to the open market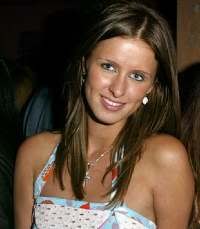 "LOS ANGELES (Reuters) - Socialite Nicky Hilton, heiress to the Hilton hotel fortune with elder sister Paris, is seeking to annul her 2-month-old marriage to money manager Todd Meister, Us Weekly magazine reported on Wednesday.

Hilton, 21, and Meister, 33, tied the knot at a Las Vegas wedding ceremony on Aug. 15.

But Us Weekly said Hilton was seen at a political fund-raiser and a nightclub earlier this month without her wedding band and that the couple actually split several weeks ago.

"They're working on an annulment," the magazine quoted one unnamed source as saying. "Nicky and Todd remain the best of friends, but she is 21, and it's just not the right time in her life for her to be married. He lives in New York; she's in L.A.""
Shame. Poor Nicky. I really don't give a rat's ass, but heck - its news, and I don't make it. Still, there haven't actually been any good reports about Nicky's marriage at all in the past two months, so maybe its all for the best. Sniff.