Friday, October 08, 2004
Ken Bigley beheaded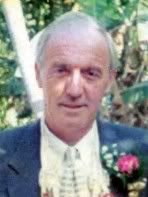 It is with no sense of pride or accomplishment that I report that British hostage, Ken Bigley, who had been held captive by the militant al Qaeda-linked Abu Musab al-Zarqawi, was killed on Thursday afternoon in Latifiya, southwest of Baghdad.

Bigley had featured in two video clips filmed by his kidnappers, pleading for both his life and for the release of Iraqi women held captive by American forces in Iraq. The videos, and Bigley's capture, has consistently made world headlines throughout its duration.

In both videos, Bigley had made desparate appeals for the intervention of British PM Tony Blair. Both the U.S. and British governments have said they will not negotiate with hostage-takers.

Whilst I cannot, and will never, condone the murder of innocent civilians, it is my heartfelt belief that both Bush and Blair must be held liable and accountable for the death of Bigley and of the other kidnapping victims who have met similar fates in the months since the video depicting the murder of American Nic Berg was first released.

Enough. I'm upset, pissed-off and frustrated. I'm going to go and get shit-faced now.