Wednesday, October 06, 2004
He-Man returns!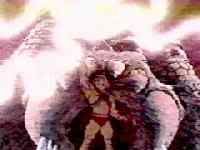 YES!! YES!! John Woo (of Face/Off and Paycheck fame) has been signed by Fox to direct a
new Masters of the Universe flick
. I'm sure we all remember the embarassing 1987 attempt to bring He-Man and pals to life, with Dolph Lundgren as the panty-clad Prince Adam and veteran stage actor Frank Langella as the angry, bulimic Skeletor. Hmm. I watched it with my gran at the old two-tiered Rondebosch Nu Metro in the Fountain Centre. Neither of us were impressed. Let's hope that this time round Mr Woo puts in a little more effort, mkay?

There's no word yet as to who will actually star in the movie, and I have to admit - i'm at a loss myself. Why not post some suggestions as comments?

Oh boy oh boy oh boy! I can't wait for this one! "By the power of Grayskull!"

In the meantime, check out one of the bigger He-Man fan sites for a laugh:
he-man.org