Friday, October 08, 2004
Gisele's lesbian kiss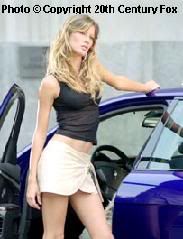 "
Gisele Bundchen
claims she was left "traumatised" by the lesbian kiss she shared in her debut movie.
The stunning model, who stars as a sexy thief in upcoming film 'Taxi', was shocked when she learned she would have to kiss her female co-star, Jennifer Esposito.
She told Britain's Hello magazine: "When I found out, I thought, 'You've got to be kidding me.'"

Grrrrr. I'm looking forward to this one! Word on the street is that "Taxi" is actually a really shit movie, but who gives a crap what the word says, right? This is all kinda Cindy Crawford/"Fair Game"-ish, if you ask me - remember all the hype about getting to see Cindy lose her kit? I really used to love Cindy. Of course, most of her lovely body was obscured by the writhing ass and back of Billy Baldwin, which I did not love all that much.

Gisele's co-star, Jennifer Esposito, is also a hottie. She played Stacey, the Latino secretary, in "Spin City" during its first couple of seasons. I always thought she was very nice. So the prospect of some girl-on-girl tongue action between these two smouldering beeatches is almost certainly enough to get me to drag my ass down to the bioscope for "Taxi".

Gisele commented further: "It was traumatising in the beginning, but then I got used to it.". Funny, because that's how most girls describe their experience with me. I reckon Gisele and I should date. Finito.