Friday, October 29, 2004
De Niro Is 'Greatest Living Actor'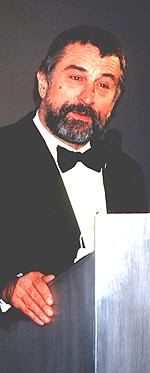 "
Robert De Niro has been voted the world's greatest living actor.

The star topped the
poll
thanks to roles in hits such as The Godfather Part II and Taxi Driver.

De Niro's fellow Godfather star Al Pacino came second in the poll, compiled by Empire magazine, followed by Jack Nicholson.

Silence of the Lambs star Sir Anthony Hopkins is the only Briton to make it into the top 10
. "

The rest of the list looks like this:

1. Robert De Niro
2. Al Pacino
3. Jack Nicholson
4. Paul Newman
5. Marlon Brando - died before voting was complete
6. Anthony Hopkins
7. Morgan Freeman
8. Dustin Hoffman
9. Clint Eastwood
10. Sigourney Weaver
11. Gene Hackman
12. Harrison Ford
13. Sean Connery
14. Meryl Streep
15. Ian McKellen
16. Christopher Lee
17. Sidney Poitier
18. Robert Redford
19. Alan Rickman
20. Judi Dench

Personally, I was a little disappointed. Sigourney Weaver? Christopher Lee? Ian McKellen? I'm definately a tad confused. Where's Tom Hanks (who must feature on most lists)? Where's Sean Penn? Johnny Depp? And for the ladies: where's Jenna Jameson?

My list would probably have looked something like this:

1. Chevy Chase (the funniest man alive)
2. Will Ferrell
3. Bill Murray
4. Benny Hill
5. David Spade
6. Pauly Shore
7. Sir Lawrence Olivier
8. Jeff Bridges
9. Keanu Reeves
10. John Cusack

Right. Please publish your comments and personal lists - this is it: Splattermail's top ten movie stars of all time poll.

Yes, Sir Lawrence Olivier is actually dead. I'm expecting to probably take some abuse for my list. But, just so you know, I'm only joking!