Friday, October 08, 2004
Cher to go naked
To celebrate her 60th birthday, Cher has decided to do what most grandmothers do as they slide off into their twilight years: sell pictures of her naked body for the "benefit" of mankind.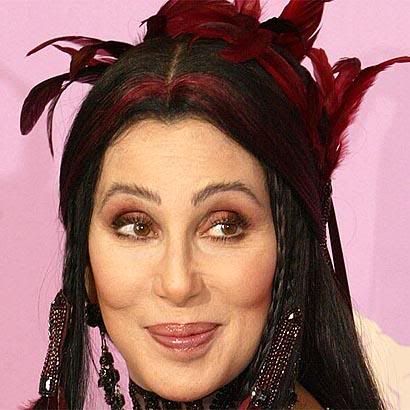 "The star reportedly wants to celebrate her landmark birthday by posing naked for a men's magazine.
The Believe singer, who turns 60 in May 2006, will strip off on a Hawaiian beach for the steamy photo shoot reports Femalefirst quoting America's In Touch magazine.
A source said: "She looks amazing and wants to capture her physical beauty on film."
Why, Cher, why? As if her music wasn't hideous enough. Who is this "source" purveying these bare-faced lies? Does he actually have eyes with which to behold the frightening reality he/she is so fervently promoting?
If Cher wanted to capture her "physical beauty", she should have done it when she was 18 or 20 - because to capture something, you have to find it first. Good luck, Nana: you're gonna need it.